Pages
By Apple
Essentials
Open the Mac App Store to buy and download apps.
Description
Create gorgeous documents in minutes with the all-new Pages for Mac word processor — featuring a stunning new design, new writing tools, and improved performance. Start with an Apple-designed template or create your own design using fonts, styles, and tools from the intelligent Format Panel. Easily add images, movies, charts, and more. And use change tracking, comments, and highlights to review your work.

With iCloud, your documents are kept up to date across all your devices. You can instantly share a document using just a link, giving others the latest version and the ability to edit it directly with Pages for iCloud beta from www.icloud.com using a Mac or PC browser. And with a new unified file format across Mac, iOS, and web, your documents are consistently beautiful everywhere you open them.

Whatever you write, Pages puts powerful tools at your fingertips. So you can create great-looking, media-rich documents in minutes.

Get started quickly
• Choose from over 60 Apple-designed templates to instantly create beautiful reports, resumes, cards, and posters
• Simplified toolbar gives you quick access to shapes, media, tables, charts, and sharing options
• The new Format Panel automatically updates based on selection
• Import and edit Microsoft Word documents and plain text files
• Turn on Coaching Tips for guided in-app help

Create beautiful documents
• Format your document with gorgeous styles, fonts, and textures
• Easily update and reorder styles using the new Format Panel
• Use auto-text wrap to flow text around images
• Create and view impressive 2D, 3D, and interactive charts
• Insert iLife photos, music, and video with the Media Browser
• Use powerful graphics tools including Instant Alpha and masking
• Use gorgeous preset styles to make your text, tables, shapes, and images look beautiful
• Edit down to the pixel with the ruler, alignment guides, and powerful graphics tools
• A new unified file format on Mac, iOS, and the web makes documents work seamlessly across platforms

Advanced writing tools
• Turn on change tracking to mark up a document as you edit it
• Use comments and highlights to share ideas and feedback with others
• Show and hide change tracking and comments on mouse-over
• Create footnotes and endnotes and view word counts with character, paragraph, and page counts
• Automatic list making and spell checking
• Seamless integration with MathType* and EndNote* for inserting equations and citations
• Advanced typography features including smart quotes and ligatures
• Easy setup for headers, footers, and document body

iCloud
• Turn on iCloud so your documents are automatically available on your Mac, iPad, iPhone, iPod touch, and iCloud.com
• Access and edit your documents from a Mac or PC browser at www.icloud.com with Pages for iCloud beta
• Pages automatically saves your documents as you make changes

Share your work
• Use AirDrop to send your document to anyone nearby
• Quickly and easily share a link to your work via Mail, Messages, Twitter, or Facebook
• Anyone with the shared document link will always have access to the latest version of the document and can edit it with you at iCloud.com
• Export your document in ePub, Microsoft Word, and PDF format
• Print wirelessly with AirPrint, including page range selection, number of copies, and two-sided printing

* MathType and EndNote both sold separately. EndNote integration requires plug-in available from Pages support link.
Some features may require Internet access; additional fees and terms may apply.
Pages does not include support for some Chinese, Japanese, or Korean (CJK) text input features such as vertical text.
Pages for iCloud beta is currently available in English only.
What's New in Version 5.5.3
This update contains stability improvements and bug fixes.
Screenshots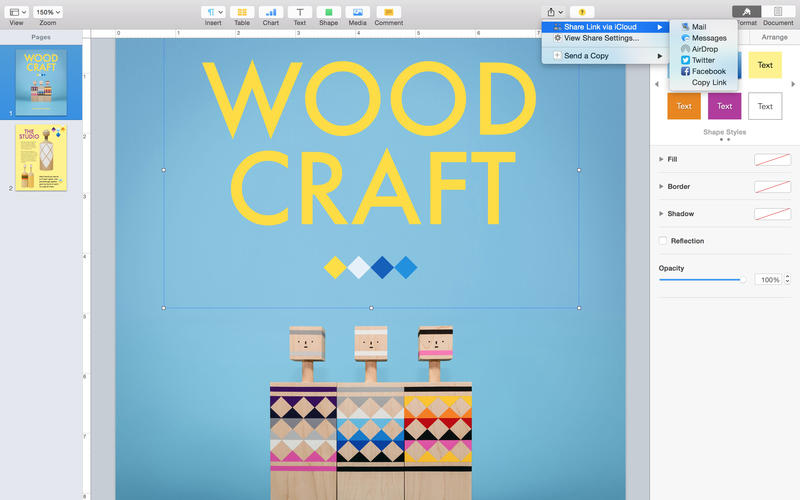 Customer Reviews
Still Rubbish
Pages 09 in iWork is still infinitely better than this still insulting crumby "downgrade." Now Apple doesn't even support this now. Once Apple advertised that its software "Just Works." This doesn't.

I have used Pages for its simplicity to produce many powerful documents, and used as the wordprocesser for a long term project. Now I have convert all the documents to something else, and I am frustrated to hell that I have to manually extract the text and images to something else yet again. Every iteration of this application software leaves more time learning the software again and less time doing my work. Worst, EVERY upgrade also leave fear that it won't work properly, as stated by some of the comments recently noted. Seeing this latest version of Pages, and the recent announcements of new software or upgrades, shows Apple cares little about having to do serious productive work. I've used Apple products since 2001, and now have serious doubts about what the customer expects in an operating system and its associated software. OSX 10.6.8 with Pages 09 still works better than an of the recent upgrades.

The history of Pages 5 is driving me to dump Apple products permanently. Unless Apple is prepared to treat Users better with its core products, they will just start losing their loyal support.

Please make Pages 6 soon with equivalent Pages 09 functionality, else you will lose this customer. Quite Disgusted.
Undocumented Proprietary File Format limitations
Pages 5.5.2 in Yosemite

Undocumented Proprietary File Format in Pages 5
The new Pages 5 file package format contains binary .iwa files that seem unreadable by other applications. This makes it very difficult or even impossible to recover file content if you are on a computer without Pages 5 or if Apple one day abandons the program. This is a big shift from the XML based file structure of Pages '09 (4.3) and earlier, which at least could be read by text editors, and which in theory could be recovered.

One important reason not to use Pages for crucial documents has always been the proprietary file format. I do not have a single Pages file on my hard disk without a backup in more widely used formats, like doc, docx, rtf, txt, PDF or whatever makes most sense for the file.

However, the new file format makes it doubly important not to use Pages to create files for long term storage.

My recommendation is simply: Never, ever, repeat, absolutely never, create a Pages file without a backup in another file format.

More information about the new file format can be found at GitHub and PixelEnvy.
Posted 9th November 2013 by Magnus Lewan
Crashing needs toget fixed!!!
Pages keep crashing on the worst possible time. I can't keep on trusting your products if it's not reliable for what I need it to do. It has now become a pain for my project and deadline is getting closer having minimal progress in the past 3 days.

I've been okay using Pages since it was the only thing that came with MBAir and even with very limited tools, it worked for basic design projects. It's already an agony using a relatively restrictive products, but this past few days has been even more painful. Editing existing file makes PAGES crash. what is happening??

Please fix ASAP! UGh!!
View in Mac App Store
$24.99

Category:

Productivity

Updated:

21 April 2015

Version:

5.5.3

Size:

295 MB

Languages:

English, Arabic, Catalan, Chinese, Croatian, Czech, Danish, Dutch, Finnish, French, German, Greek, Hebrew, Hungarian, Indonesian, Italian, Japanese, Korean, Malay, Norwegian, Polish, Portuguese, Romanian, Russian, Slovak, Spanish, Swedish, Thai, Turkish, Ukrainian, Vietnamese

Seller:

Apple Pty Limited
Compatibility: OS X 10.10 or later