Relax Melodies Seasons Premium: Mix Rain, Thunderstorm, Ocean Waves and Nature Ambient Sounds for Sleep, Relaxation & Meditation
By iLBSoft
This app is only available on the App Store for iOS devices.
Description
The ultimate relaxing app for a stressless year no matter the season.
Forget the stress, overcome your body tension and free up your mind by falling into a peaceful relaxation that you surely deserve!

Relax Melodies Seasons helps you to easily combine ambient sounds and relaxing melodies (from all four seasons) to create your own and personal relaxing session. Let your mind travel to any season of the year to enjoy back the feeling of a warm day at the beach, a calm spring morning, a peaceful october rain or even a cold winter day! Possibilities are endless as you start mixing!

An extra 12 Christmas melodies are also included to put you in the mood for the Holidays!

== Features ==

• 48 High quality ambient sounds. A dozen for each season of the year!
• 12 additional ambient sounds SPECIAL CHRISTMAS.
• 6 Binaural beats frequencies for brainwave entrainment
• Play your mix in the background while using your other apps!
• Enjoy almost infinite possibilities by mixing your favourite sounds together at customizable volumes.
• Include 5 off the shelf favourites for easy startup.
• Create, Name, Save, Sort and Replay your mixes by adding them to your Favorites list.
• Clock Display with brightness adjustment.
• Multiple Alarms & Timers system. Use your favorite mixes as an alarm to wake up in the mood you want!

== 48 Ambient Sounds ==

Blizzard, Hail, Small Bells, Church Bells, Winter Sanctuary, Traffic in Snow, XC Skiing, Heater, Train, Fireplace, Hockey Arena, Winter Wind
Aurora, Frogs, Mountain River, Spring Birds, Horse Wagon, Seashore, Farm, Melting River, The Grove, Flag, Mother Nature, Wind Fields
Camping Rain, Dreams, Sprinkler, Crickets, Family at the Beach, Tropical Island, Desk Fan, Jet Boat, Underwater, Downtown, Lawnmower, Whales
Autumn, Forest Night, Water Drip, Rain Fall, New Beginning, Wind in Leaves, Fine Rain, Thunderstorm, Wood Chimes, Steps on Leaves, Water Dock, Wipers

== 12 Christmas Ambient Sounds ==

Carol of the Bells, Jingle Bells, Christmas Day, Merry Christmas, Christmas Story, Music Box, Deck the Halls, O Christmas Tree, Green Sleeves, O Come All Ye Faithful, Silent Night, Hark! The Herald Angels Sing

== 6 Binaural Beats ==

Dreamless Sleep - 2.5Hz, Dreams - 4Hz, Deep Meditation - 5Hz, Concentration - 20Hz, Pre-Sleep - 8Hz, Relaxation - 10Hz

Download it now and get the most personalized relaxation experience ever. With only a few taps create the perfect relaxing ambience that will resonates perfectly with you.
Use ambient sounds and binaural beats to either simply relax or help your brain fall asleep. Enjoy the seasons of the year at anytime on any day!

Try it today and reclaim your sleep.

Ipnos - http://www.ipnos.com
Online - http://www.relaxmelodies.com
Facebook - https://www.facebook.com/relaxmelodies
Twitter - https://twitter.com/relaxmelodies
What's New in Version 3.0
- Isochronic Tones
- Improve UI
- Bug fixes

Hope you like this update! Contact us at support@ipnos.com for any issues.
iPhone Screenshots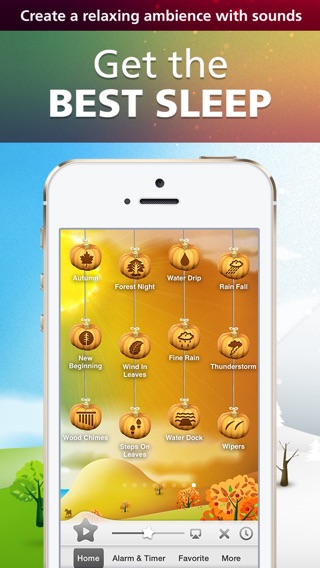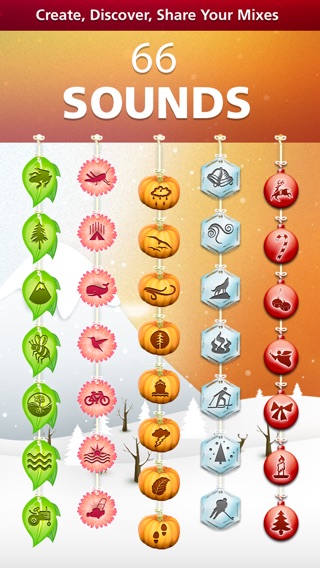 Customer Reviews
Good
Alarm isn't enough to wake me, but I'm the kind of morning person who has an alarm set every 15minutes for the first hour, then every 10 for the second.
Also, it would be nice if the rain sounds varied a bit, like real rain comes in waves of heavier and lighter falls during rain storms.
They're pretty much the only not spectacular things about the app.
It has a great variety of sounds, and is programable too. So playing your favourite combo is as simple as opening the app and hitting play.
Worth it.
Great app
Love the app as it is a great way to help wind down of an evening. I always have had trouble sleeping and this app certainly help with my inability to sleep. Hasn't cured but has helped a great deal. Would recommend app to other and have done so on many occasions. I have also purchased others in the series and also helps as I like to mix it up a bit
Comprehensive sound compilation!
The aural palette is a rather nice one in selecting the 'backstage soundscape' for a vast range of moods or emotions you might be seeking to slip into. You're able to save your favorite sound mixes across different categories which is huge! From meditative binaural and nature tracks to nostalgia or even Christmas spirit - there really is something here for everyone. Recommended.
View in iTunes
$4.49

Category:

Health & Fitness

Updated:

11 September 2014

Version:

3.0

Size:

103 MB

Language:

English

Seller:

iLBsoft
Compatibility: Requires iOS 6.0 or later. Compatible with iPhone, iPad and iPod touch.