Sid Meier's Civilization® VI
By Aspyr Media, Inc.
This app is only available on the App Store for iOS devices.
Description
** 2016 Strategy Game of the Year – The Game Awards**

Civilization VI for iPad has arrived. Download now and play your first 60 turns for free. Purchase the full game to build an empire that stands the test of time!

Civilization VI offers new ways to interact with your world, expand your empire across the map, advance your culture, and compete against history's greatest leaders to build a civilization that will stand the test of time. Play as one of 20 historical leaders including Roosevelt (America) and Victoria (England).

Originally created by legendary game designer Sid Meier, Civilization is a turn-based strategy game in which you attempt to build an empire to stand the test of time. Become Ruler of the World by establishing and leading a civilization from the Stone Age to the Information Age. Wage war, conduct diplomacy, advance your culture, and go head-to-head with history's greatest leaders as you attempt to build the greatest civilization the world has ever known.

Civilization VI offers new ways to engage with your world. Cities now physically expand across the map, active research in technology and culture unlocks new potential, and competing leaders will pursue their own agendas based on their historical traits as you race for one of five ways to achieve victory in the game.

EXPANSIVE EMPIRES:
See the marvels of your empire spread across the map like never before. Each city spans multiple tiles so you can custom build your cities to take full advantage of the local terrain.

ACTIVE RESEARCH:
Unlock boosts that speed your civilization's progress through history. To advance more quickly, use your units to actively explore, develop your environment, and discover new cultures.

DYNAMIC DIPLOMACY:
Interactions with other civilizations change over the course of the game, from primitive first interactions where conflict is a fact of life, to late game alliances and negotiations.

COMBINED ARMS:
Expanding on the "one unit per tile" design, support units can now be embedded with other units, like anti-tank support with infantry, or a warrior with settlers. Similar units can also be combined to form powerful "Corps" units.
LOCAL MULTIPLAYER:
In addition to traditional multiplayer modes, cooperate and compete with your friends in a wide variety of situations all designed to be easily completed in a single session.

A CIV FOR ALL PLAYERS:
Civilization VI provides veteran players new ways to build and tune their civilization for the greatest chance of success. New tutorial systems introduce new players to the underlying concepts so they can easily get started.

Civilization VI requires an iPad Air 2, iPad 2017, or any iPad Pro. Please note, Civilization VI on iPad includes the base game only, and does not include additional downloadable or expansion content.
iPad Screenshots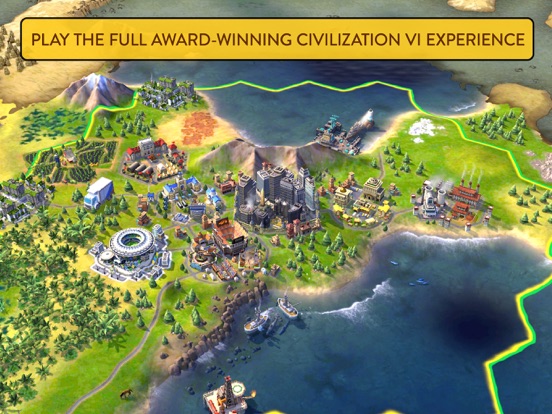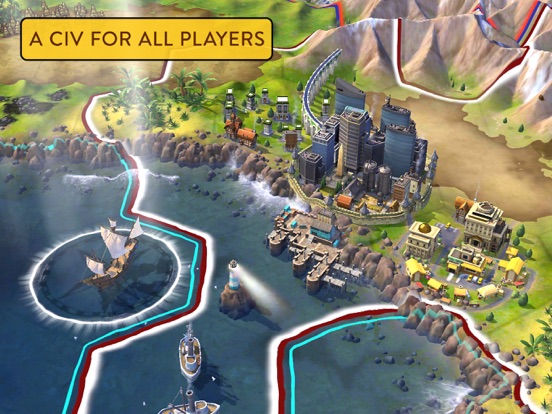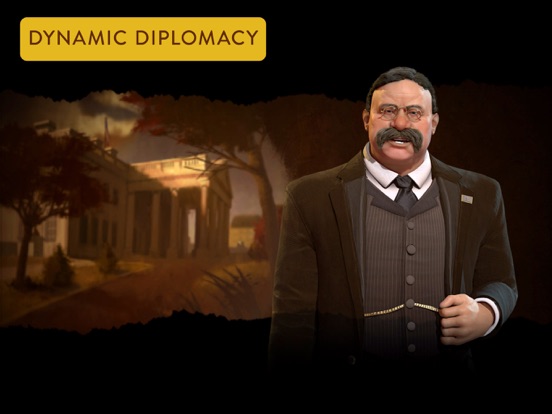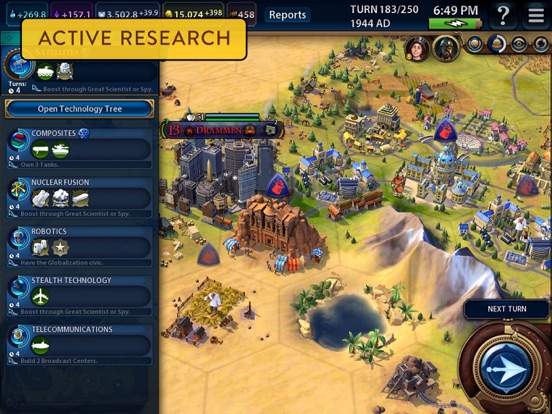 Customer Reviews
Civilization as it is
I've read the reviews and wondered about this potentially huge game in regards to graphics, size and immense gameplay, and how it would play on the iPad Pro.

I was so pleased it provided 60 free moves to test the speed, graphics and play by play based effectiveness as many other reviews commented on the lag they experienced, but they never mentioned which platform of iPad/mobile device they were using.

I found no such issues of any lag, graphics looked absolutely sleek and crisp, movement flowed as it should, smooth, so I can confidently state that if you were looking to purchase this for your iPad Pro, you would have zero issues as I've come across none to date. Absolute blast of a game too, I've always loved the series ever since the first!
suggestion\info
THIS GAME would be one of the best mobile games if they fixed two things. The price ($45au) for full version, and the lag which u get on almost any device. You can very easily tell this game isn't made for mobile and that this company doesn't know how the mobile game market works. this is the first game I've seen that u MUST spend a lot of money for. I recommend the company gets rid of some of the features that create lag and make it more mobile friendly. For now I wouldn't get it unless u have a iPad~pro iPad Air two or iPad 2017 (what they recommends) it also takes up ALOT ALLLOOTTT of space 5x more than any game I have
Looks and plays great on my iPad Pro 9.7
This is a great game on the iPad, even more so since I adjusted the retina and scaling settings using iMazing and a small Bluetooth keyboard. I can't understand all the whinging, it's easily the best Civ game out there. Playing it on the iPad is perfect for me. There is even the option to play using an external keyboard for those prefer to. People complain about the lack of premium games on the platform, then moan like hell when one of the best games ever charges more than the standard iOS price. Is it any wonder we get so much garbage on this platform.
View in iTunes
Free

Category:

Games

Released:

21 December 2017

Version:

1.0.1

Size:

3.14 GB

Language:

English

Seller:

Aspyr Media (iDP)
Compatibility: Requires iOS 11.0 or later. Compatible with iPad Air, iPad Air Wi-Fi + Cellular, iPad mini 2, iPad mini 2 Wi-Fi + Cellular, iPad Air 2, iPad Air 2 Wi-Fi + Cellular, iPad mini 3, iPad mini 3 Wi-Fi + Cellular, iPad mini 4, iPad mini 4 Wi-Fi + Cellular, 12.9-inch iPad Pro, 12.9-inch iPad Pro Wi-Fi + Cellular, 9.7-inch iPad Pro, 9.7-inch iPad Pro Wi-Fi + Cellular, iPad Wi-Fi (5th generation), iPad Wi-Fi + Cellular (5th generation), 12.9-inch iPad Pro (2nd generation), 12.9-inch iPad Pro Wi‑Fi + Cellular (2nd generation), 10.5-inch iPad Pro, and 10.5-inch iPad Pro Wi‑Fi + Cellular.
Top In-App Purchases
Civilization VI Full Game$89.99