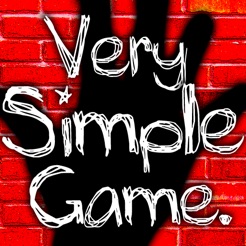 A Very Simple Game - A free puzzle game that no one can figure out! One of the best free puzzle games ever.
4+
Free
Offers In-App Purchases
Description
This is A Very Simple Game! ... that is not so simple to figure out.

Join thousands of people trying to figure out one of the most unique and fun puzzle games on the app store.

Instructions: Pay close attention to the directions and tap the number that should match the current hand shown. Sounds easy, but It will probably drive you absolutely INSANE.

Features:
-Completely FREE with No Ads
-Gamecenter
-Universal App (iPhone, iPod and iPad)
-Unlimited Game Play
-A hand
-Five fingers
-Annoyingly repetitive dialogue
-An annoying puzzle that doesn't make any sense
-The ability to make you slap yourself in the head and say "DUH! This is A Very Simple Game!"
-You can use your own hand and show your friends this game at parties and become the most popular person in the universe.*

You get all of this absolutely FREE!

Special Thanks to a bunch of awesome kids that showed me this silly game: Hannah, Peyton, Brook, Meaghan, Courtney, D.J., Robby, Kyle, Taylor, and Zack!!!

Mia's Scribblings font created by Amelia McVinnie.

This crazy puzzle game works on iPod, iPhone and iPad for free!

==============
*We do not have any official research to back that statement up.
Now works on 3.x devices

You guys are getting amazing scores, keep up the good work. We will add some more content for you soon.

Please leave a review for us with the rate it button. The more stars, the more free updates we can add! We are planning on adding more awesome features soon.

If you like this app, please check out our Mad Monkey and Evil Quiz games. They are just as simple, fun and addictive! :)
Ratings and Reviews
Couldn't Get Worse
Ok, so where to start well if 2=1, 3=2, 4=3, 5=4 then what does 1=.

Then it will ask something like; then what does this equal and 3 fingers will pop up on the screen, so you press 2 because that is what it told you. You get it wrong. So on the next go the same question pops up and you press 3 thinking it is only possible that it is 2 like they told you or 3 which is what its showing. But, its neither, if it was a fair game and the answer was 2 or 3 you would pass to the next level. To be truthful I have tried every answer about 4 maybe 5 times and I've only passed to question 3... ONCE.
So my advice to all of you whom are about to purchase this game, it is a waste of storage and download. Feel free to give it a crack it was just a heads up.
Memory Not Math.
My dad thought this was fake and you had to pay to get it right, but after 2 hours of trying, I proved him wrong. It doesn't seem too simple for people 2 figure it out and you can see all the people in the leader boards who got less than 4. A good hint is the title of the level, it's called memory, not math which means you need to remember previous hands to get it.
P.S I have finished all the level and the puzzle is the same on each level but needs more memory.
Really it is an easy game...
So there I was 30 minutes later and it hit me BOOM! I literally slapped my head for not seeing it earlier. You definitely don't need to buy the solution.

To all the people that have rated it a 1 or a 2 because you don't understand it/can't work it out etc, shame on you. Maybe you were dropped on your head one too many times and that's why you don't get it. It's easy.

I'll give you a tip, - not the answer, but a tip - 'watch the hand, the answer's is in the hand.

I gave this app a 4 out of 5 cause I'm still working on unlocking lvl3. Once I do I'll give it a 5.

Seriously it's not hard and download it, it's heaps of fun to do and even more fun to watch people struggle with it! I've certainly worked my abs off! :-)

Have fun kids.
Information
Seller

Shawn Hitchcock

Size

15.3 MB

Category

Compatibility

Requires iOS 3.0 or later. Compatible with iPhone, iPad and iPod touch.

Age Rating

Rated 4+

Copyright

© 2011 SKH Apps

Price

Free

In-App Purchases

The Secret of A Very Simple Game

$1.49
Supports
Family Sharing

Up to six family members will be able to use this app with Family Sharing enabled.