Wonder 7 Minute Workout Supercharged
By Fat Cigar Productions Ltd
This app is only available on the App Store for iOS devices.
Description
Brand new, Wonder is the original 7 Minute Workout, but supercharged.

Simple, easy to perform exercises than can be at home, outside or at the gym. It is best-in-class. If you want a super effective workout and routine to keep you fit Wonder is it! Join the community now....

"Combines HIIT Training and recovery insights with the science of the 7 Minute Workout, giving you the most time efficient and powerful workout routine possible." James Thomas, MSc Sports Science

DOES IT WORK?
'Wonder doesn't focus on losing weight, simply getting fit and feeling great. Losing weight is a great by-product. I love it!' - Lucilla 23/08/17

Follow Lucilla's fitness journey with daily updates as she gets fit with Wonder. See her results live - www.instagram.com/lucillagetsfit

THE ORIGINAL WORKOUT - BUT EVEN MORE EFFECTIVE!
Made famous by the New York Times, the 7 Minute Workout is a routine of quick, effective, body-weight exercises.

But Wonder goes further...

- Supercharged routines focus on specific body areas and systems to help you attain even better results, burn more calories and tone more
- Works around your schedule
- Most time efficient and powerful routines possible
- Fast and Simple to Perform
- Exercise for 5 days with 2 days rest - our recommended routine for best results.


HOW IT WORKS
12 exercises are performed for 30 seconds with 10 second rest intervals. Repeat as many times as you can. This high-intensity training results in increased resting metabolic rate and is the equivalent of working out for over an hour - for only slightly longer than 7 minutes. The Wonder App is based on the 7 Minute Workout paper that was published in the leading research journal ACSM.

WONDER WORKOUT OPTIONS
- Choose from the ORIGINAL 7 Minute Workout or
- the SUPERCHARGED 7 Minute Workout
- Unlock or buy additional routines - we'll be adding more in the coming weeks, such as the Bikini Body!


WHY IS THE SUPERCHARGED VERSION MORE POWERFUL?
1. BURN MORE, EVEN WHEN SLEEPING - If you use Wonder as recommended, every week you'll be burning more calories than you were the previous week. This is due to the compounding effect of the exercise routines, and the rest given to each muscle group and body system to allow them to recover.
2. HABIT - Wonder helps you form a habit around your workout, set reminders and keep motivated.
3. SCIENCE - The latest science powerfully boosts the results from the 7 Minute Workout.

MAIN ADVANTAGES
1. USE ANYWHERE - Exercise at home, outside, in hotels, or at the gym. Routines are designed not to become repetitive and dull.
2. EXERCISES - Easy to follow videos and text show you exactly what to do. You can work out along with the videos and the timer tells you when to change exercise. Workouts are varied daily, focusing on different body systems each day.

RECOMMENDED FOR BEST RESULTS
1. Do as many repeats of the 7 min workout as you can in the time available to you.
2. Do each workout at your maximum intensity - keep rest periods short.
3. If using the Supercharged version follow our '5 days on 2 days off' routine. It is VERY important to allow your body to recover and adapt.
4. Turn on notifications - this will help form the habit and keep you motivated.

COMMUNITY SUPPORT
We have a community support group on Facebook so you can help each other, workout together, and keep each other motivated by posting your results.

https://facebook.com/Wonder7MinuteWorkoutApp/

WHAT THEY SAY?
'The science is all explained in the app, so you know how and why you're doing it. You certainly feel it the next day!' - Dr. Francesca Battisti 23/8/17

TRUSTED TEAM
Developed by app professionals with expertise in Exercise Physiology, Personal Training and Psychology, Wonder 7 Minute Workout Ultra is designed to supercharge your fitness with minimum time, and maximum effort.
iPhone Screenshots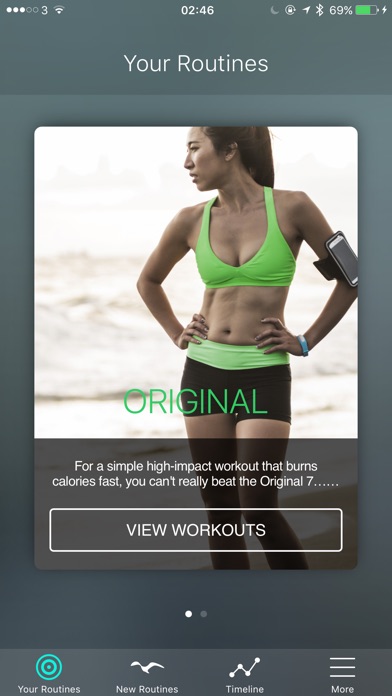 Customer Reviews
Can't stop using it
Before I often went to gym room, but recently I didn't have time to go there. Therefore, I downloaded this one and had to learn some exercises to repeat them at home.
One of the most wonderful apps
Now I don't have to spend much time on the gym room because I have this app. they upload lots of exercises to teach you how to keep your body fit.
I enjoy it
EVERYTHING is great! I feel so much better with this app. I don't have to worry much about my size any more. Their exercises are really effective. Thanks to it, my body always gets fit.
View in iTunes
$4.49

Category:

Health & Fitness

Released:

30 August 2017

Version:

1.0

Size:

82.1 MB

Language:

English

Seller:

Fat Cigar Productions Ltd
Compatibility: Requires iOS 9.0 or later. Compatible with iPhone, iPad and iPod touch.
More iPhone Apps by Fat Cigar Productions Ltd