Killer Koalas from Outer Space
Andy Griffiths
This book can be downloaded and read in iBooks on your Mac or iOS device.
Description
This is a very silly book filled with very bad things.

There are bad ideas like eating dead flies, and silly people like the boy who unscrews his head and loses it forever. Then there are very bad things like bloodsucking grannies, rocket-stealing ants and, of course, killer koalas from outer space that come to earth and rip off your face.

A collection of stories from The Bad Book and The Very Bad Book that will make your brain EXPLODE!
From Publishers Weekly
29 August 2011 –
Readers of Griffiths and Denton s previous collaborations The Cat on the Mat Is Flat and The Big Fat Cow That Goes Kapow won t be surprised by the abundant scatological humor ( poo is a recurring motif), gruesome demises, and all-around absurdity that fill the pages of this collection of poems, comics, jokes, and short stories. Griffiths and Denton, who contributes sketchy line art that ranges from piles of guts to Mad magazine parodies, work together in discordant harmony to land one playfully vile punch after another. In the opening sequence, a newscaster announces that extraterrestrial killer koalas have arrived and are running around ripping everybody s faces off, a mock apocalyptic scenario documented in panel cartoons (the newscaster s fate is hardly pretty). Among the collaborators creations are Little Bad Riding Hood, (who refuses to bring medicine to her grandmother); Bad Macdonald, whose stinky farm is filled with dead animals; and a family of dog poo. It s lowest-common-denominator fun, and while parents may turn up their noses, there are plenty of kids who will laugh their heads off (if not literally). Ages 8 12.
Screenshots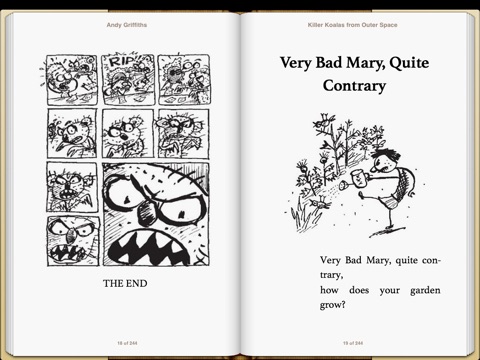 Customer Reviews
Killer koalas for outer space
Great I just wish it was longer because I finished it in 40 minutes and I just wanted it to go longer

ANDY GRIFFTHS IS THE BEST!!!!!!!!!!!!!!!!!!!!!!!!!!!!!!!!
Pretty Good
Was a bit short though
Funny Book
This book is very funny, like all andy griffiths books. He is the best author ever. I give this funny book 5 stars because of the work that he put in it.
View in iTunes
$9.99

Category: Fiction
Published: 01 November 2011
Publisher: Pan Macmillan Australia
Seller: Macmillan Publishers Australia and Pan Macmillan Australia
Print Length: 180 Pages
Language: English