The Louise Parker Method: Lean for Life
The Cookbook
Louise Parker
This book can be downloaded and read in iBooks on your Mac or iOS device.
Description
THE MUCH-ANTICIPATED FOLLOW-UP TO THE SUNDAY TIMES BESTSELLER THE LOUISE PARKER METHOD: LEAN FOR LIFE

This year, start a new you eating plan you can maintain for life. Louise Parker shows you how the A-Listers do it.

Don't be fooled by vague promises of organic 'clean' eating. Teach yourself to EAT BEAUTIFULLY and EAT LEAN and TRANSFORM YOUR BODY FOREVER.
This cookbook not only contains over 120 fuss-free recipes; it arms you with the knowledge to create hundreds of variations so you will never get bored.

Praise for Lean for Life:

'Louise is the only one out there I trust - she's not holier than thou, yet somehow miraculously gets my reluctant arse into gear and sometimes even keeps it there. I love that her method is NOT a diet - and is genuinely sustainable - so I can have my glass of wine and manage to avoid spending the rest of the week eating cheesy wotsits. She toughens me up without driving me round the bend with kale juice and the more depressing style of sprout. She just gets it. We all use her, because she's discreet and funny and that's really important' - Emma Thompson

'Louise Parker, AKA the figure magician, has worked her magic on actors, athletes, pop stars, politicians and princesses and believes absolutely anyone can have a sensational body.' - Glamour

'Louise Parker is one of the very few weight-loss experts worth the title. A genius method,
an unbelievable client list and years of experience.' - Good Housekeeping

'Clever, kind and committed to getting you the best body possible. Louise Parker really does think of everything.' - Tatler

'Quite simply the most intelligent weight-loss programme out there.' - Independent
From Publishers Weekly
19 September 2016 –
This debut fitness guide lays out a path to permanent weight loss honed by English fitness trainer Parker, whose starry client list ranges from CEOs to celebrities. She advocates a nonpunishing route to a sustainable lifestyle that blends a balanced diet with smarter workouts and positive thinking. Parker details the pillars of her method before delving into her 42-day "Transform Phase" and namesake lifestyle. For Parker, adoption of a success-minded outlook and inspirational companionship are essential precursors to living well. And in order to live well, one must ensure that the body and brain receive proper rest, and that one's life is clear of digital and physical clutter. In the "Eat Beautifully" chapter, Parker shares core principles such as meal balancing, snacking, and hydration, and includes mouthwatering recipes for muesli, savory salads, and stews. To work out intelligently, Parker insists that one weave activity into all aspects of daily life, along with 15-minute workouts of her detailed exercises. The "Transform Phase" is a more intense period, focused on fat-burning, to be completed before maintaining a lifestyle of evolving meals and workouts. Parker's guide is gorgeous from cover to cover, teeming with photos of Parker herself in various modes of life.
Screenshots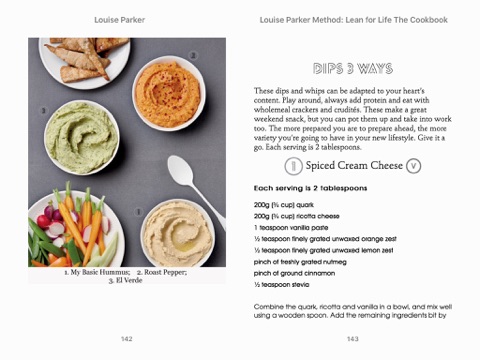 View in iTunes
$19.99

Category: Special Diet
Published: 26 December 2016
Publisher: Octopus
Seller: Hachette UK
Print Length: 224 Pages
Language: English