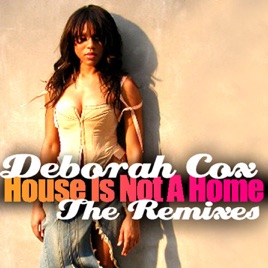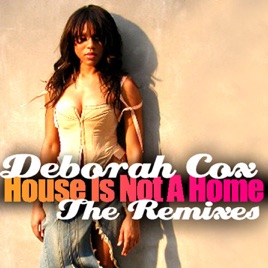 | | TITLE | | TIME |
| --- | --- | --- | --- |
| | House Is Not a Home (Moran / Rigg Radio) | | |
| | House Is Not a Home (Moran / Rigg Mixshow Sexy) | | |
| | House Is Not a Home (Moran / Rigg Anthem Club) | | |
| | House Is Not a Home (Dio*S I*Ll Be Your Radio) | | |
| | House Is Not a Home (Dio*S I*Ll Be Your Mxshow) | | |
| | House Is Not a Home (Dio*S I*Ll Be Your Club) | | |
6 Songs, 35 Minutes
Released:

6 Dec 2005

℗ 2005 Nervous, Inc.
About Deborah Cox
A native of Toronto, Deborah Cox began singing for TV commercials at age 12, also entering various talent shows with her mother's help. She performed in nightclubs as a teenager, and around that time, she also began to write her own material with the help of writer, producer, and future husband Lascelles Stephens. Much like Whitney Houston, with whom she is often compared vocally, Cox was discovered by Arista Records president Clive Davis shortly after graduating from high school.

Davis recruited some of the top names in R&B to provide Cox with material for her 1995 debut, including Babyface, Dallas Austin, and Keith Crouch, but Cox herself co-wrote her first hit single, "Sentimental," with Austin and bass player Colin Wolfe, along with three other tracks on the album. One Wish followed in 1998, launching the R&B chart-topper "We Can't Be Friends." Her 2002 album, The Morning After, made a bigger impact in the clubs with the singles "Absolutely Not," "Mr. Lonely," and "Play Your Part" all topping the U.S. dance charts. A 2003 remix collection held fans over until 2007 when the ambitious and stylish Destination Moon landed. The album was a tribute to the legendary singer Dinah Washington and featured a full orchestra as Cox's backing band.

She returned to contemporary R&B with 2008's The Promise, which included production help from John Legend and Jimmy Jam & Terry Lewis. It also featured a dance number one in "Beautiful U R," and the R&B Top 30 singles "Did You Ever Love Me" and "Saying Goodbye." She returned to the top of the dance chart in 2011 with "If It Wasn't for Love" from the Global Groove: Dance 5 compilation.

In 2012, Cox began a foray into musical theater by taking the role of Lucy in a revival of Frank Wildhorn's Jekyll & Hyde. Featuring Constantine Maroulis in the title role, the show premiered in La Mirada, California, toured 20 cities in North America, and then opened on Broadway in April 2013, where it played for just over three weeks. The cast, including Cox, appeared on the Jekyll & Hyde: 2012 Concept Recording.

She reemerged in January 2015 as the singing voice for the Whitney Houston TV biopic Whitney, directed by and starring Angela Bassett. Later that same year, she hit the R&B charts with the stand-alone ballad "More Than I Knew." Beginning in the fall of 2016, Cox joined the U.S. tour of the 2012 musical The Bodyguard, based on the 1992 film starring Kevin Costner and Whitney Houston. Calling it an eight-track EP, she released a collection of Houston covers called I Will Always Love You with the Broadway label in March 2017. A month later, she appeared on the Billy Porter album The Soul of Richard Rodgers, where she contributed a rendition of "This Nearly Was Mine" from South Pacific. ~ Steve Huey & Marcy Donelson
HOMETOWN

Toronto, Ontario, Canada

GENRE

BORN

13 July 1974
Millions of songs.
Zero ads.
New subscribers only. Plan automatically renews after trial.