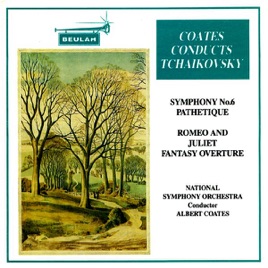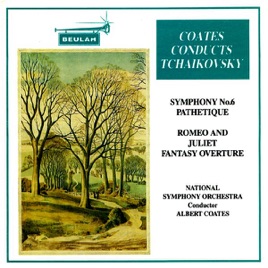 Tchaikovsky: Symphony No. 6 "Pathetique & Romeo and Juliet Overture - Coates Conducts Tchaikovsky
| | TITLE | TIME |
| --- | --- | --- |
| | Symphony No. 6 in B Minor, Op. 74: I. Adagio - Allegro non Troppo | 18:53 |
| | Symphony No. 6 in B Minor, Op. 74: II. Allegro con Grazia | 7:47 |
| | Symphony No. 6 in B Minor, Op. 74: III. Allegro molto Vivace | 9:32 |
| | Symphony No. 6 in B Minor, Op. 74: IV. Finale Allegro Lamentoso | 10:15 |
| | Romeo and Juliet Fantasy Overture | 19:48 |
5 Songs, 1 Hour, 6 Minutes

℗ 1993 Editions Audiovisuel Beulah
About National Symphony Orchestra
Although the National Symphony Orchestra gave its first official concert on November 2, 1931, its roots actually date to the previous year, when about 80 musicians assembled for a series of three concerts, the first of which took place on January 1, 1930. The conductor was Rudolph Schueller; Hans Kindler, however, led the two succeeding concerts and was subsequently named music director of the NSO by a newly formed board of directors. The ensemble played in Constitution Hall, its home for exactly the next four decades. Kindler was a cellist, but showed talent on the podium and innovation in his programming, which tended to be conservative but inclusive of many works by American composers. He also demonstrated a keen sense for orchestra building, as the ensemble improved steadily during his nearly two-decade tenure. The NSO performed for the inauguration of newly elected President Franklin Delano Roosevelt in 1932 and thereafter played for all subsequent inaugurations until the installation of the 1972 second Nixon administration, which chose the Philadelphia Orchestra. Financial difficulties plagued the organization by the late 1930s, owing in part to the national Depression. Yet the NSO rarely seemed completely free of fiscal problems in the 20th century, even in good times.

In 1941, Kindler and the NSO made their first recording, for RCA, of a toccata generally attributed to Girolamo Frescobaldi, in a colorful transcription by the conductor. American Howard Mitchell succeeded Kindler as music director in 1949 and would also have a long tenure, serving until 1969. He managed to attract major artists, such as pianists Emil Gilels, Van Cliburn, and Byron Janis, all three during this very troubling period in his second decade. Mitchell had a number of successful tours with the NSO, too, including the 1959 19-country excursion through South America and the 1967 European tour. Mitchell stepped down in 1969 and the NSO spent a year under guest conductors. Antal Dorati was named music director in 1970 and the following year, the orchestra's home was relocated to the Kennedy Center for the Performing Arts. Dorati's programming was more mainstream, but because he was a composer himself, he also included a fair number of contemporary works. He made a few notable recordings with the NSO, particularly one of his piano concertos that featured his piano-playing wife, Ilse von Alpenheim, as soloist. Mstislav Rostropovich succeeded Dorati in 1977 and ushered in an era in which the orchestra attracted many first-rate artists such as Martha Argerich (who made a highly praised recording of the Schumann piano concerto with Rostropovich and the NSO), Isaac Stern, and many others. Moreover, there were numerous successful tours and award-winning recordings. His tenure was hugely successful, even if it was also often hampered by financial difficulties.

Rostropovich was succeeded in 1994 by Leonard Slatkin, who had been music director of the Saint Louis Symphony Orchestra. Slatkin also made successful tours and recordings, including a critically acclaimed CD of Prokofiev's Symphony No. 6. Slatkin remained music director of the 100-member NSO.
ORIGIN

Washington, D.C.

GENRE

FORMED

02 November 1931