GasBlenderPro
By Downtime Applications
This app is only available on the App Store for iOS devices.
Description
GasBlenderPro is a comprehensive Gas Mixing application that goes beyond a simple gas calculator to a complete Gas management system. This tool caters for all types of scuba diving and scuba divers, from those who want to mix a recreational blend with less than 40% to Technical and Cave divers who blend at home and manage their own gas supplies.

Firstly it allows you to calculate the best mix for the depth and narcotic depths you are looking to dive to. It will calculate the Maximum Operating Depths, Working Depths, Equivalent Air Depths, and Equivalent Narcotic Depths. It incorporates new thinking around narcosis with TND (Total Narcosis Depth).

Once you have calculated your best mix, you can calculate the filling instructions for that mix as well as the estimated molecular weight. This can be done using Real Gas Mixing laws based on van der Waals equations to calculate a more accurate fill. Unlike the Ideal Gas Laws (which is based on a non-existent "Ideal" gas), van der Waal equations take into account the different compressibility factors of the gases. This is especially important for Trimix divers. Using the more traditional Ideal gas laws usually ends up with a mix that is Oxygen rich, which could cause refilling issues or at worst, problems on the dive.

The new benefit of this application is in it's Gas Bank management. For anyone using cascade filling (with or without Boosters), having the calculations that show whether you have enough Pressure in the Donor tanks to complete the fills can be priceless. The Bank screen will also calculate how many fills you can make from the Banks and which Gas will run out of drive pressure first.

The applications will help you calculate all Nitrox, Trimix, Heliox mixes, but also contains a mode that will allow you to easily calculate a HeliAir mix (also known as "Poor Man's" Trimix).

By selecting the size of your cylinders and indicating whether you have twins, the application will also calculate the cost of the fill based on the price of both Helium and Oxygen per liter as well as any miscellaneous costs.


As always, mixed gas diving can be dangerous if not handled correctly, so please make sure you are qualified to dive on the mixes you are using and most important is that you personally check any mix that you will use prior to diving.

Dive Safe

iPhone Screenshots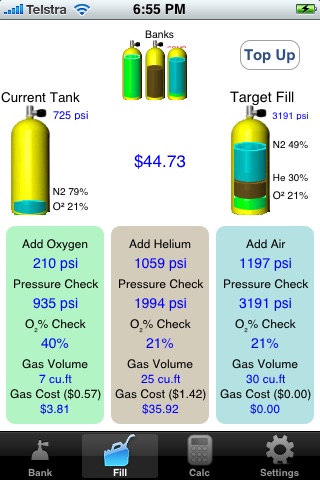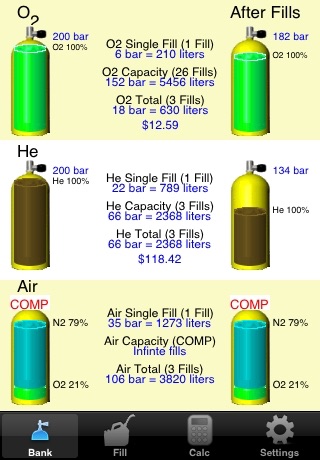 View in iTunes
12,99 лв

Category:

Sports

Released:

26 June 2010

Version:

V1.3

Size:

1.3 MB

Language:

English

Developer:

Michael Steinmann
Compatibility: Requires iOS 2.2.1 or later. Compatible with iPhone, iPad and iPod touch.