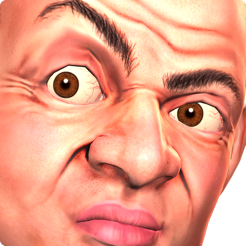 Description
*** Sign up and get $39 value Bonus content for FREE ***

The previous version - CrazyTalk 7 is **The Winner of the Mac Store Best Selling App** and **The Mac World Best App of the Year**! The good news is, CrazyTalk 8 is now available and with the best offer on Mac store!!
CrazyTalk is the world's most popular facial animation software that uses voice and text to vividly animate facial images. The brand new CrazyTalk 8 (CT8) contains all the powerful features people love about CrazyTalk plus a highly anticipated 3D Head Creation tool (available in CT8 Pro edition), a revolutionary Auto Motion engine, and smooth lip-syncing results for any talking animation projects.

>> Watch Demo video: http://www.reallusion.com/crazytalk/default.html
>> Learn from Tutorials: http://www.reallusion.com/crazytalk/tutorial.html
>> Edition comparison: https://www.reallusion.com/crazytalk/download.html#comparison
>> CrazyTalk on Jimmy Kimmel Live!: https://goo.gl/F8uejf

**Don't miss the chance to get the FREE bonus! **
Reallusion would like to invite you to join our Premium Member Program to receive special bonus packs that will satisfy all your cravings for more cartoon and realistic content. In this bonus pack, you will receive:
• 2D Actor Project x 15 / 3D Actor Project x 2/ 2D Actor Voice Script x10/ 3D Actor Voice Script x9/ Body for 3D Actor x12
>> Know more: http://www.reallusion.com/event/16-CT8premium/default_STD.html

//Who Uses CrazyTalk?//
• Video production
• Social & Family
• Marketing & Training
• Animated Comics … and more !!

Take a look below to see what CrazyTalk 8 has for you, and see all the special features included in the Standard edition that will cater to your professional needs.
Also check out Pro edition here>> https://goo.gl/QUZFqx 

//Key Features //
1. Turn any image into instant talking heads:
Simply import your images in JPEG, BMP, TGA, or PNG formats and follow the facial fitting process to create life-like characters.

2. Freely dress up and customize accessory designs
With the smart accessory slot design, not only will items be automatically applied to the right places of your characters but you will also be able to easily adjust their position. Creatively adjust sizes, change colors, and customize textures to create your very own looks.

3. Life-like auto motion from audio
Thanks to the proprietary Auto Motion technology, your voice will be analyzed and then auto-animated with head and facial movements to create fun animations in seconds.

4. Auto Audio Lip-sync
Import your voice audio in WAV, MP3 format or use TTS to create a voice for your characters. With the audio lip-syncing engine, animate characters' mouths with the built-in phoneme library that distinguishes between a wide range of vocals. You can also manually refine your lip-syncs in the Timeline, and adjust the strength of the lip shapes with flexible controls.

5. Vividly Facial Animation
Simply use a mouse or handheld device to puppet your character's animations. With the Solo Feature Selection, you can design custom facial features and puppet behaviors while playing back recorded audio in real-time. You can also choose specific facial muscles to control, create expressions and head movements while you record live.

>> Any questions? Login to submit your questions at Reallusion: http://www.reallusion.com/CustomerSupport/user/FAQList.aspx#submit
1) What's New:
New Material Settings for adjusting the specular, glossiness and self-illumination of 3D actor's different parts.
Conform cloth to any body shape.
Neck Size and Length adjustment in Head Size Settings.

2) Function and Content Enhanced:
Added: Brand new 3D vivid eye templates and multi-layer adjustment in eye settings.
Added: 3D Camera Lens (80mm and 200mm) in Preference Window.
Enhanced : Eyeball will remain inside the eyelids after adjusting (Move and Scale) the eye textures.
Enhanced : Eye blinks tightly for new created 3D Actors.

3) Bug Fixed:
Fixed: The export resolution was not saved to the 3D project.
Fixed: A crash occurred if the program was maximized during the Create 2D Head process.
Fixed: The quality of exported MOV videos (Apple ProRes 4444) was lowered in 3D actor's eye area.
Information
Seller

Reallusion Inc.

Size

999.6 MB

Category

Compatibility

OS X 10.9 or later, 64-bit processor

Age Rating

Rated 12+ for the following:

Infrequent/Mild Sexual Content and Nudity

Copyright

© 2017 Reallusion Inc

Price

USD 29.99
Supports
Family Sharing

Up to six family members will be able to use this app with Family Sharing enabled.