Bao Viet Nam HD
By Dung Nguyen
Open iTunes to buy and download apps.
Description
Báo Việt Nam là ứng dụng trên nền tảng Ipad của Bhmedia cho phép người đọc cập nhật thông tin thời sự nổi bật; thông tin giải trí hấp dẫn, tin tức tổng hợp và hữu ích đang diễn ra ở Việt Nam và trên khắp thế giới.
Với giao diện đẹp, tốc độ cao và đầy đủ chức năng, ứng dụng đem đến cho người dùng cách tiếp cận tin tức tiện lợi nhất nhưng hoàn toàn miễn phí.

Các tính năng chính:
• Hình ảnh được tối ưu giúp truy cập nhanh, tiết kiệm băng thông
• Lưu và đọc tin khi offline
• Cập nhật và thông báo tin mới tự động
• Chia sẻ tin tức qua email, FaceBook, Twitter.

Xây dựng ứng dụng mới này, Bhmedia hy vọng đem tới cho mọi người sự thuận tiện, hữu ích cho việc đọc tin một cách chất lượng và hiệu quả. Mọi ý kiến đóng góp xin vui lòng gửi đến địa chỉ email ở dưới, chúng tôi sẽ cố gắng hỗ trợ và cải tiến ứng dụng trong thời gian sớm nhất.

Thông tin được chọn lọc từ:
• VnExpress (vnexpress.net)
• Dân Trí (dantri.com.vn)
• 24h (24h.com.vn)
• Việt Báo (vietbao.vn)
• VietNamNet (vietnamnet.vn)
• VTC News (vtc.vn)
• Người đưa tin (nguoiduatin.vn)
• Dân Việt (danviet.vn)
• Đất Việt (baodatviet.vn)
• Thanh Niên (thanhnien.com.vn)
• Tuổi Trẻ (tuoitre.vn)
• VnMedia (vnmedia.vn)
• VnEconomy (vneconomy.vn)
• Ngôi Sao (ngoisao.net)
• Eva (eva.vn)
• Báo Mới (baomoi.com)
• Bóng Đá (bongda.com.vn)
• Tin 247 (tin247.com)
• TTVH (thethaovanhoa.vn)
• Kênh 14 (kenh14.vn)
• aFamily (afamily.channelvn.net)
• Zing (zing.vn)
• Tin tức Online (tintuconline.com.vn)
• CafeF (cafef.vn)
• AutoPro (autopro.com.vn)
• InfoTV (infotv.vn)
• VTV (vtv.vn)

Bao Viet Nam for Ipad is the number one source for what's happening in Vietnam and around the World. Enjoy the latest news, politics, sports, football, entertainment, celebrity gossip, blog and more, updated 24 hours a day, all for FREE!

Application Features:
• Get breaking news and updated content 24 hours a day
• View stories and photos online and save for offline viewing
• Share articles with your friends, colleagues via email, Facebook and Twitter
• Easy and clear navigation
• Coverage from: News, Politics, Life and Laws, World, Economy, Business, Finance, Personal Money, Market stats, Stock, Real Estate, Sport, Football, Soccer, Entertainment, Lifestyles, Health, Beauty, Fashion, Youth, Education, Scholarship, Jobs, Careers, Travel, Auto, Car, Motorbike, Science, Technology, Shopping, Game
What's New in Version 4.5
- Fix bug
iPad Screenshots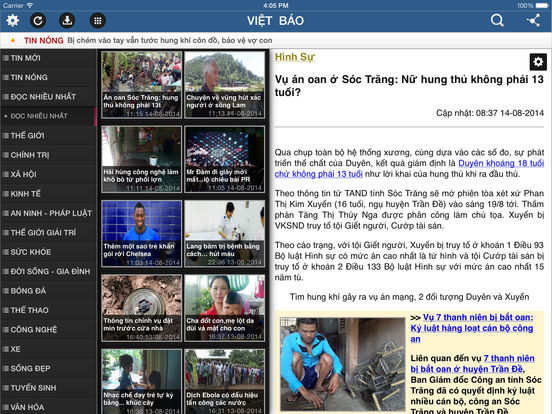 View in iTunes
Free

Category:

News

Updated:

04 November 2015

Version:

4.5

Size:

12.3 MB

Language:

English

Developer:

Dung Nguyen
Compatibility: Requires iOS 6.0 or later. Compatible with iPad.