Shutter
Laurie Faria Stolarz
This book can be downloaded and read in iBooks on your Mac or iOS device.
Description
THE FACTS • Julian Roman, age sixteen, is an escapee from the Fairmount County Juvenile Detention Facility. • His parents, Michael Roman and Jennifer Roman, are dead. • Julian is wanted for murder. THE QUESTIONS • Why is Julian Roman on the run? • Just how dangerous is he? • And who did kill Michael and Jennifer Roman, if not Julian? Sixteen-year-old Day Connor views life through the lens of her camera, where perspective is everything. But photographs never tell the whole story. After Day crosses paths with Julian, the world she pictures and the truths she believes—neatly captured in black and white—begin to blur. Julian is not the "armed and dangerous" escapee the police are searching for, but his alibis don't quite add up, either. There is more to his story. This time, Day is determined to see the entire picture . . . whatever it reveals. Did he? Or didn't he? Day digs deeper into the case while Julian remains on the run. But the longer her list of facts becomes, the longer the list of questions becomes, too. It's also getting harder to deny the chemistry she feels for him. Is it real? Or is she being manipulated? Day is close to finding the crack in the case. She just needs time to focus before the shutter snaps shut. Laurie Faria Stolarz is a master of suspense and romance. Shutter will keep readers guessing until the very end.
From Publishers Weekly
Sep 12, 2016 –
The daughter of social-justice-crusading parents, 16-year-old amateur photographer Day O'Connor takes up the cause of a teenage convict on the run in this uneven mystery. After Day spots a handsome, disheveled boy with a familiar-looking face in a local Massachusetts convenience store, she learns that he is Julian Roman, 16, accused of killing his parents and escaping a nearby juvenile detention facility. Day hides Julian in her parents' barn while she aims to learn more about his case; Julian is predictably reluctant to share his feelings with Day, who is excited to have found a cause c l bre to rival those that take up more and more of her mother's time. Julian recounts his own version of the events leading to the deaths of his abusive father and depressed mother in italicized chapters, which makes his tape-recorded interviews with the eager Day feel like overkill. While readers may unravel the whodunit before Day does, Stolarz (Welcome to the Dark House) creates some genuinely emotional scenes and thorny dilemmas for her characters. Ages 14 up.
Screenshots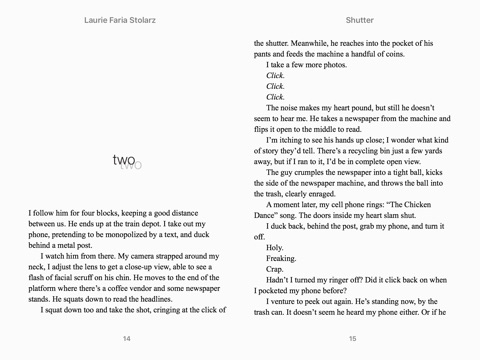 View in iTunes
$10.99

Category: Romance
Published: Oct 18, 2016
Publisher: Disney Book Group
Seller: Disney Publishing Worldwide
Print Length: 241 Pages
Language: English
More by Laurie Faria Stolarz