AmpliTube Orange for iPad
De IK Multimedia
Este app só está disponível na App Store para dispositivos iOS.
Descrição
LEGENDARY ORANGE® TONE ON YOUR iPAD. NOW WITH iRIG® BLUEBOARD DIRECT INTEGRATION, AUDIOBUS SUPPORT IN iOS 8 AND MORE!

Turn your iPad® into the ultimate mobile Orange® guitar/bass multi-FX processor and recording studio! AmpliTube® Orange® was developed with careful guidance from the tone gurus at Orange to ensure the authenticity of the sound. Derived from the award-winning desktop recording studio version AmpliTube Orange, you can choose from 6 Orange amp models and 3 stompbox models.

It lets you build your Orange rig with 4 simultaneous stompboxes that go into an amp head, speaker cabinet and mic. Each element has full and separate controls for ultimate 'tweak-ability'.

Plug your instrument into AmpliTube Orange via IK's iRig® HD or iRig® PRO digital interfaces (or iRig® or iRig® STOMP). Plug in your iRig® BlueBoard to control AmpliTube Orange straight from the floor — the latest version features comprehensive iRig BlueBoard integration. Or use iRig MIDI to control AmpliTube Orange with your floor controller of choice.

AmpliTube Orange® is now compatible with Audiobus in iOS 8. It can be opened inside Audiobus (a 3rd-party app that requires a separate purchase) and connected to other compatible apps for many creative purposes.

Use the Speed Trainer tool to import backing tracks and loops from your Music library for practice. It lets you speed up (+200%) or slow down (-50%) so you can hone your chops.

AmpliTube Orange is also a recording and production studio with a built-in single-track recorder with re-amping ability, which you can expand to a full-featured 8-track recorder with master section via in-app purchase. The new AutoFreeze feature lets you add separate effects chains to each track and tweak them later. Amplitude Orange® now also allows project sharing between different versions and devices.

IMPORTANT: if you currently own AmpliTube for iPad, AmpliTube Orange® gear models are available for in-app purchase either as a complete set or a-la-carte. You can now use iCloud to transfer in-app purchases between different AmpliTube versions and devices.

AmpliTube Orange for iPad features:

- Full rig with 4 simultaneous stompboxes + amp with effects + cabinet + mic
- Inter-App Audio support (iOS 7 and above)
- Audiobus compatible
- 4 stompbox models — Highway Drive, The Shaker, Echo Trip (by registering), and Noise filter
- 6 Orange amps with matching Cabinets — OR50™, Rockerverb 50™, Thunderverb 200™, Tiny Terror™, AD 30™, AD 200 Bass MK3™
- Dynamic + condenser mic models
- Single track recorder (with re-amping) expandable to 8-track studio with master effects through in-app purchase
- AutoFreeze allows for separate, tweakable effects per track on the multitrack recorder
- Import songs/backing tracks directly from your Music library on your device or from your computer
- Export via E-mail, SoundCloud, FTP or File Sharing
- NO VOICE feature removes the lead vocal or guitar solo from imported songs
- Change the tempo (-50% to +200%) of imported songs without affecting their pitch
- Digital audio in/out
- MIDI controllable
- Powerful preset system
- Includes tuner and metronome
- Low-latency for real time playing

More apps information:

www.amplitube.com/orangeipad
www.amplitube.com/iphone
www.amplitube.com/slashipad
www.amplitube.com/hendrixipad
www.amplitube.com/fenderipad
www.ikmultimedia.com/vocalive

Accessories information:

www.irighd.com
www.ikmultimedia.com/irigpro
www.irigblueboard.com
www.amplitube.com/irig
www.irigstomp.com
www.irigmidi.com
www.irigblueboard.com
Novidades da versão 2.0.0
- Studio section (available via in-app purchase) offers DAW features such as cut/copy paste, normalize, fa punch in/out recording and much more
- "Cab Room" feature that allows 3D miking of cabinets with up to two mics (available via in-app purchase)
- 16 high-end studio mics now available via in-app purchase
- Looper feature (available via in-app purchase)
- Loop drummer module plays in sync with the recorder
- UltraTuner available for in-app purchase
- Added drag and drop stompbox FX placement
- You can now place 2 FX after the amp for even more sonic possibilities
- Complete project compatibility between iPhone and iPad AmpliTube versions
- Multi-language dynamic tooltips
- General reliability improvements
Captura de tela do iPad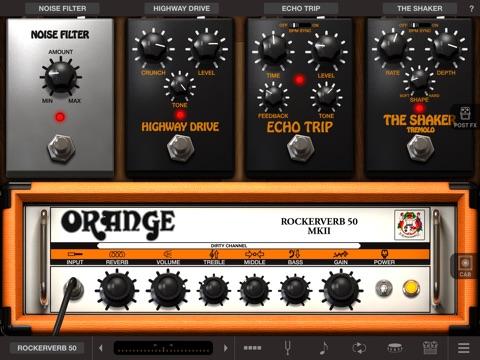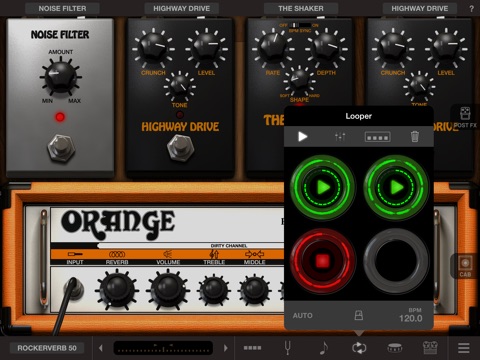 Ver no iTunes
USD 7.99

Categoria:

Música

Atualizado:

21/01/2016

Versão:

2.0.0

Tamanho:

539 MB

Idiomas:

Chinês simplificado, Espanhol, Francês, Inglês, Italiano, Japonês

Vendedor:

IK Multimedia US, LLC
Compatibilidade: Requer o iOS 8.0 ou posterior. Compatível com iPad.
Top Compras dentro do app
AmpliTube 4 BundleUSD 9.99
Recorder + Master FXUSD 7.99
LooperUSD 4.99
Mic Condenser 12USD 1.99