ForeFlight Mobile EFB
De ForeFlight
Abra o iTunes para comprar e baixar apps.
Descrição
ForeFlight is the award winning and most widely used flight planning and electronic flight bag app for iPad and iPhone. Individual pilots and professional flight crews all over the world use ForeFlight to plan and file flight plans, access preflight and in-flight weather, download and view electronic charts and maps, manage flight publications, log flight time, and more. Additionally, ForeFlight is renowned for its amazingly responsive and accurate Fanatical Pilot Support™.

Continued ForeFlight service requires a subscription, options are available via in-app purchase.

REVIEWS

• Editor's Choice, Flying Magazine, January 2014
• Editor's Choice, Flying Magazine, January 2013
• Editor's Choice, Flying Magazine, January 2012
• App of the Year, Aviation Consumer, July 2011
• Best Selling iPad Aviation App: 2010, 2011, 2012
• "Best app for IFR" - Aviation Consumer
• "One of the most popular and most-respected aviation apps available" - Sporty's Pilot Shop

ForeFlight offers these features and more:

FLIGHT PLANNING

Use touch planning, interactive route editing, altitude and route advisors, and SID/STAR previews to plan your flight quickly and easily, with all the information you need right at your fingertips.

FILE & BRIEF

File, amend, or cancel VFR and IFR flight plans from your mobile device, and use ForeFlight Graphical Briefing to get all the weather information you need to feel confident and ready for takeoff.

WEATHER

Graphical AIRMETs and SIGMETs, global winds aloft data, and hundreds of weather imagery products deliver information about conditions along your route quickly and visually.

PLATES & CHARTS

Download all of the VFR and IFR charts you need based on your selected geo-region, as well as procedure plates and taxi charts for thousands of airports across North America.

AIRPORT & FBO INFORMATION

Access a wide array of information for thousands of airports and FBOs to be fully prepared for your flight.

WEIGHT & BALANCE

Ensure that your aircraft will stay within its weight and CG limits for the entire flight with easy data and load entry.

LOGBOOK

Logbook is seamlessly integrated into the ForeFlight app, making it easy to track hours, currency, ratings, endorsements, and more on your iPad and iPhone. Your data is automatically synced across all your devices and protected in ForeFlight's secure cloud storage.

AVIONICS CONNECTIVITY

Wirelessly connect to your installed avionics to send and receive flight plans or get GPS, ADS-B, or AHRS. Partners include Stratus, Garmin, Dynon Avionics, FreeFlight, Aspen Avionics, Bad Elf, and more.

GEO-REFERENCED APPROACHES AND TAXI CHARTS

Geo-referenced plates and taxi charts enable the real time display of your GPS position on the chart. They can also be overlaid on the Maps view along with weather and hazards, providing advanced situational awareness for IFR pilots.

HAZARD ADVISOR & PROFILE VIEW

Hazard Advisor is a moving-map overlay that tracks your GPS position and altitude to depict hazardous terrain and obstacles. Profile gives you a side view of terrain and obstacle elevations along your planned route so you can easily determine safe altitudes.

SYNTHETIC VISION

Synthetic Vision is a visually stunning and high-performance hazard awareness capability for iPad, providing a virtual view of the terrain with color-coding to indicate safe elevations. When paired with a Stratus 2S or other AHRS device it also acts as a backup attitude indicator.

CLOUD DOCUMENTS

ForeFlight allows pilots to connect their account to Dropbox, Amazon S3, or Box, and upload their own documents to the app. Documents are stored in the cloud and synced across all iPads on an account.

FLIGHT NOTIFICATIONS

After filing, ForeFlight sends you real-time push and email notifications when expected route information is released from ATC.

CREDITS

• Canadian radar coverage is provided by Environment Canada.
• International A/FD provided by Universal Weather and Aviation.
Novidades da versão 9.1.3
9.1.3

Bug fixes and improved stability.

9.1

Next-Generation, High-Performance Flight Planning
• Requires an upgrade to the Performance Plus or Business Performance plan.
• Powerful flight planning for high-performance pistons, turboprops, and jets.
• Very fast and accurate time and fuel calculations based on weight, temperature, winds aloft, and detailed aircraft performance data.
• Optimal routing and trajectory based on aircraft performance and global wind and temperature forecasts.
• Advanced flight planning features are accessible from Maps or the new Flights interface.
• Hundreds of highly-detailed aircraft performance models sourced from manufacturer aircraft flight manuals, curated and quality checked by ForeFlight's aircraft performance team.
• Airspeed and fuel biasing is supported for each performance profile.
• User-defined custom performance profiles.
• Easily transfer aircraft profiles from other flight planning platforms.
• Route Advisor automatically generates valid routings between airports of any size, anywhere in the world.
• Route Advisor computes accurate time and fuel for every route option, including ATC cleared.
• Route Advisor suggests optimal altitudes, considering aircraft performance limitations and forecasted wind and temperature aloft.
• Altitude Advisor quickly computes time and fuel for all altitude options.
• Fuel policy support lets you choose between landing target, minimum, maximum, and other fuel policies.
• Quickly input number and weight of people on board, and cargo weight.
• Warnings and notifications when structural weight or performance limits are exceeded, such as overweight takeoff and landing conditions or climb restrictions based on temperature.
• Distance, time, fuel, ETA, and wind prominently shown for every flight on the flight plan summary strip.
• Integrated JetFuelX pricing will help you save money on every flight, get the most from your contract fuel relationships, and find the best locations to stop for fuel.
• Professional-grade, print-ready navlog that includes flight and fuel summary information, TOC, TOD, synthetic waypoints along track, altitude sensitivity analysis, and more.
• Powered by the industry-leading AviationCloud flight planning engine, which generates thousands of optimized routes each day for leading trip support and flight planning companies.

New Flights Interface
• Replaces the File & Brief interface.
• Streamlined workflow for planning, briefing and filing flight plans.
• Fast access to Navlog, Graphical Briefing, and Flight Alerts.
• Integrated Route and Altitude Advisors simplify route and altitude selection.
• Time and fuel calculated for all route and altitude options.
• Supports multiple basic aircraft profiles.
• New professional, printable Navlog.
• Distance, time, fuel, ETA, and winds shown in a new flight plan summary strip.
• Local time zone support for departure and arrival airports.
• All customers will see this newly designed interface.

Global Terrain and Obstacle Data
• Jeppesen's best-in-class global high-resolution terrain and obstacle data now included standard for all customers.
• Synthetic Vision and Hazard Advisor now works globally, helping pilots around the world avoid CFIT.

Import and Management of User Maps
• Easily import User Map Layers (KML shapefiles) via hyperlink or email.
• View and manage imported maps and user waypoints in the new User Content page.
• Learn how to create and publish maps for other ForeFlight customers to import at https://foreflight.com/support/user-map-shapes/

Avionics Integration
• Display ADS-B METARs, TAFs, and PIREPs in ForeFlight Mobile when connected to a Garmin Flight Stream 510.
• Two-way flight plan transfer support for Avidyne IFD550/540/440 systems.

Expanded Radar Coverage
• ForeFlight's Radar (Composite) layer now covers Europe, Australia, and Japan.

New in ForeFlight Military Flight Bag
• DD-175 Military Flight Plan Form is available for download in the Documents Catalog.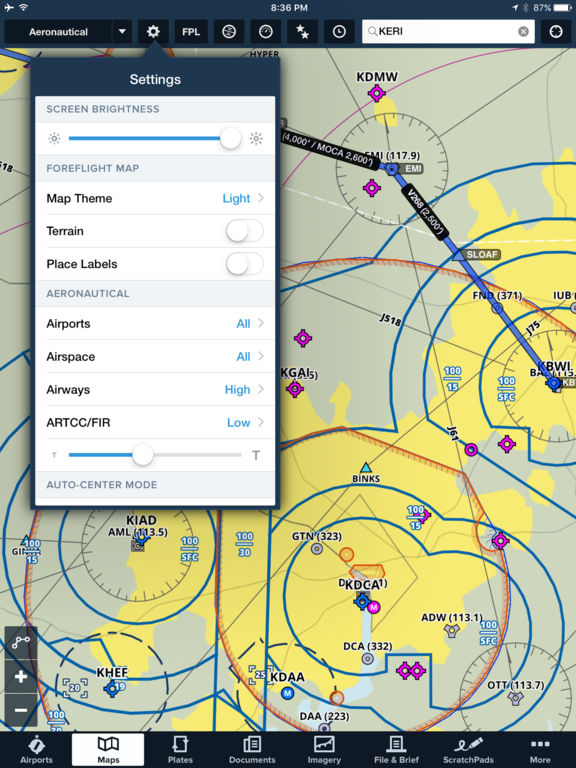 Ver no iTunes
Este app foi desenvolvido para iPhone e iPad
Oferece app para Apple Watch no iPhone
Grátis

Categoria:

Previsão do tempo

Atualizado:

09/06/2017

Versão:

9.1.3

Tamanho:

226 MB

Apple Watch:

Sim

Idioma:

Inglês

Vendedor:

ForeFlight, LLC
Compatibilidade: Requer o iOS 9.2 ou posterior. Compatível com iPhone, iPad e iPod touch.
Top Compras dentro do app
Basic - USA, 1 YearUSD 74.99
Basic Plus – US, 1 Pilot for 3 MonthsUSD 49.99
Pro - USA, 1 YearUSD 149.99
Basic Plus – US, 1 Pilot for 1 YearUSD 99.99
Basic - USA, 3 MonthsUSD 49.99
Pro Plus – US, 1 Pilot for 1 YearUSD 199.99
Pro SV - USA, 1 YearUSD 174.99
Basic SV - USA, 1 YearUSD 99.99