Free Dog Whistle for iPad
De Jun Li
Abra o iTunes para comprar e baixar apps.
Descrição
The most downloaded and highest rated dog whistle training App! The most intuitive UI design makes dog training easy and fun.
Nine unique high frequency tones get your dog's attention immediately. With tips and FAQs, it has never been simpler to teach your dog new tricks. It also offers nice funny sounds for you to tease your dog!

With the most easy-to-use dog whistle app you can:

-Train your dog with 9 different frequencies, which are most effective frequencies that your dog is sensitive to (6KHz, 8KHz, 10KHz, 12KHz, 14KHz, 16KHz, 18KHz, 20KHz, 22KHz), each frequency has a unique color scheme.
-Tease your dog with nine funny sounds and have fun with your puppy.
-Learn tips and tricks in Manual and get a glimpse of FAQs that our users are most interested in.
-Pay $0.99 to remove ads

***
Free Dog Whistle for iPad is not a magic wand; it won't potty train your dog with just a tap away.

First of all, you need to be patient. Different kennel breeds have diverse defining characteristics. Even the same breed, they have different personalities. It is a good idea to train dogs according to their aptitudes.

Secondly, you need to be a constant learner and be eager to learn. Our Manual only provides some basic tips and FAQs. For more detailed training methods and professional inputs, you are well advised to consult your local dog training community. Also there are many great communities online, you can always learn from other dog lovers.

Last but not least, you need to be flexible, you have to try different methods to figure out which the best solution is.

***
To be a "pack leader" is not easy. We'd rather call it a complementary tool which facilitates your dog training or as a means to better communicate with your dog.

As a matter of fact, you don't want to be a "Pack leader" at all. You just want to be friends with your dog! In this sense, high pitches or funny sounds are merely bridges between you and your dog. To better communicate with man's best friend, we not only think in dog's way, also we communicate with the sounds that only dog can hear. That's Free Dog Whistle for iPad!

***
Help and Support

If you would like to share feedback or are having issues with our app, please email us at support@imoblife.net

For more tips and feature updates, engage us on Google+ http://goo.gl/11mt5U
Novidades da versão 1.9
Bug fixes and overall optimization.
Captura de tela do iPad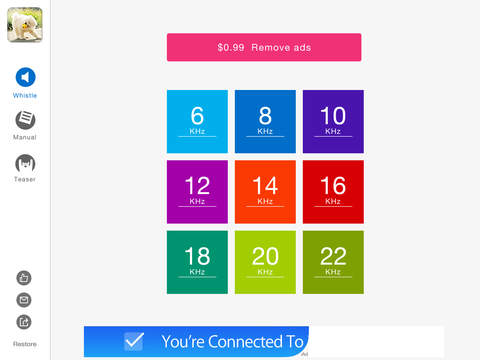 Ver no iTunes
Grátis

Categoria:

Entretenimento

Atualizado:

17/07/2015

Versão:

1.9

Tamanho:

19.1 MB

Idioma:

Inglês

Vendedor:

Jun Li
Compatibilidade: Requer o iOS 6.0 ou posterior. Compatível com iPad.
Mais apps para iPad de Jun Li