Geotag Photos Pro
De TappyTaps s.r.o.
Este app só está disponível na App Store para dispositivos iOS.
Descrição
Professional geotagging solution - all you need to geotag photos taken by your EXTERNAL camera (DSLR or compact one). Supports JPG & many RAW file formats. Ideal for use with Lightroom, Aperture, Picasa and other photo apps that supports geotagged photos.

Rewards:
- Geotagging App of the Year by Macworld
- Repeatedly recommended by leading Adobe Lightroom professionals
- Recommended in many great books such as Lightroom 4 UnMasked, Lightroom 4 the missing FAQ, Lightroom 4 Roadmap for photographers,
- Praised by leading photography magazines and websites all over the world (Techradar, Ephotozine, Fotomaf, Xatakafoto, Lightroom Secrets, Digital-Fotografie, Pixelmania.nl, Photoplus...)

- Note - if you have iOS 8 and newer, you should look at Geotag Photos Pro 2
- See application video at http://bit.ly/9cwRdA

Highlights:
● complete solution - iPhone application for automatic storing of location data & desktop application for geotagging of pictures. No need to purchase another desktop app!
● runs great on background
● battery usage optimised for whole day of geotagging.
● Dropbox support - automatic GPX export of all your trips, makes it super easy to use Geotag Photos with Lightroom
● Smart watch support - free watch app for Apple Watch and Pebble Watch
● export to GPX - 4 ways how to do this: through Dropbox, iTunes, by email or from web. No need to have internet or wifi connection for GPX export!
● Geotagging desktop application - Geotag your JPG or RAW files - quick and easily! Required network connection to get data from iPhone to geotagging app (but no need to have network connection, when you are on the trip). NEW! - complete offline version is also available.
● works perfectly on any operating system - Mac OS X, Windows and even Linux
● supported image formats: jpg, nef, cr2, crw, dcr, ciff, erf, orf, k25, kdc, mef, mrw, nrw, pef, raf, tif, tiff, raw, arw, rw2, srf, sr2, srw, x3f, dng

This iPhone app works like GPS Data Logger - it logs your positions during your trip. There are various logging modes, that will fit your needs - continuous mode logs your every change and is best if you need most accurate data, from the other hand time based logging (logs position every few minutes) saves your iPhone battery. Our iPhone app can run perfectly in sleep mode.

When you return from your trip, you can synchronize logged data with our desktop application and geotag photos taken by your camera. We support both amateur cameras (compact) and professional ones (DSLR). We also supports geotagging of various RAW formats (.NEF, CRW, CR2 and others). You can also export your logged data to well known and widely used GPX format - in this new version is NOT NECESSARY to upload data to remote server, you have your GPX files always prepared and can get them using iTunes file sharing function or you can send them from iPhone by email.

few ideas how to use Geotagged photos:
- use Places function of modern viewing applications (iPhoto, Aperture, Picasa) to see your photos on map
- find your photos by place (for example find quickly all photos from New Your in your Photo library)
- upload Geotagged photos to social sites (flickr, ...)

Visit our website for more information! Visit our blog at http://www.geotagphotos.net/blog for news.


FAQ:
q: how much it will drain my battery?
a: depending on logging mode, that you choose. If you choose reasonable logging mode (like to get position every 10 minutes or so), iPhone battery will be enough for more than day.

q: will it work abroad, if I don't have roaming?
a: yes, but it can take longer time before it gets the first position (especially after first usage after your travel by plane). Please don't use Flight mode! It will switch GPS off and logging will not work.

Chat with us on our website, if you have other questions!

Note: Continued use of GPS running in the background can dramatically decrease battery life.
Novidades da versão 3.8
Watch app for Apple Watch!
- use watch to see status of logger
- log current location from your wrist
- change logging interval
- display your and latest logged position on the map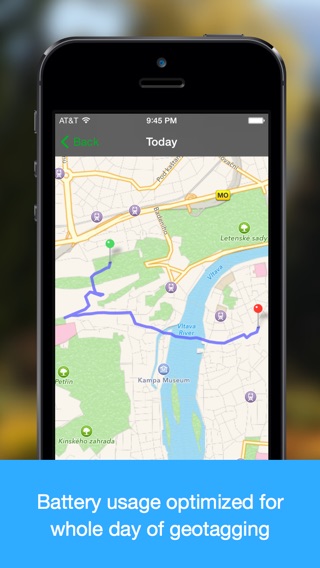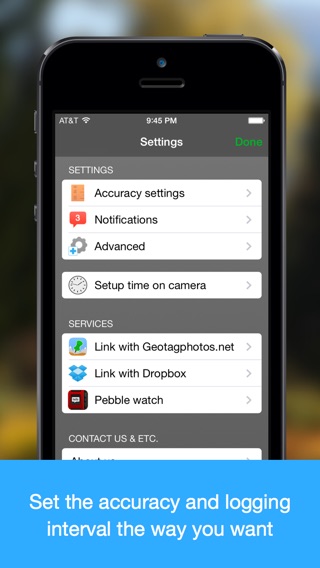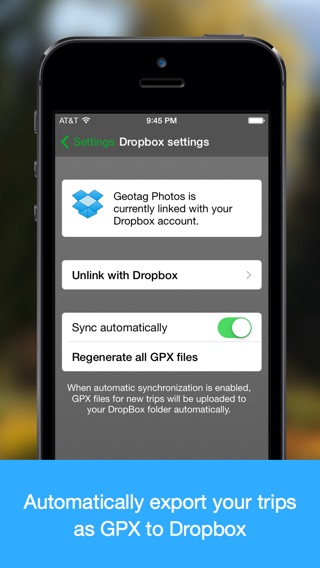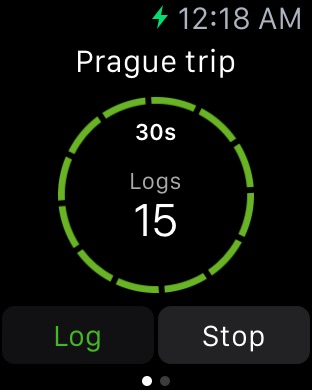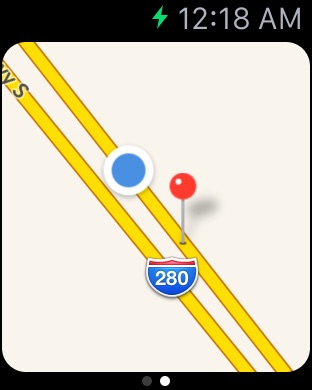 Opiniões de clientes
Excelente
Funciona perfeitamente. Ótimo app.
Otimo!
Muito bom para quem não tem GPS integrado à câmera fotográfica. Integração perfeita com o Adobe Lightroom.
Simples, útil e barato
Fácil de operar e de utilidade indiscutível, para aqueles que curtem fotografia e não possuem câmera com geotagging nem desejam pagar os olhos da cara por um gps para a câmera. E a um benefício/custo imbatível.
Ver no iTunes
Oferece app para Apple Watch no iPhone
USD 3.99

Categoria:

Foto e vídeo

Atualizado:

17/04/2015

Versão:

3.8

Tamanho:

28.2 MB

Apple Watch:

Sim

Idiomas:

Alemão, Checo, Eslovaco, Espanhol, Francês, Inglês

Vendedor:

TappyTaps s.r.o.
Compatibilidade: Requer o iOS 7.0 ou posterior. Compatível com iPhone, iPad e iPod touch.
Mais apps para iPhone de TappyTaps s.r.o.