KORG iM1
De KORG INC.
Este app só está disponível na App Store para dispositivos iOS.
Descrição
A complete reproduction - and more - of the legendary M1 that defined an era. Mobile Digital Synthesizer for the iPad.

● Selected by Apple as "App Store Best of 2015"
● Ranked #1 on the App Store on Top Paid Music category in more than 20 countries! (15/5/27)

Since it went on sale in 1988 the legendary M1 music workstation rapidly achieved record-breaking sales, becoming a mainstay of the music scene from the late 1980s and beyond. The common element of electronic instruments that have left their name in history is that they had a unique sound that was difficult if not impossible to replicate. Sounds such as the "M1 Piano" is instantly recognizable and have appeared on countless hit records over many years, and yet these are sounds that could only be produced by the M1. And that's what you can now have on your iPad!

● A faithful reproduction of the original M1 Sound
The PCM data provides the library of the original M1. For the hardware, we analyzed the circuit diagram of the original design, and completely replicated it in software down to the last detailed parameters. Engineers with an exhaustive knowledge of the M1 made careful adjustments in order to obtain the sound of the original unit, something that cannot be obtained simply by sampling the original sounds.

● A continued evolution of the M1
Not content with simply reproducing the original, iM1 provides further evolutionary developments. Synth parts now have the Filter Resonance that was requested at the time of the original. The effect parts, originally consisting of only two effects, have been powered-up to 18 effects. The user interface has also been refreshed with additions such as a KAOSS pad. iM1 is the ultimate version of the KORG M1.

● A gigantic library encompassing 3,300 sounds and 34 cards*
In addition to all 19 of the ROM cards originally released for the M1, iM1 also covers the sounds of the M1EX which expanded the internal PCM of the M1, as well as the sounds of the T-series which appeared as an evolution of the M1. There's also "BEST OF M1", a selection of 100 great M1 programs. The new "Smart Sound Browser" makes it quick to find the desired sound. You can also view the sounds ranked by how often they are selected by iM1 users around the world.
*with all the expansion card installed via in-app purchase

● KAOSS pad lets anybody perform
iM1 features a KAOSS pad from the popular KAOSSILATOR, allowing you to perform intuitively just by touching the screen. By using the dual KAOSS pads to play phrases or adjust the sound, even people who are not accustomed to keyboard instruments or knowledgeable about synthesizers can enjoy performing the iM1. There's also a conventional keyboard, as well as the "Smart Keyboard", which lets you specify a scale setting and play phrases with a single finger.

● Use with KORG Gadget for song production
iM1 can be used together with Gadget, the music production DAW app that won the App Store Best App of 2014 award in Japan. If both apps are installed, you can use iM1 as a sound module within Gadget, taking advantage of the program sounds in iM1 for music production. iM1 also supports Audiobus and Inter-App Audio, so it can also be used for GarageBand etc.

● Connect a MIDI keyboard and use as a sound module
In addition to enjoying iM1 on its own, you can connect a USB MIDI keyboard* via a Lightning adaptor and play the iM1 as an external sound module. You can easily take along an even more powerful workstation sound module as part of your iPad-based compact mobile system.
*microKEY, nanoKEY etc.

● Interchangeable with the KORG Legacy Collection and the original M1
Sounds that you create in iM1 can be sent from your iPad via iTunes to a Mac/PC. If you have the Legacy Collection M1, you can use those sounds in a DAW.

More info at korg.com
Novidades da versão 1.0.6
• Fixed a problem Smart Sound Browser's "POPULAR" did not work.
Captura de tela do iPad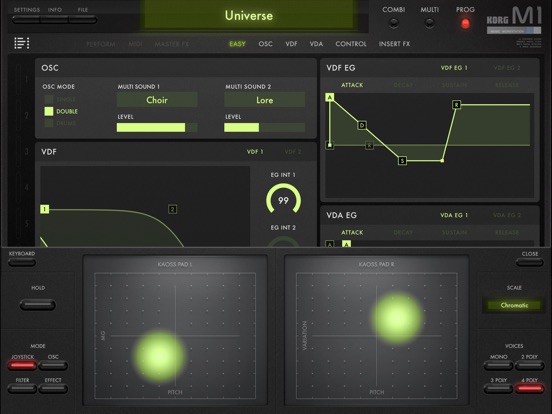 Ver no iTunes
USD 29.99

Categoria:

Música

Atualizado:

14/06/2017

Versão:

1.0.6

Tamanho:

96.1 MB

Idiomas:

Português, Alemão, Catalão, Checo, Chinês simplificado, Chinês tradicional, Coreano, Dinamarquês, Eslovaco, Espanhol, Finlandês, Francês, Grego, Hebraico, Holandês, Húngaro, Indonésio, Inglês, Italiano, Japonês, Malaio, Norwegian Bokmål, Polonês, Romena, Russo, Sueco, Tailandês, Turco, Ucraniano, Vietnamita, Árabe

Vendedor:

KORG INC.
Compatibilidade: Requer o iOS 8.0 ou posterior. Compatível com iPad.
Top Compras dentro do app
M1 Cards PackUSD 4.99
T1 Cards PackUSD 4.99
Mais apps para iPad de KORG INC.