Microsoft Remote Desktop
De Microsoft Corporation
Abra a Mac App Store para comprar e baixar apps.
Descrição
With the Microsoft Remote Desktop app, you can connect to a remote PC and your work resources from almost anywhere. Experience the power of Windows with RemoteFX in a Remote Desktop client designed to help you get your work done wherever you are.

Getting Started
In order to successfully connect to a Windows PC, please read the FAQ first at http://technet.microsoft.com/en-us/library/dn473006.aspx

Features
•Access to remote resources through the Remote Desktop Gateway
•Secure connection to your data and applications with breakthrough Network Layer Authentication (NLA) technology
•Simple management of all remote connections from the connection center
•High quality video and sound streaming with improved compression and bandwidth usage
•Easy connection to multiple monitors or projectors for presentations
•Print from Windows applications to any printer configured on your Mac
•Access local files on your Mac from your Windows applications
•Support for Azure RemoteApp
Novidades da versão 8.0.16
• Issues fixed related to file transfer using folder redirection
• Issues fixed for connecting through a gateway
• Performance improvements
• Security update: Supporting OpenSSL 1.0.2
• Support for RDP file setting: prompt for credentials on client
* This setting determines whether the user will be asked for credentials when connecting to a server that does not support server authentication. Visit the server documentation for more information on this setting here (http://go.microsoft.com/fwlink/?LinkId=532949).
The complete URL Scheme documentation is located here (http://go.microsoft.com/fwlink/?LinkID=521642).
Captura de telas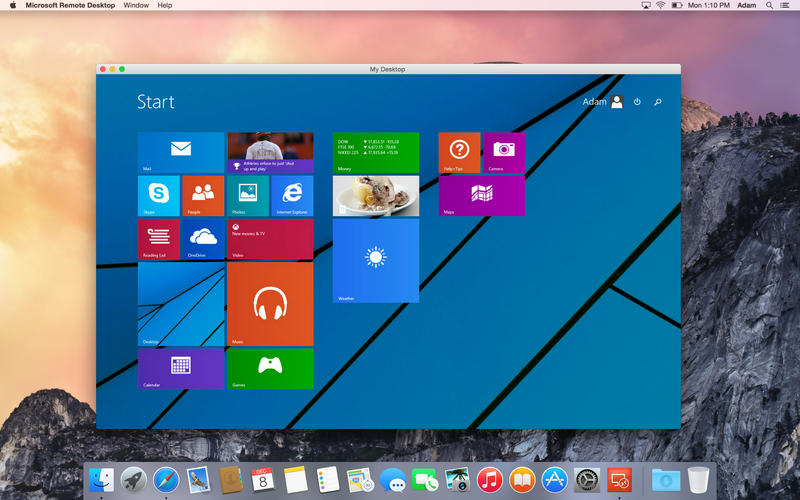 Visualizar na Mac App Store
Grátis

Categoria:

Negócios

Atualizado:

23/04/2015

Versão:

8.0.16

Tamanho:

14.3 MB

Idioma:

Inglês

Vendedor:

Microsoft Corporation
Compatibilidade: OS X 10.7 ou superior, processador de 64 bits