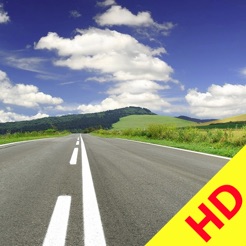 PD Maps Worldwide Edition
4+
Grátis
Oferece compras dentro do app
Descrição
➔ "This is an application that does its job very well. It's simple yet functional. A good and economical alternative to the full featured navigation apps" – iPhoneItalia.com
PD Maps is a turn-by-turn map navigator for iPhone

★ Now supports offline mode ★
★ Maps from 8 different providers ★

➔ Key features:
✔ Extremely fast & smooth map rendering
✔ Worldwide map coverage. No more blank spots in any area!
✔ Full screen map browsing
✔ Search on the map provided by Google
✔ Different map & route providers including Google Maps, Yahoo! Local, Microsoft Bing Maps, CloudMade, OpenStreetMap, Яндекс.Карты, Visicom.ua
✔ Simple route building and one-touch re-routing (use routes by CloudMade if Google fails)
✔ Offline maps mode with unlimited tile storage. To be completele offline turn jams info off.
✔ Real-time traffic information (requires internet connection)
✔ 2D map browsing & 3D driving modes
✔ Wikimapia & Panoramio services support: explore new places around you
✔ 5-day weather forecast
✔ Compass support

➔ Premium users:
PD Maps is a completely free application with no ads inside. Premium user status is available for in-app purchase. Premium users get express support & assistance and are provided with offline maps mode. These funds make future updates possible.
Please note: premium user status is purchased only when you entered your iTunes password. If you accidentally tapped on '$' icon but didn't enter your login and password you won't be charged anything.

➔ Support & help:
You can watch demo video and read the application manual at www.PlanetDrives.com
Your comments and feedback are welcome.

Enlarged map labels for Retina displays (iPhone4).
Avaliações e opiniões
Nao consigo usar
Nao consigo pesquisar um endereço. Qualquer coisa que eu escrevo na caixa de pesquisa informa que nao acha nada. Estou fazendo algo errado?
Funciona
Funciona, mas, atencao aos mapas, maos das ruas e numeracao!
atenção
verifique se no mapa que você vai usar está atualizado, pois pode ter anomalia de endereço,, exemplo: estar em uma rua e no mapa estiver marcando outra que é o caso de Tijucas SC....
Informações
Vendedor

Konstantin Klyatskin

Tamanho

1.5 MB

Categoria

Compatibilidade

Requer o iOS 3.0 ou posterior. Compatível com iPhone, iPad e iPod touch.

Classificação indicativa

Classificação +4

Copyright

© PlanetDrives

Preço

Grátis

Compras dentro do app

Status of Premium User

R$ 10,90
Compatível com
Compartilhamento familiar

Até seis membros da família poderão usar este app com o Compartilhamento familiar ativado.