Relax Melodies Oriental Meditation: White noise & sleep zen sounds for relaxation, yoga and health
De iLBSoft
Abra o iTunes para comprar e baixar apps.
Descrição
•• MOST-EFFECTIVE sleep aid brand ••
•• GENEROUS bank of 36 sounds ••
•• SLEEP like you haven't in a LONG time! ••

Give yourself a break and get back the sleep you deserve through relaxing sessions with the Oriental themed version of the popular and original Relax Melodies App! By falling into a peaceful state, it will help you achieve a deep sleep and feel much better when you awake. No more lacking of sleep or insomnia for you!

Just like its big brother app, Relax Melodies Oriental is a unique and innovative concept that will make you sleep. Its simpleness allows you to create personalized mixes by combining high quality white noise sounds and music that connect with you.

Mix, Play & Sleep. As simple as it sound, it works! Join other million of users and let us know how it worked for you.

Enjoy now the exclusivity of this Oriental themed version of Relax Melodies, the leader in sleep assistance.

== FEATURES ==

• 36 high quality ambient sounds, including 3 binaural beats frequencies for brainwave entrainment.
• iTunes songs integration. Create unique playlists with your favorite songs and combine them with our relaxing melodies.
• Mix your favorite sounds together with different volume to create your own personal melodies and get infinite possibilities!
• Beautiful high-res image associated to every sound for easy mental visualization
• Image slideshow of selected sounds for a complete integration with your mix
• High quality Retina graphics
• Avant-garde and easy to use individual sound volume adjustments
• Include 5 off the shelf favorites for easy startup
• Create, Save, Name, Sort and Replay your favorites easily
• Clock display with brightness adjustment available in 2 different themes
• Multiple Alarms & Timers system. Use your own favorite mix as an alarm to wake up slowly and refreshed.
• Connect with Airplay devices!

== TESTIMONIES ==

I love that you can combine the different sound together. All of the sounds are beautiful. I love this app. It helps me sleep at night.

Love falling to sleep with this playing, very relaxing & peaceful.

I use it 4 or 5 times a week to help me sleep.. Or power nap (uh, I mean meditate, yeah that's it). My 7 year old uses it to get to sleep sometimes too.

I love the versatility and ease of creating your own melodies. The sleep alarm and clock are nice accessories.

This is my very first review . I had to take the time to do this because this is the best app ever. I have insomnia n I didn't want to use meds. This app is the best alternative ever. I'm asleep within 10 mins. LOVE!!! Great work

== JOIN THE COMMUNITY OF QUALITY SLEEP ==

A quality sleep will not only make you feel better but has also a lot of benefits on your health, temper and productivity. With Relax Melodies Oriental, you can now help your mind and body to take advantage of these benefits. Join now the relaxed community of millions of users where your hours of sleep will turn into bliss!
Novidades da versão 4.1
We listened to your feedback, and we fine tuned our new design!

- Adjusted sound volume
- Improved interface. Find sounds, melodies, brainwaves, guided meditations and courses all in one place.
- Fixed background audio issue
- iPhone 6 Plus bugfixes
- Many bug fixes and usability improvements
Captura de tela do iPhone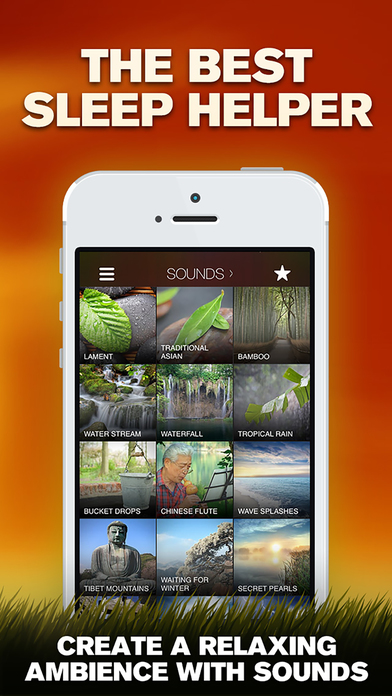 Opiniões de clientes
Easy and functional!
Easy and functional!

The only one with zen songs that I am aware of...
Great App
I do my meditation every single day listening their sounds!!!!!
May be one day they give me all the extra sounds 😜😜
Ver no iTunes
Grátis

Categoria:

Saúde e fitness

Atualizado:

05/12/2014

Versão:

4.1

Tamanho:

106 MB

Idiomas:

Alemão, Chinês simplificado, Espanhol, Francês, Inglês, Italiano, Japonês, Russo

Vendedor:

iLBsoft
Compatibilidade: Requer o iOS 6.0 ou posterior. Compatível com iPhone, iPad e iPod touch.
Top Compras dentro do app
Introduction to MeditationGrátis
All Ambient SoundsUSD 4.99
Special Offer - Lifetime AccessUSD 9.99
All BrainwavesUSD 1.99
Radio - Your Own MusicUSD 0.99
3 Month AccessUSD 6.99
1 Month AccessUSD 4.99
Self EsteemUSD 2.99
Attract Healthy RelationshipsUSD 2.99
Stop ProcrastinatingUSD 2.99