stickK
De stickK.com, LLC
Este app só está disponível na App Store para dispositivos iOS.
Descrição
stickK is a free web-based service created by behavioral economists at Yale University to help people accomplish their goals. No matter what your goal is - losing weight, quitting smoking, watching less TV or exercising more often - stickK can help you achieve it.

As mentioned in:
- Wall Street Journal
- New York Times
- Harvard Business Review
- TODAY on NBC
- The Economist
- NPR
- Forbes
- ABC, NBC, BBC, Fox Business
... and many more!

By creating a Commitment Contract, you put your goal in writing, set a deadline, and give yourself additional incentives to achieve it.

You are up to 3x more likely to achieve a goal if you put money on the line. stickK allows you to bet on yourself (it's optional)--and if you're unsuccessful at your goal, we'll donate your money to charity, a friend, or even an organization you oppose!

Add extra accountability, by asking a friend or family member to be your Referee and verify your reports on your goal. Then invite friends to be your Supporters, and we'll send them weekly updates on your progress.

=== How it works ===

1) Create a Commitment Contract on the stickK.com website
2) Submit your Reports on the go using the stickK app.

=== stickK's Numbers ===

Over $23 million dollars on the line
Over 290 thousand commitments created
Over 750 thousand workouts completed
Over 13 million cigarettes not smoked

=== User Testimonials ===

"StickK.com has been the perfect motivational tool for me to reach my weight loss goal. I've appreciated the support from the StickK community and benefited tremendously from having to be accountable for my actions. I'm already planning out some new commitments to make and will be using StickK again to reach new goals!" - Katherine from Boston

"I am a huge stickK fan. The philosophy behind it works perfectly for me (and I bet for a lot of people). I have been using it for several months and it has had an extremely positive effect on my life in a number of areas. I hope you are successful for many years to come!!" – Susan

"I have lost over fifty pounds to date with my Stickk.com contract. I've lost weight before, but I have never been as motivated as I have been with Stickk.

"I love your service and have taken to recommending it to all my friends and family members who I thought could benefit from the service. I've watched many of them succeed in some life-changing hurdles as a result of their involvement with stickK." - Analee from Orlando

"I have trouble keeping commitments I make to myself, but when I'm accountable to others I tend to be successful. Thanks for the nudge!"- Kathleen from New Jersey

"If you're having trouble sticking to your commitments, StickK can transform the way you look at them, and more importantly the way you react to them." - Paul from San Francisco

"Given my "problem", there is a huge emotional component to it, so I have found journaling, and this format to be the most successful form of therapy! Thanks for a great service!" - Shirley from Chicago

"I've lost over 20 pounds using your web site over the last 3-4 months. It's the most progress I've made in years. Thanks for providing a great service!"- Damon from Sacramento
Novidades da versão 2.1.7
Goal-setting just got a little bit easier with our newly designed interface. Laying the groundwork for a variety of improvements to come, this release introduces a sleek interface that radically improve the app's user experience and a variety of new features.

What's New?
· Brand new UI provides an elegant, modern in-app experience
· Improved user flows allow for seamless in-app navigation
· A variety of bug fixes & performance improvements
· New Features:
· Communities – Get inspired! See what like-minded goal setters are committing to, or motivate others with your creative commitments.
· stickKFlic – Create a short video about your Commitment to share your story with the world
· Who's stickKing feed – A live feed of active Commitments allows you to see what others are up to
· Star a Commitment – Find an interesting Commitment? Simply Star it so that you can check-in on others' progress and get inspiration
· Suggest a Commitment –Think your friends have what it takes to commit? Get them going by sending them a Commitment suggestion
Captura de tela do iPhone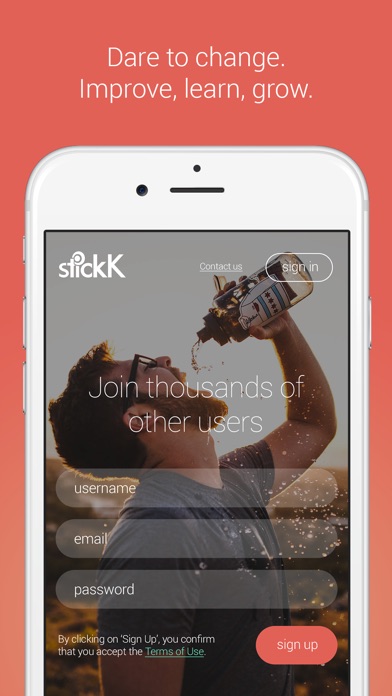 Ver no iTunes
Grátis

Categoria:

Estilo de vida

Atualizado:

06/01/2018

Versão:

2.1.7

Tamanho:

46.2 MB

Idioma:

Inglês

Vendedor:

stickK.com, LLC
Compatibilidade: Requer o iOS 9.0 ou posterior. Compatível com iPhone, iPad e iPod touch.