Tabula Rasa HD
De ThinkOptics, Inc.
Este app só está disponível na App Store para dispositivos iOS.
Descrição
This app requires the iWavit hardware. It will not work without it! See www.iwavit.com for details.

Tabula Rasa HD is the ultimate "Universal Remote Control" and "Editor" in one, now available for the iPad! The larger screen real-estate of the iPad makes it a real enjoyment to create fantastic remote controls for controlling IR devices as well as PCs and Macs.

With Tabula Rasa HD, you can start creating your own large screen Virtual Remote Controls which are either metaphors for real physical input devices or simply the product of your own imagination. It is now possible to start getting rid of the clutter in your living room and to simplify your entertainment controls to a few simple buttons.

Imagine being able to virtualize your TV, DVD, Cable, Radio, and Surround Sound IR Remotes into one single touch-screen remote. On top of that, you can control any PC or Mac as well.

An old Chinese proverb says, "Give a man a fish and you feed him for a day. Teach him to fish and you feed him for a lifetime". With this Remote Control Editor you can create almost any conceivable Remote Control interface and upload it to the online Tabula Rasa HD Virtual Remote Control Library to share it with the rest of the world. We ALL get to fish.

To build your own remote, you start by pressing the "Edit" button and will then be presented with a menu of options to create your own remote control from scratch or based on existing remotes. For example, you will be able to choose from a library of different types of button graphics and background art, or you can opt to use your own artwork that you can import into the iPhone via iTunes, through other iPhone drawing programs, or via Email. Alternatively, if you wish to reproduce exactly a specific manufacturer's remote control, you can opt to take a photo of it and use it as the background in your new virtual remote. Take it one step further - take a picture of your living room multimedia setup. When you later sit back in your sofa and want to turn on the TV, simply tap the TV on your iPhone screen.

While the iWavit is designed to be able to learn almost any IR code from another remote, in Tabula Rasa HD you will now also be able to use the Remote Wizard to choose from a vast library of Remote Controls.

The iWavit is not just an IR Remote Control though. With it you to control any PC, Mac or Linux computer, wirelessly. Moreover, it is truly Plug & Play - NO SOFTWARE INSTALLATION is required on the PC/Mac/Linux and no WIFI network is used!

The patented built-in Wavit 3D tracking technology allows for absolute mouse cursor positioning. Where you point your iPhone, is where the mouse cursor will appear. (Note: There is no cursor drift over time, and no need for constant re-centering of the cursor on the screen, as is the case for Gyro-based air mice). Furthermore, each new on-screen button can be programmed to be an IR function, a USB Keyboard press, a mouse-click, a wireless microphone button, or a PC Multimedia play-back and volume function. In fact, "activities" (i.e. macros) are also supported, so each button can contain multiple functions. Complete your Virtual Remote Control by adding different sound effects for each pressed button, if so desired.

In addition to creating your own Remote Control, you are also able to browse the online Tabula Rasa Virtual Remote Control Library and download remotes that other users have contributed. Sharing of Remotes is strongly encouraged!

This app also supports the wireless IR extender feature of the iWavit USB dongle, which can extend your remote control range to >300ft.

This app contains trademarked images of TV channel logos. Though these images are subject to copyright, their use is covered by the U.S. fair use laws. This app is neither created nor authorized by the owners of these logos.
Novidades da versão 9.0
+ Fixed issue with Bluetooth not working after iOS9 upgrade
Captura de tela do iPad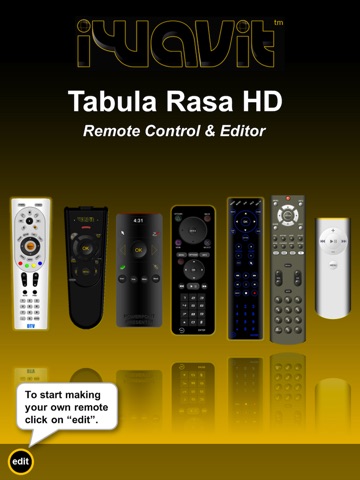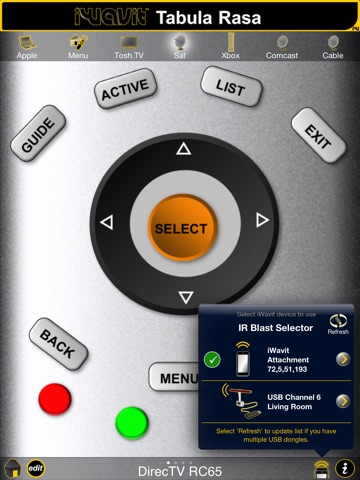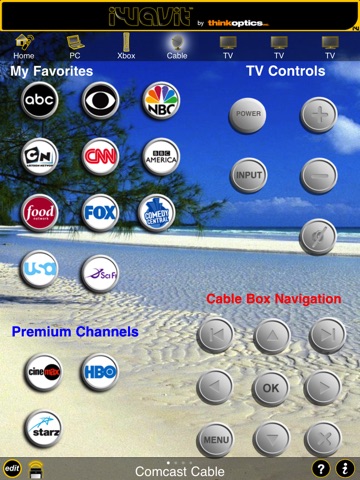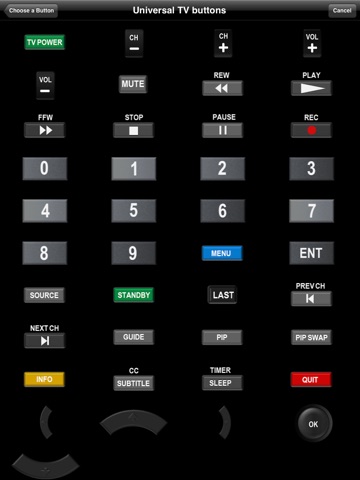 Ver no iTunes
Grátis

Categoria:

Utilidades

Atualizado:

17/10/2015

Versão:

9.0

Tamanho:

39.1 MB

Idiomas:

Coreano, Dinamarquês, Espanhol, Inglês, Italiano

Vendedor:

Thinkoptics, Inc.
Compatibilidade: Requer o iOS 6.0 ou posterior. Compatível com iPad.
Mais apps para iPad de ThinkOptics, Inc.