Weather Now for iPad. Local Forecast, Widget and Temperature on the Icon Badge.
De DeluxeWare
Abra o iTunes para comprar e baixar apps.
Descrição
Enjoy the fantastic application at your device with amazing display and feel the magic at your hands.

Imagine that the entire globe is at your fingertips. Never before has getting weather information been as exciting and interactive as it is in the "Weather Now" application.
Amazingly beautiful 3D images of our planet draws your attention for so long that you may forget that the application has other useful features that allows you easy access to precise, global weather information.
The "Retina Display" technology make "Weather Now" app looks stunning and incredible.

The main features of "Weather Now" are the "home screen" and the forecast page with a unique way of scaling the charts. On the "home screen", you can get information on the selected location such as local time and current weather with detailed weather conditions, and, of course, an incredibly beautiful three-dimensional image of the globe with realistic-looking atmosphere, the sun and the stars. You can manually turn it, increase and decrease its size, run the slow spinning animation or stop it. Installed in a cradle or dock station, the application can run as a screensaver, attracting your friends and fellows.

The current weather data is gathered from thousands of professionally installed and maintained weather stations installed mostly at airports. WeatherNow only shows current weather from stations that have reported local weather conditions within the past hour. Current weather data is refreshed every 30 minutes; that is twice as frequent as most other weather providers can offer. Unique 48-hour forecasts from over 80,000 locations around the world provide a level of coverage and detail that simply cannot be found elsewhere.

Current weather information includes: description, air temperature, wind direction and force, humidity, dew point, pressure, visibility, as well as comfort index with reference to current weather conditions.
Detailed weather forecast information includes: description, day and night air temperature, wind direction and force, humidity, UV index, probability of precipitation, and comfort index with reference to current weather conditions.
"Current temperature on the icon badge" feature can show you current temperature without run of app.

The weather forecast is provided by CustomWeather, Inc

***** "Handy and accurate weather app. Lots of onfo. Looks great on my phone!!" - WILLY LOOMIS *****
***** "ILL say it again. Awesome I actually want to know what the weather is now!" - Gitygurl *****

Main Features:

• Easily select different cities using the city carousel with national flags 
• Chic 3D "home screen" with high-quality real-time image of the earth, atmosphere, the stars and the sun 
• 15-day forecast chart with detailed daily weather conditions, independent day and night temperature charts 
• 48-hour hourly forecast with detailed information with real-time changing of chart step 
• Database of 80 000 cities with weather information, quick look-up and automatic detection of location
• Temperature on the icon badge
• Customized Weather Widget
• Weather Maps

Best10APPS review:
***** "Weather Now is a beautiful 3D app of our plant. It tells you accurate global weather information. In the home screen, you can see the now weather main features. The forecast page unique scaling the charts. If you select the location, you will get local time and current weather with detailed weather conditions of it. It also supports you beautiful three-dimensional image of the globe.
If you are outside or will travel around the world, you can't miss it."

Our Twitter: @deluxeware
Support e-mail: support@deluxeware.com
Novidades da versão 2.1.5
Hello!

Thank you for your feedbacks and reviews. We very glad to hear our customers.

What's new in this version:

- iOS 7 crash on run, bug fixed
- New HD artwork for iPhone 6 plus added
- Forecast trends have improvement
- Few bugs with app fixed
- Some artwork was redesigned
- Forecast weather data was improvement
- Grammar problems for some localisations fixed

If you have problem or suggestions, please contact with us:
Email: support@deluxeware.com
Twitter: @DeluxeWare
Captura de tela do iPad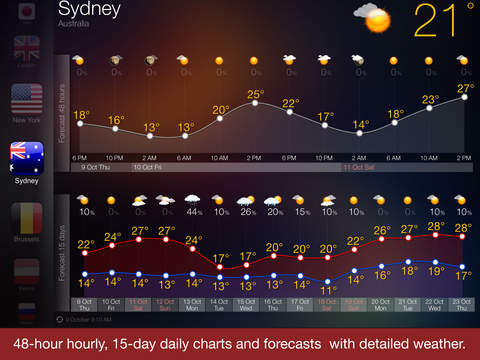 Ver no iTunes
Grátis

Categoria:

Previsão do tempo

Atualizado:

11/07/2015

Versão:

2.1.5

Tamanho:

62.4 MB

Idiomas:

Alemão, Chinês simplificado, Chinês tradicional, Francês, Inglês, Russa

Vendedor:

Evgeny Tormozov
Compatibilidade: Requer o iOS 7.0 ou posterior. Compatível com iPad.
Top compras dentro do app
"Unlock all features"USD 3.99
Weather WidgetUSD 1.99
Mais apps para iPad de DeluxeWare