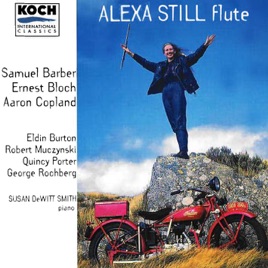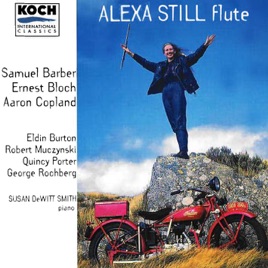 TITLE
TIME

Sonatina: I. Allegretto Grazioso

By Eldin Burton

Sonatina: II. Andantino Sognando

By Eldin Burton

Sonatina: III. Allegro Giocoso - Quasi Fandango

By Eldin Burton

Duo: II. Poetic Somewhat Mournful

By Aaron Copland

Duo: III. Lively With Bounce

By Aaron Copland

Between Two Worlds: I. Fantasia

By George Rochberg

Between Two Worlds: II. Scheeerzoso (Fast Dance)

By George Rochberg

Between Two Worlds: III. Night Scene (A)

By George Rochberg

Between Two Worlds: IV. Sarabande (Slow Dance)

By George Rochberg

Between Two Worlds: V. Night Scene (B)

By George Rochberg

Sonata: I. Allegro Deciso

By Robert Muczynski

Sonata: II. Scherzo (Vivace)

By Robert Muczynski

Sonata: IV. (Allegro con Moto)

By Robert Muczynski

Last Two Poems (Maybe..): I. Funeral Music (Andante Moderato)

By Ernest Bloch

Last Two Poems: II. Life Again?.. (Moderato)

By Ernest Bloch
20 Songs, 1 Hour 18 Minutes
Released:

Feb 20, 1993

℗ 1993 KOCH International Classics
About Alexa Still
New Zealander Alexa Still may not be a household name in the United States or Europe, but she has long been among the best-known performing artists of her native land, and her many critically acclaimed recordings have earned her a special respect from fellow performers and flute lovers alike. Ms. Still was born in 1963 and first took up the flute as an eight year old in New Zealand (she tells the story of how she wanted to play the saxophone but her father wouldn't hear of it!). She later attended graduate school in the United States, working under Samuel Baron at the University of New York at Stony Brook -- where she took a doctorate (1987) before her 23rd birthday -- and taking lessons from the well-known Thomas Nyfenger on the side. Success on the competition circuit (her victories include first prize at the East and West Artist's Competition, which included a New York debut) developed into success on the audition circuit: Still won the principal flute position with the New Zealand Symphony Orchestra in 1986. She kept the job for over a decade, and in the years since has maintained a close relationship with the organization -- as a soloist she has appeared and recorded with the orchestra, and, she is married to one of the group's string bassists. Throughout her tenure with the NZSO, Still was a frequent visitor to the U.S., and in 1996 she was honored with a Fulbright Award.

Ms. Still left the orchestra in the late '90s when named to the faculty of the University of Colorado at Boulder. She has put together nearly a dozen releases for the Koch International Classics record label, amongst which are a disc of Richard Rodney Bennett music and one of Viennese classics for flute and various chamber ensembles. Her seemingly always-growing appreciation for modern music has made her much appreciated by her composer colleagues throughout the years.

In her spare time, Alexa Still is a keen motorcyclist.
Millions of songs.
Zero ads.
New subscribers only. Plan automatically renews after trial.