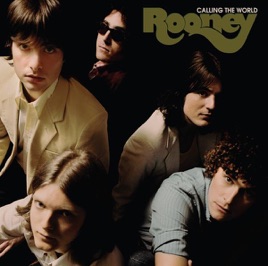 | | TITLE | | TIME |
| --- | --- | --- | --- |
| | | | |
| | When Did Your Heart Go Missing? | | |
| | I Should've Been After You | | |
| | | | |
| | | | |
| | | | |
| | | | |
| | | | |
| | | | |
| | | | |
| | | | |
| | | | |
| | | | |
13 Songs, 48 Minutes
Released:

Jan 1, 2007

℗ 2007 Geffen Records
Ratings and Reviews
A gem
It blows my mind that a band with this much pop sensibility isn't ruling the charts right now. Look no further than songs like "When Did Your Heart Go Missing" or Love Me or Leave Me" for proof that this band is a hidden gem. Hopefully they won't be for much longer!
a great rock album for the summer
every song on this cd is great. it's one of those cd's you can blast in your car with the windows down.
Top of the Charts?
These guys are incredible. I absolutly LOVE them. This album is a great one to Burn to a CD and chuck in your car. Its a brilliant piece of work. I just dont understand one thing. Why isnt it at the top of the Charts. They need a better marketing manager!
About Rooney
California rock band Rooney emerged in 2002, making their live debut warming up for Phantom Planet, a more experienced L.A.-based group who shared similar classic pop influences (ELO, the Beach Boys) along with a family member. The younger brother of actor and former Phantom Planet drummer Jason Schwartzman, Rooney maestro Robert Schwartzman was also a son of Hollywood who had dabbled in acting, but by the early 2000s had turned his full attention to crafting pleasantly retro guitar pop. By the year's end, Schwartzman and his bandmates Taylor Locke (guitar), Matthew Winter (bass), Louie Stephens (keyboards), and Ned Brower (drums), had inked a major-label deal with Geffen/Interscope.

Although Rooney had flirted with enlisting Ric Ocasek to produce, they eventually opted to rehire Keith Forsey, the producer responsible for the the strong batch of demos that had gotten them signed in the first place. Rooney's sunny, self-titled debut arrived in 2003 and its sales spiked considerably the following year when the band appeared on Fox's popular teen drama The O.C. (the first in a long line of bands to do so). Later that year, the concert DVD Spit and Sweat was released, highlighting the group's transformation from teenage musicians into a road-seasoned outfit. Rooney began recording their follow-up later that year with producer Tony Hoffer, but the album was eventually scrapped despite several songs being posted on the band's MySpace page. A second attempt to record their sophomore album was made in fall 2005, this time with Howard Benson in the producer's seat. Although it was slated for a 2006 release, this version too was scrapped as friction between the band and its label increased.

Following a 2006 tour with Kelly Clarkson, Rooney returned to the studio with producer John Fields for a third -- and successful -- attempt at recording their second album. The slightly darker, but no less catchy Calling the World was released in summer 2007 and debuted on the Billboard charts at number 42. By this point, though, the band's relationship with Geffen had suffered too much damage and Rooney eventually left the label's roster in 2009. That same year, the band celebrated their independent status by self-releasing an EP, Wild One, and launching a brief tour. They didn't remain independent for long, though, eventually partnering with Warner Bros. for the release of their third full-length album, the self-produced Eureka, in June 2010. Although bassist Matt Winter played on the record, he left the band's lineup several months before its release, with Brandon Schwartzel climbing aboard in his place.

By the end of 2011, support for the record had mostly ceased and Rooney essentially entered into a lengthy hiatus. Schwartzman remained busy with a number of projects, including two solo records and a pair of film scores. Following years of silence regarding his band's fate, Schwartzman revealed in early 2016 that he had completed a new Rooney album entirely on his own. Released in May 2016, Washed Away was the fourth LP under the Rooney banner, and was supported on the road by a completely retooled lineup. In June 2017, the band issued the single "Second Chances" in anticipation of the release of the El Cortez EP, which arrived in July of that year. ~ Timothy Monger & Andrew Leahey
ORIGIN

Los Angeles, CA

GENRE

FORMED

2000