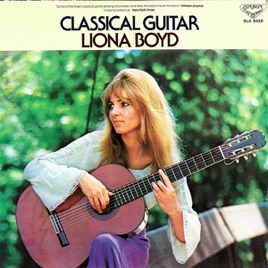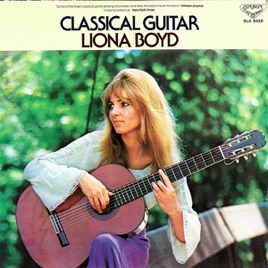 | | TITLE | TIME |
| --- | --- | --- |
| | | 1:18 |
| | | 3:53 |
| | | 4:17 |
| | | 4:56 |
| | | 2:34 |
| | | 4:37 |
| | | 2:15 |
| | | 4:14 |
| | | 4:58 |
| | | 4:15 |
| | | 1:21 |
| | La fille aux cheveux de lin | 3:15 |
| | | 3:35 |
13 Songs

℗ 1977 Moston Records
About Liona Boyd
Billed by her promoters as the "First Lady of the Guitar," Liona Boyd has fully lived up to that accolade and more: Since the early 1980s, she has been one of the most popular classical guitarists, male or female. She also performs music in other genres, placing several of her recordings in the crossover realm.

Born in London, Boyd spent the latter half of her childhood in Toronto, where her family had twice settled, the first move there ending in a brief return to England. She began studying guitar at age 13 with Eli Kassner in Toronto and later with Narciso Yepes, Andrés Segovia, and with her early idol, Julian Bream. She received a degree in music from the University of Toronto, then took further instruction from Alexandre Lagoya in Nice and Paris. In 1974, she made her first recording, a collection of pieces entitled The Guitar, issued on the Boot/London label. Her second effort was issued shortly afterward, The Guitar Artistry of Liona Boyd. By now, her career as a recitalist was in full bloom: radio interviews and a story about her in Time magazine led to her critically successful debut at Carnegie Hall in March 1975. Shortly afterward, she performed several classical works at a Gordon Lightfoot concert to an enthusiastic reception and subsequently joined his troupe for a highly successful tour. Much concert activity in Canada and numerous appearances on Canadian television followed. Owing to the efforts of country guitarist Chet Atkins, who was impressed by her skills at a Nashville concert, she appeared on the American television program Today, which featured an interview with her by Gene Shalit. She continued giving concerts in non-classical venues, as well as performing traditional recitals in the world's most-respected concert halls. Her concert tours, covering the Americas, Europe, and Asia, were numerous and generally garnered positive notices; her 1980 tour of Japan was especially successful. Further recordings appeared, including her CBS album The First Lady of the Guitar and a collection of Baroque works performed with Andrew Davis and the English Chamber Orchestra. Some of her albums during this period had mixed results in the market place: The 1982 LP The Best of Liona Boyd was a best-seller, while the ensuing Virtuoso (1983), her first digital recording that contained some of her finest performances of "serious" music (compositions by Villa-Lobos, Berkeley, and others) achieved only mediocre sales.

Throughout the latter twentieth century and into the 2000s, Boyd's career continued to thrive. By 2002, she had recorded about 20 albums for some of the largest labels, including RCA, Sony, and Polygram. Moreover, her numerous concert appearances throughout the world were generally major events of critical acclaim. Even her personal life had attracted attention, not least because of her eight-year romance with Canadian Prime Minister Pierre Trudeau, which ended in 1983. She commented candidly on that relationship in her 1998 autobiography, In My Own Key, which presents interesting accounts of her concert and personal life, featuring anecdotes about encounters with Queen Elizabeth, actors Roger Moore and Robert Redford, and musicians Andrés Segovia, Alexandre Lagoya, Chet Atkins, Oscar Peterson, and many more. Boyd relocated to Beverly Hills in 1992 when she married John Simon, a successful California real estate developer. Her later recordings include Whispers of Love (2000) and Camino Latino (2002), the former containing some of Boyd's own compositions and the latter divulging a mixture of Latin styles and employing several jazz musicians. 2009 saw the release of two new recordings, Liona Boyd Sings Songs of Love, which featured seventeen duets with Croatian guitarist Srdjan Gjivoje, and Seven Journeys: Music for the Soul and Imagination, a collaboration with guitarist/producer Peter Bond.
ORIGIN

London, England

BORN

Jul 11, 1949