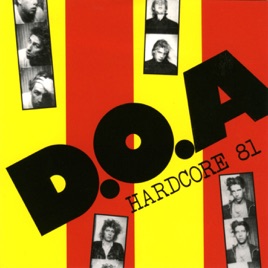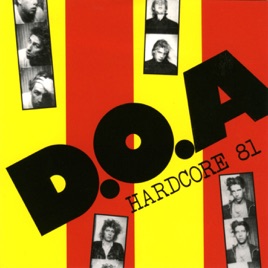 | | TITLE | | TIME |
| --- | --- | --- | --- |
| | | | |
| | | | |
| | | | |
| | | | |
| | | | |
| | | | |
| | | | |
| | | | |
| | | | |
| | | | |
| | | | |
| | My Old Man's a Bum / Bloodsucker Baby | | |
| | | | |
| | General Strike (Peel Session) | | |
| | | | |
| | A Season In Hell (Peel Session) | | |
| | Burn It Down (Peel Session) | | |
17 Songs, 28 Minutes
Released:

Dec 31, 1980

℗ 2002 Sudden Death
About D.O.A.
It wasn't long before punk rock expanded beyond just New York City, London, and Los Angeles during the mid- to late '70s, as evidenced by the emergence of the long-running Vancouver, Canada-based outfit D.O.A. Originally formed in 1978, D.O.A. have been led from the beginning by singer/guitarist Joe Keithley (aka Joey Shithead), joined by a wide variety of other bandmates through the years (including future Black Flag/Danzig/Social Distortion drummer Chuck Biscuits), although guitarist Dave Gregg was present for much of the hijinks up until 1990. The same year as their formation, D.O.A. issued a debut EP, Disco Sucks, before following it up with a pair of full-lengths that many longtime fans consider D.O.A.'s classic recordings, 1980's Something Better Change and 1981's Hardcore '81 (a popular compilation of both releases plus early tracks reared its head in 1984 as Bloodied But Unbowed).

Since the beginning, Keithley has been unafraid to voice his political opinions (a renowned D.O.A. slogan among their faithful is "Talk - Action = 0"), which at one point landed him in jail. D.O.A. would go on to sporadically issue albums throughout the '80s and '90s (including such highlights as 1982's War on 45, 1985's The Dawning of a New Error, and 1993's Loggerheads). The group also found time to collaborate with another outspoken punk leader, former Dead Kennedys frontman Jello Biafra, on 1990's Last Scream of the Missing Neighbors. Like Biafra before him, Keithley took the plunge and attempted to enter politics, running as a candidate in Canadian provincial and civic elections for the Green Party in 1996. Keithley also runs his own indie record company, Sudden Death Records, and issued an autobiography in late 2003 titled I, Shithead: A Life in Punk. D.O.A. continue strong to this day, as evidenced by such releases as 2002's Win the Battle, 2008's Northern Avenger, 2010's Talk - Action = 0, 2015's Hard Rain Falling, and 2017's Murder. As a result of Keithley's hard work, D.O.A. are often name-checked as an important influence by other hardcore/punk bands, including such notables as Green Day, the Offspring, Rancid, and Propagandhi, among others. ~ Greg Prato
ORIGIN

Vancouver, British Columbia, Cana

GENRE

FORMED

1978
50 million songs.
Zero ads.
New subscribers only. Plan automatically renews after trial.