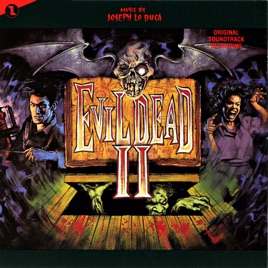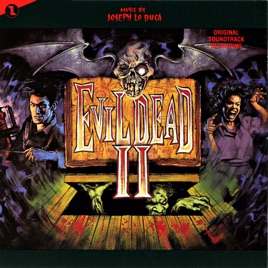 Evil Dead II (Original Soundtrack Recording)
| | TITLE | TIME |
| --- | --- | --- |
| | | 2:44 |
| | Hush Lil' Baby / Pee Wee Head | 3:26 |
| | | 2:52 |
| | Ash Dream / Dancing Game / Dance of the Dead | 3:39 |
| | Fresh Panic / the Other Side of Your Dream | 4:27 |
| | The Putrified Forest / Under Her Skin | 4:21 |
| | The Evil Begins Anew / Sunrise / Ash Attacks | 3:00 |
| | Hand and Mouse / Love Transforms / Mirror, Mirror / Bad Fingers | 4:59 |
| | | 5:01 |
9 Songs

℗ 1987 JAY Productions Ltd.
About Joseph Lo Duca
Detroit, Michigan native Joseph LoDuca is a film and television composer best known for his dynamic collaborations with filmmaker Sam Raimi. Early aspirations to be a rock guitarist led a teenaged LoDuca to opportunities opening with his band for the likes of Bob Seger and Ted Nugent at rock clubs in Detroit in the early '70s. He went on to study guitar performance and composition at the University of Michigan and Wayne State University, then moved to New York City, where he became immersed in the jazz scene and toured as a jazz guitarist. He released the jazz LP Glisten in 1982. The musician got his first feature-film assignment when Raimi approached him in 1979 about working on his upcoming film, The Evil Dead. LoDuca would write music for many Raimi projects, including Crimewave (1985), Evil Dead II (1987), Army of Darkness (1992), and TV's Hercules: The Legendary Journeys and Xena: Warrior Princess, which won the composer his first Emmy Award in 1997. He also provided additional music for Raimi's comic book blockbuster Spider-Man 2 (2004), and wrote scores for The Messengers (2007), TV's Legend of the Seeker — which won him a second Emmy in 2010 — and the series Ash vs Evil Dead (2015), among several other collaborations between the two. Outside of his work with Raimi, LoDuca composed for projects including but not limited to the action film Stryker's War (1985); Lunatics: A Love Story (1991); Brotherhood of the Wolf, which earned him a César nomination in 2002; multiple films in the TNT made-for-TV movie series The Librarian beginning in 2004; the 2007 comedy My Name Is Bruce, directed by and starring The Evil Dead's Bruce Campbell; the TV crime series Leverage; Joe Dante's 2014 film Burying the Ex; and 2015's Pay the Ghost, starring Nicolas Cage. A supernatural horror-thriller, the latter was in LoDuca's wheelhouse, offering fun-house and Halloween settings, dimension-bending otherworldliness, and sustained suspense, all complementing the composer's animated, often boldly whimsical style.
ORIGIN

Detroit, Michigan

BORN

1958