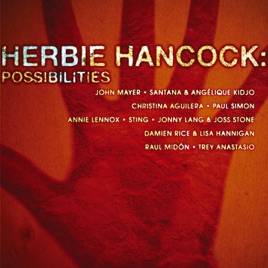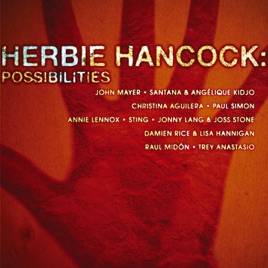 TITLE
TIME

Stitched Up (Featuring John Mayer)

Herbie Hancock & John Mayer

5:25

Safiatou (Featuring Santana & Angelique Kidjo)

Angélique Kidjo, Herbie Hancock & Santana

5:22

A Song for You (Featuring Christina Aguilera)

Herbie Hancock & Christina Aguilera

7:04

I Do It for Your Love (Featuring Paul Simon)

Herbie Hancock & Paul Simon

5:56

Hush, Hush, Hush (Featuring Annie Lennox)

Herbie Hancock & Annie Lennox

4:43

Sister Moon (Featuring Sting)

Herbie Hancock & Sting

6:51

When Love Comes to Town (Featuring Jonny Lang & Joss Stone)

Herbie Hancock, Jonny Lang & Joss Stone

8:40

Don't Explain (Featuring Damien Rice & Lisa Hannigan)

Damien Rice, Herbie Hancock & Lisa Hannigan

4:51

I Just Called to Say I Love You (Featuring Raul Midón)

Herbie Hancock & Raul Midón

5:24

Gelo Na Montanha (Featuring Trey Anastasio)

Herbie Hancock & Trey Anastasio

3:46
10 Songs, 58 Minutes
Released:

Dec 13, 2005

℗ 2005 Hancock Music under exclusive licence to WEA International Inc for the world outside USA/Canada.
About Herbie Hancock
If Herbie Hancock had faded from view after his momentous mid-'60s stint with the Miles Davis Quintet and his pioneering Blue Note releases in the same period, his reputation as one of the most consequential pianists in jazz history would still have been assured. But Hancock repeatedly changed course, from the abstract electric jazz of his Mwandishi sextet to the tightly coiled jazz-funk fusion of Head Hunters to his prescient electronic experimentation with producer Bill Laswell in the '80s. The Chicago-born Hancock achieved commercial success on his own terms, following a genuine creative path while ignoring barriers between jazz and pop (the title shared by his 2005 album and his 2014 memoir, Possibilities, said much about his worldview). He remains a "Chameleon," true to his signature track from 1973, covering songs by his friend and collaborator Joni Mitchell and working alongside Kendrick Lamar, Thundercat, and Flying Lotus in the studio.
HOMETOWN

Chicago, IL

GENRE

BORN

April 12, 1940
45 million songs.
Three months on us.
New subscribers only. Plan automatically renews after trial.