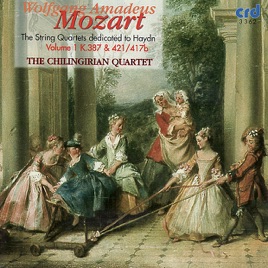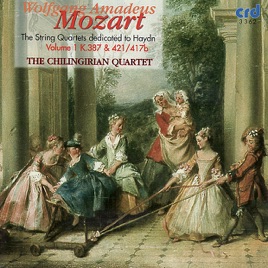 Mozart: The String Quartets Dedicated to Haydn, Vol. 1
| | TITLE | TIME |
| --- | --- | --- |
| | String Quartet in G Major, K. 387: I. Allegro Vivace Assai | 7:54 |
| | String Quartet in G Major, K. 387: II. Menuetto - Allegretto | 8:20 |
| | String Quartet in G Major, K. 387: III. Andante Cantabile | 7:29 |
| | String Quartet in G Major, K. 387: IV. Molto Allegro | 6:04 |
| | String Quartet in D Minor, K. 421 / 417b: I. Allegro | 7:42 |
| | String Quartet in D Minor, K. 421 / 417b: II. Andante | 7:41 |
| | String Quartet in D Minor, K. 421 / 417b: III. Menuetto - Allegretto | 4:06 |
| | String Quartet in D Minor, K. 421 / 417b: IV. Allegretto Ma non Troppo | 9:54 |
8 Songs, 59 Minutes

℗ 1998 CRD Records Ltd.
About Chilingirian Quartet
The Chilingirian Quartet is one of the best-known string quartets based in Britain, with numerous recordings over a three-decade career. Its founder is Levon Chilingirian, born in Cyprus of Armenian descent to a family with a long musical heritage. He started playing the violin when he was five years old and had lessons with the violin virtuoso Manoug Parikian.

The quartet began attracting attention soon after its founding in 1971 and appeared on the BBC early on. These broadcasts were followed by invitations to appear at the Edinburgh, Bath, and Aldeburgh festivals, then by invitations to perform at major musical centers. It has become one of the best-known quartets around the world, traveling to all six inhabited continents and having played in more than 30 countries. These have included several coast-to-coast tours of the U.S., Mexico, and Canada, as well as tours to Australia and New Zealand, Japan, Africa, and South America. The Chilingirian Quartet plays annual series of concerts at London's Queen Elizabeth Hall and Wigmore Hall. Other major venues include the Herkulessaal in Munich, Zurich's Tonhalle, the Vienna Konzerthaus, and the Tivoli in Copenhagen.

It has appeared in concert on most European national television stations, on National Public Radio in the U.S., and on the CBC. The group has recorded extensively on the EMI, RCA, CRD, Nimbus, Chandos, Conifer, and Virgin Records labels. These recordings have included a broad representation of the basic works in the quartet repertory, as well as music of lesser-known and contemporary composers. Among the latter are the world premieres of Hugh Wood's quartets Nos. 1-4, quartet works of Stravinsky, Schnittke, Roslavets, and Firsova, and music of Arvo Pärt, Andrzej Panufnik, John Tavener, and Michael Tippett. Three of the Chilingirian members participated in the Bournemouth Symphony Orchestra's recording of Tippett's Triple Concerto.

In 1986 the Chilingirian was named ensemble-in-residence at the Royal College of Music in London and regularly gives master classes there. It won the Royal Philharmonic Society's Chamber Ensemble Award for 1995.

Levon Chilingirian is also the conductor of Camerata Romana, a chamber orchestra. He is a professor of violin on the faculty of the Royal College and performs as a violin soloist, having appeared with the BBC Symphony Orchestra and the Liverpool Philharmonic. He plays a 1729 Stradivarius violin. The other members of the quartet are violinist Charles Sewart, violist Asdis Valdimarsdottir, and cellist Philip de Groote.