Pages Jaunes Canada - entreprise, personne, numéro
Par Yellow Pages Digital & Media Solutions Limited
Essentials
Ouvrez iTunes pour acheter et télécharger des apps.
Description
La nouvelle appli PJ vous aide à trouver tout de suite les commerçants les mieux notées et l'essence proche la moins chère.

Recherchez-vous la meilleure pizza en ville pour votre rendez-vous de demain ? Avez-vous une urgence de plomberie à la maison ? Peut-être êtes-vous sur le point de tomber en panne en allant chez votre belle-mère adorée ?

Quels que soient vos besoins, ils sont désormais à portée de main grâce la nouvelle appli PJ. C'est le moyen le plus rapide et le plus simple de :

• Trouver les commerçants les mieux notés à proximité
• Obtenir des directions
• Envoyer des messages aux commerçants
• Identifier les stations-services les moins chères
• Faire une réservation au restaurant
• Lire des milliers d'avis dignes de confiance
• Partager vos expériences de magasinage avec vos proches
• Noter les commerçants et donner votre avis
• Trouver un nom à partir d'un numéro de téléphone avec la recherche inversée
• Synchroniser l'application sur tous vos appareils, y compris votre Apple Watch

De plus, notre fonction innovante de recherche d'essence trouve pour vous la station-service proche la moins chère.

Prenez des décisions d'achat plus éclairées et restez chaque jour au fait de la météo locale et des tendances avec la nouvelle appli PJ.

Redécouvrez la vie de quartier !
Nouveautés de la version 7.6.0
- Il est plus facile que jamais de laisser des avis sur les marchands avec lesquels vous avez fait affaire
- Les images des marchands sont maintenant disponibles depuis vos pages de résultats pour vous aider à dénicher les meilleurs
- Obtenez dorénavant plus d'information sur des numéros de téléphone
- Améliorations mineures comme le partage de marchand par les réseaux sociaux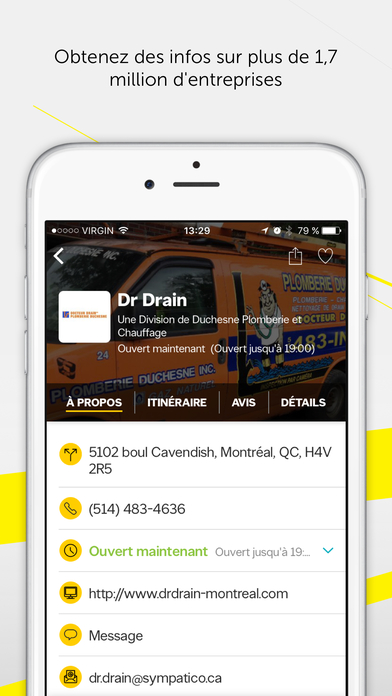 Avis des utilisateurs
Not an upgrade or improvement
Removing features is not an improvement or upgrade.
I can no longer save a default city.
You lost all my favourites.
You don't need to know where I am within feet of my destination.
I'm sick of making accounts for everything; why does that always have to be in my face? I don't need to sync my preferences; I only have one device.

Reducing the interface to a state of minimalism is not an upgrade.
It's a sadly much needed change since the 90s; the bloat in gui is disgusting, and laggy. Tends to look tacky anyway.
This unfortunately wins you no points for the reasons you did it.
You're following the crowd; Do you have any identity beyond a Helvetica look alike (god it's ugly)?
Often gui changes can mean new features, or in the case of many, and direction you've gone, to hide missing features where you have nerfed an existing toolset.
Too often when an app gets this simple from something complex, with a large company, its hiding something. So big brother, why do you insist on an account when you're data mining me anyway?
Excellent app
So easy to find and import into contacts.
Terrible app
This app is horrible.
Afficher sur iTunes
Cette app a été conçue pour iPhone et iPad.
Inclut l'app Apple Watch pour iPhone
Gratuit

Catégorie :

Magasinage

Mise à jour :

4 juil. 2017

Version :

7.6.0

Taille :

29.8 Mo

Apple Watch :

Oui

Langues :

Français, Anglais

Vendeur :

Yellow Pages Digital & Media Solutions Limited
Compatibilité : Nécessite iOS 9.0 ou une version ultérieure. Compatible avec l'iPhone, l'iPad et l'iPod touch.
Apps de : Yellow Pages Digital & Media Solutions Limited