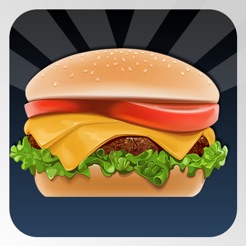 Description
Eat out a lot? Enjoy all those delicious, prepared meals from fast food restaurants? Great, so do we! And we offer you an easy way to find out exactly what you eat and how many calories, fat, protein and carbs you intake!

Fast Food Calories is a simple-to-use nutrition guide, which brings you over 108 most popular restaurants with their full menus and nutritional information.
The app comes with a large calorie & nutrition database for hunderds of burgers, sandwiches, pizzas, donuts, etc. and the database is entirely offline!

All restaurant items are divided into intuitive groups, allowing you to easily select and, by using the search field, find what menu item you're looking for! When you find it, view a complete nutritional label for that food item (calories, fat, saturated fat, cholesterol, sodium, carbohydrates, fiber, sugars, protein), select the serving size, the date when you ate this and add it to your food log – it's as simple as that! Later on, you can always access the log and check out what and when you ate it! Easy and informative, the Fast Food Calories app will help you to keep your own personal diary on foods you eat. Why wait? Try it out now!

FEATURES:
♦ Over 20,000 menu items from 108 top fast food restaurants
♦ Nutritional information including calories, fat, carbs, cholesterol, sodium, fiber, sugars and protein
♦ Ability to select serving sizes
♦ Ability to search through restaurant menus
♦ Menu items organized in intuitive restaurant food groups
♦ Saves food eaten for each day for up to a year
♦ Food Log which shows you exactly what you ate and how many calories you ate, all arranged by dates
♦ Search-as-you-type
♦ Multitasking support

RESTAURANTS:
♦ Jack In The Box ♦ Applebee's ♦ Burger King ♦ Beefaroo ♦ Chick-fil-A ♦ Dunkin Donut's ♦ Colton's Steak House & Grill ♦KFC ♦ Little Caesar's ♦ McDonald's ♦ New York Fries ♦ Pizza Hut ♦ Quiznos ♦ Subway ♦ Taco Bell ♦ Wendy's ♦ White Castle ♦ 7-Eleven ♦ Amato's ♦ Arby's ♦ Au Bon Pain ♦ Auntie Anne's ♦ Buck's ♦ Baja Fresh ♦ Baker's Drive-Thru ♦ Big Apple Bagels ♦ Big Town Hero ♦ Biggby Coffee ♦ Black-eyed Peas ♦ Blimpie ♦ Bob Evans ♦ Bojangles ♦ Boston Market ♦ Boston Pizza ♦ Breadsmith ♦ Bruegger's ♦ Buffalo Wild Wings ♦ Burgerville ♦ Camille's ♦ Captain D's ♦ Carl Jr.'s ♦ Carvel ♦ Charley's ♦ Checkers ♦ Cheesecake Factory ♦ Chevy's ♦ Chili's ♦ Chipotle ♦ Church's ♦ Cici's Pizza ♦ Culver's ♦ Dairy Queen ♦ Del Taco ♦ Denny's ♦ Domino's Pizza ♦ Eat'n'Park ♦ Einstein Bros. Bagels ♦ El Pollo Loco ♦ Five Guys Famous Burgers and Fries ♦ Good Times ♦ Hardee's ♦ IHOP ♦ In-N-Out ♦ Jack's ♦ Jason's Deli ♦ Jersey Mike's Subs ♦ Jimboy's Tacos ♦ Jimmy John's ♦ Johnny Rocket's ♦ Krispy Kreme ♦ Logan's Roadhouse ♦ Long John Silver's ♦ Nathan's ♦ Nestle Toll House ♦ O'Charley's ♦ Old Country Buffet ♦ Olive Garden ♦ On The Border ♦ Outback Steakhouse ♦ PF Chang's ♦ Panda Express ♦ Panera Bread ♦ Papa John's ♦ Pei Wei ♦ Popeye's ♦ Red Lobster ♦ Roadhouse Grill ♦ Ruby Tuesday ♦ Sbarro ♦ Schlotzky's ♦ Sharky's ♦ Skyline Chili ♦ Smoothie King ♦ Sonic ♦ Sonny's BBQ ♦ Souplantation & Sweet Tomatoes ♦ Steak n'Shake ♦ T.G.I. Friday's ♦ Tim Horton's ♦ Tropical Smoothie Cafe ♦ Waffle House ♦ Wawa ♦ Wrap Zone ♦ White Castle ♦ Zero's Subs...

*** We've done a major update to the database, it's the most accurate fast food app on the App Store! Our competition hates us so much they write us fake reviews... ***
Updated database, all menus are up to date!

Added new restaurants:
● Beefaroo
● Colton's Steak House & Grill
● Nestle Toll House
● Wrap Zone
● Logan's Roadhouse
Ratings and Reviews
Where's Canada?
Needs more Canadian content...Swiss Chalet, Tim Horton's, Second Cup...
Good but
2 things to make it better
Reorder the restaurants so my favorites are at the beginning
Allow search box so I you don't know name of item you can find it easier. (Starbucks has too many items)
Information
Seller

Nanobit d.o.o.

Size

7.3 MB

Category

Compatibility

Requires iOS 3.0 or later. Compatible with iPhone, iPad and iPod touch.

Age Rating

Rated 4+

Copyright

© Nanobit Ltd.

Price

Free
Supports
Family Sharing

Up to six family members will be able to use this app with Family Sharing enabled.