iBrainstorm
Par Universal Mind
Ouvrez iTunes pour acheter et télécharger des apps.
Description
Capturing and sharing your inner most creative genius has never been easier. Introducing the first multi-device collaboration tool from Universal Mind. From iPad to iPad with just a flick of the finger, iBrainstorm has set the bar and has redefined the very nature of collaboration.

Add a note, then drag and drop it anywhere on the iPad's screen to create any desired order or pattern. Assign colors to give additional meaning or priority. Provide clarity to your students or classmates through simple organization.

The iPad canvas also serves as a drawing board. Draw, erase or zoom in for tighter control. Everything is then captured for later. Show relationships between ideas or just capture your best stickman - it's easy.

Think it. Share it. Love it!
Nouveautés de la version 3.0
Big Changes!
Updated Design
iPad to iPad note sharing
Project file sharing
Education Focused
Pencil 53 Stylus Integration
Captures d'écran iPad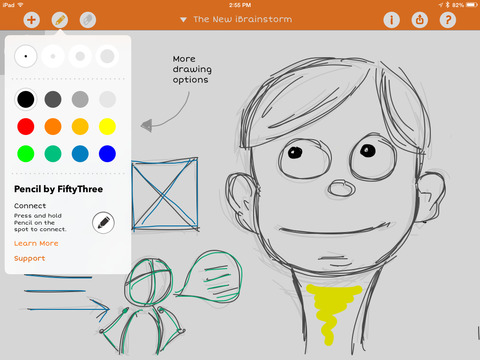 Avis des utilisateurs
Good app...
Very helpful app. I think it will be one I will use often. It is good but with a few additions, it could be great. It is easy to figure out how to use but wish we could type outside of a sticky note. I find the pencil feature is difficult and messy to use to write words. Being able to type text would be much clearer.
It would also be helpful if the size and angle of the stickies could be changed.
One other feature I wish was available was the ability to copy an entire note. I have a meal plan format set up and would love to able to just duplicate it for the next week and change the text.
Thanks for such a useful app!
Afficher sur iTunes
Gratuit

Catégorie :

Éducation

Mise à jour :

6 janv. 2015

Version :

3.0

Taille :

10.8 Mo

Langue :

Anglais

Vendeur :

Universal Mind
Compatibilité : Nécessite iOS 7.1 ou une version ultérieure. Compatible avec l'iPad.
Plus d'apps pour iPad par Universal Mind