Jiffy - Virtual Shopping Mall
Par Saim Qadar
Cette app est uniquement offerte dans l'App Store pour les appareils iOS.
Description
Jiffy - Redefining shopping experience

Shopping before the emergence of e-commerce was a fun social experience (especially for girls)
Girls used to go out with friends to the mall. window shop with friends, try out things, get suggestions and finally buy a few things and feel happy about a good day out shopping with friends
E-commerce has literally killed that aspect of shopping
Today we go on an app, stroll a few products, see review of people we don't know, trust their review without any logical reason (so many of them are simply fake!!!!) and finally buy it and trust me "I don't feel anything good about it any more"

We want to bring back those good old days when shopping was a fulfilling experience
We know life has become busy and people don't have time to go to mall every day but what if we can bring that mall like shopping experience in your phone??

Introducing Jiffy

Jiffy is like a virtual shopping mall where user can do window shopping (from any website in the world), select a product, show it to friends, chat with that friend or a group of friends and finally buy it within the chat browser

Or user can start a chat with a friend, they both can do window shopping within that chat page, suggest each other amazing products (from any website in the world) and buy stuff if they like it

Fun !!!! isn't it?

That's not all.

Jiffy user can browse on any website in the world and discuss that websites products within the app and buy it within the app

Jiffy users can follow the famous Instagram bloggers within our app and have a better product buying experience than Instagram in our Discover section (Beta Tester especially girls simple love this aspect of our app)
So in-short girls can now buy what the famous bloggers are wearing with a click of a button

I know that just amazing :)

We also found one thing that every girl loooooooovesss "Girls love to buy things but they don't want to pay for it"

"True Story" - Ask every Boyfriend or husband

So we introduced a concept called WISHLIST (more info when we meet in one on one session) :))

Take care
Enjoy the app


Jiffy Team
Nouveautés de la version 1.7
Minor bug fixes.
Captures d'écran iPhone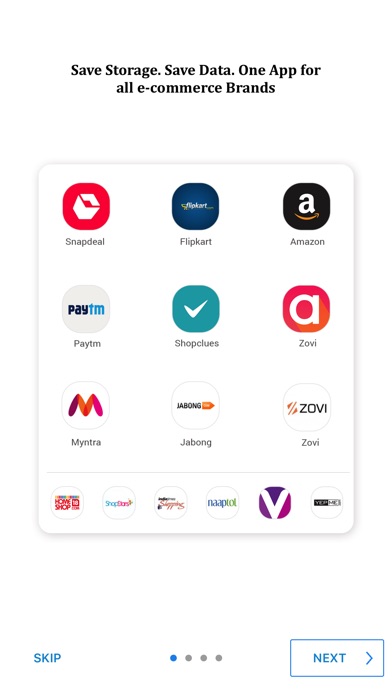 Afficher sur iTunes
Gratuit

Catégorie :

Magasinage

Mise à jour :

26 juin 2017

Version :

1.7

Taille :

76.9 Mo

Langue :

Anglais

Vendeur :

Saim Qadar
Compatibilité : Nécessite iOS 9.0 ou une version ultérieure. Compatible avec l'iPhone, l'iPad et l'iPod touch.