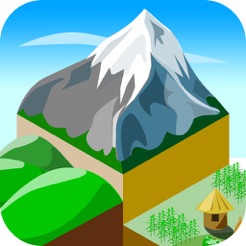 LandFormer
4+
Free
Offers In-App Purchases
Description
LandFormer: A World-Changing Puzzle Game

Raise and lower terrain to solve puzzles in this unique and challenging game.



REVIEWS:



"Puzzle games come a dime a dozen, and to have some staying power they have to be truly fun to play or exceptionally nice to look at. LandFormer is both."

-- Gizmodo



"If you're up for a few mindbending puzzles (and maybe have a few friends to create and share levels with), definitely give LandFormer a look."

-- TUAW



"... if you like puzzle games that can leave you stumped for who knows how long, LandFormer is a game you definitely need to try."

-- Touch Arcade



ABOUT:



LandFormer is a challenging new puzzle game from Streaming Colour Studios. Each level is made up of 25 land tiles of different heights. Using the provided tools, raise or lower the tiles to flatten the board. Sound simple? It is…and it isn't.



Learn the game in minutes, spend hours mastering it! You'll need a keen eye, intuition, and skill to complete the most advanced levels.



The fun doesn't stop there: create levels using the built-in level editor and share them with your friends!



FEATURES:



- All Beginner levels available in FREE version.

- 50 more levels available for purchase in-game!

- Purchase themes to change the look of the game in exciting ways!

- Create your own levels and share them with your friends! (This even works in the FREE version!)

- Listen to the relaxing game soundtrack, or enjoy your own music while you play.

- Auto-saves your game when you quit or answer a phone call.



Visit our website for LandFormer gameplay videos: www.LandFormer.net
v1.1.2

----------

- iOS 4 multi-tasking fix: receiving levels while the app is in the background is now handled properly.

- Fixed a crash in the free version of the game that occurred when playing the game for the first time with no network connection.

- Fixed a bug where quitting in the middle of a received level wouldn't save the game in progress.



v1.1.1

----------

- Changes to the in-game shop to improve support for future content



v1.1

----------

New Stuff:

- Added two bonus levels to the free version of the game: one Easy difficulty level, and one Medium difficulty level.



Fixes and Improvements:

- Fixed an iOS4-only crash that would occur when certain help alerts came up mid-game.

- Fixed a bug where a received level wouldn't load if you were in the middle of a game.

- Fixed a bug where purchased content wouldn't appear right away when the shop was entered from particular alerts.

- Improved fast app switching for iOS4 devices.

- Improved handling of corrupt save files.

- Improved the review path from within the game.

- A few small UI tweaks and bug fixes.



Other Stuff

----------

** If you're enjoying LandFormer, please leave us a review in the App Store.



** Don't forget to check out the in-game Shop for purchasable level packs and themes.
Customer Reviews
Great puzzler, needs better level sharing
I don't understand all the one-star and two-star ratings that LandFormer has (in the Canadian iTunes store, at least). It's an enjoyable and challenging puzzle game. The app is free with 12 introductory levels, and $1.99 buys you 50 easy-through-difficult levels, plus the ability to share. My only complaint (and the reason for a four star rating rather than five stars) is that the current sharing mechanism is crude. The dev should create an on-line repository of user-generated levels accessible from within the game.
Land former
This game is a well put together puzzle game. Enjoying it!
Soooo Much Fun
I'm totally addicted. A challenge without making it utterly impossible
Information
Seller

Streaming Colour Studios

Size

6.7 MB

Category

Compatibility

Requires iOS 3.0 or later. Compatible with iPhone, iPad and iPod touch.

Age Rating

Rated 4+

Copyright

© 2010 Streaming Colour Studios

Price

Free

In-App Purchases

Premium Content

$2.79

Easy Part 2

$1.39

Discotheque Theme

$1.39
Supports
Family Sharing

Up to six family members will be able to use this app with Family Sharing enabled.