P.F. Love
By adada Inc.
This app is only available on the App Store for iOS devices.
Description
P.F. LOVE, an amazing Valentine's Day Photo Sticker machine app.
This app is very easy-to-use with Smart Decorated System.
Everyone can easily use this app to create an unique picture and share it with your friends.

Feature:
1. Support High resolution Frames, Stamps, texts in iPhone 4 retina display.
2. Preview with Frame. (You can easily change frame by moving to left or right.)
3. 20 high-quality frames. (Valentines Day Collection)
4. 32 high-quality handy stamp images. (Valentines Day Collection)
5. 17 high quality magic stamps.
6. Advanced hand drawing system. You will see 6 kind of special hand-drawing style pen brush, each pen brush has 16 colors, keep updating new hand-drawing style.
7. 3 kind of special text type, keep updating new text type.
8. Every stamp, magical stamp, hand-drawing pen brush, and text can be enlarge, shrink, move and rotate.
9. Smoothly enlarge, resize, rotate, and move your photos in frame mode.
10. Advanced Photo Sticker Book, you can re-edit your photo sticker here. It will automatic record every component position. You will easily re-edit your own photo sticker.
11. Smart redo/undo system, you can redo or undo several times. This system will let you easily decorate your special photo sticker.
12. Facebook upload support
13. Valentine's Day Collection
14. Birthday and Party Collection
15. Sharing via E-mail
16. Posting on Twitter

Follow us on facebook:
http://pf.adada.cc

=================
P.F. LOVE, 一個令人驚艷的情人節大頭貼軟體。視覺化的操作介面, 讓你幾乎不需要再花時間學習, 就可以輕易的使用各種神奇的功能。你唯一需要做的事, 就是如何利用裡面各式各樣的小飾品, 來為你創造出專屬於你的紀念。

在即將來臨的情人節,別忘了給你心儀的對象,一個與眾不同的驚喜喔,讓他永難忘懷這一刻的美好時光。

特色:
1. 所有的圖框、飾品、魔術圖章都支援iPhone 4的視網膜技術顯示。
2. 拍照時的圖框預覽,讓你構圖更容易。
3. 20個高解析度的精緻圖框。(LOVE限定)
4. 32個高解析度的可愛飾品。(LOVE限定)
5. 17個高解析度的可愛魔術圖章,持續增加中。
6. 6種不同的特殊炫彩畫筆,可選擇16種不同的顏色搭配5種不同粗細筆劃。
7. 3種不同類型的英文字母、數字與符號可供使用。
8. 多重復原與重做的智慧型系統。
9. 飾品、魔術圖章、手繪筆刷與文字都可以放大、縮小、移動及旋轉。
10. 在編輯時的圖框模式,可任意的調整你的照片。
11. 情人節特輯
12. 生日派對特輯
13. 支援拍貼本管理介面。
14. 支援Facebook分享。
15. 支援E-mail 作品分享
16. 支援Twitter 上傳圖片

P.F. LOVE的Facebook
http://pf.adada.cc
What's New in Version 1.7.0
1. LandScape support mode (Some frames support)
2. Add 13 landscape frames
3. Rotate stamp, magic stamp, and text when use landscape frame
4. Update new app information (AHHA PIGS)

PS. How to use Landscape mode

1. Camera mode - If this frame has landscape mode, you will see a landscape icon in right-bottom corner. Just press it and you will see landscape frame.

2. Editor mode - If this frame has landscape mode, you will see a landscape icon in thumbnail. 1st touch means portrait mode. 2nd touch means landscape mode. 3rd touch means disable this frame.
iPhone Screenshots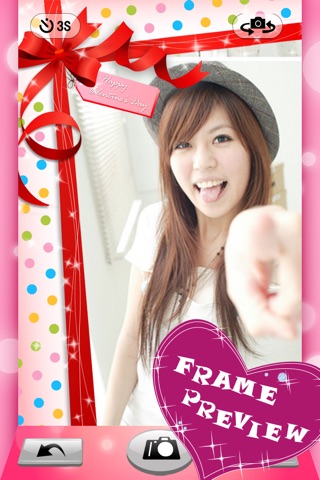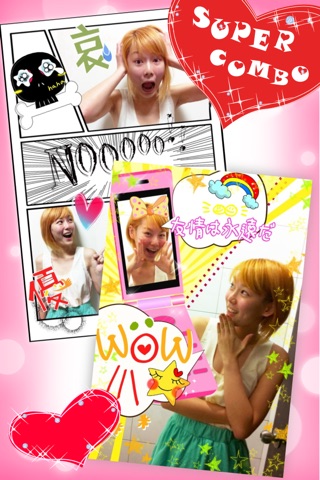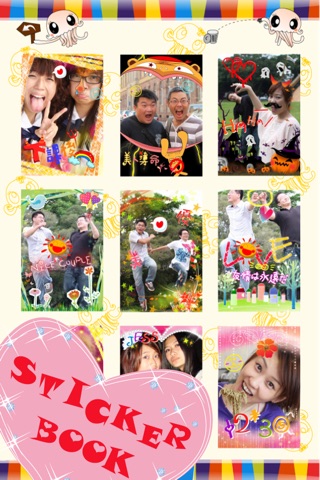 View in iTunes
Free

Category:

Photo & Video

Updated:

Jul 01, 2011

Version:

1.7.0

Size:

89.4 MB

Languages:

English, Japanese, Simplified Chinese, Traditional Chinese

Seller:

adada Inc.
Compatibility: Requires iOS 3.1 or later. Compatible with iPhone, iPad and iPod touch.