تعلم معي - المجاني
By ITWorx Egypt SAE
Open iTunes to buy and download apps.
Description
Have fun learning Arabic with "Araby" and his pet

Using tracing techniques, Fun2Learn teaches kids how to write Arabic letters and numbers by helping a little boy named "Araby" on his adventures. With colorful graphics and engaging characters, the app is designed for kids from 3-5 years of age.

Through a motivational story, the child is guided through the application's different sections to develop their writing skills. Early writing is an important component of fine motor skill development as children learn to use writing tools and make controlled marks; while tracing is important for eye to hand coordination.

Fun2Learn also encourages letter and number recognition and correct pronunciation with narration. Each letter is represented by a picture and a word. Numbers are also represented visually to support counting.

Kids will enjoy learning the alphabet and numbers with Fun2Learn!

With consideration to the educational aspect, and to ensure the accuracy of the application, the content has been reviewed by teachers and subject matter experts in the field of Arabic language and teaching for children in the early years.


"A lot of effort and thought has gone into building this application. From my point view - as a specialist in the field – besides its high quality, the app offers a truly solid foundation for young learners, and I look forward to the release of more features."


Ali Mustafa Abd Rab Elnaby
Arabic language teacher and specialized researcher in the field


You can view the full version of the application through the following link:

Features
•Fun2Learn provides tracing for:
oLetters
oNumbers

•The scope of characters: 8 characters
•The scope of numbers: 8 number
•Demonstration for the correct tracing of each item
•Choose from different colors to trace the selected item
•Whiteboard allows the kid to freely draw or write anything
•Age appropriate animation and narration

حان الوقت للاستمتاع بتعلم اللغة العربية مع "عربى"

يركز التطبيق على تعليم الاطفال كيفية كتابة الأبجدية العربية والأرقام من خلال مساعدة "عربى" في مغامراته.
التطبيق يستهدف الأطفال من سن (3 – 5) سنوات من خلال واجهات و شخصيات كرتونية مميزة.


Fun2Learn.....
يحفز الاطفال "باستخدام أصوات مرحة" عن طريق قصة توجه الطفل خلال أقسام التطبيق المختلفة.

بالإضافة إلى ذلك، فإن التطبيق يهتم بتعليم الطفل أساسيات تهجئة الحروف والأرقام من خلال صور كرتونية معبرة تظهر بصورة تلقائية مع كل حرف.


يقدم متعة تعلم الأبجدية والأرقام مع الكثير من المرح!

لمراعاة الجانب التعليمي و ضمان دقة التطبيق، تم مراجعة المحتوى من متخصصين في مجال اللغة العربية و تدريس الأطفال في المراحل العمرية المذكورة.


"أرى أن التطبيق قد بذل فيه جهداً يشكر للقائمين عليه.
و إنه في تقديري -كمتخصص في المجال- بلغ مبلغاً جيد يفتح الباب لأن يضاف إلى جودته العالية ما يجعله أكثر فائدة و وصولاً للهدف المرجو منه في هذا المجال"
على مصطفى عبد رب النبي
مدرس لغة عربية و باحث متخصص في المجال


•Features
•تعلم كتابة:
oالحروف
oالأرقام

•ارشاد الطفل لطريقة الكتابة الصحيحة لكل الحروف و الأرقام
•مساعدة الطفل على ربط الكلمات بالحروف من خلال "احجية" تُعرض للصور الكرتونية المرفقة بكل حرف.
•"سبورتي" تسمح للطفل بحرية الرسم أو كتابة
•اختيار اللون المفضل للكتابة
•سرد للقصة بطريقة مشوقة تناسب اعمار الأطفال
What's New in Version 1.0.1
ITWORX Education has re-named its interactive app "Fun2Learn" to be "T3alam ma3i". The new name is accompanied with a new logo as well.

قامت آي تي ​​ووركس التعليمية بإعادة تسمية تطبيق "Fun2Learn" ليكون "تعلم معى" بالأضافة الى تغيير الشعار الخاص بالتطبيق
iPad Screenshots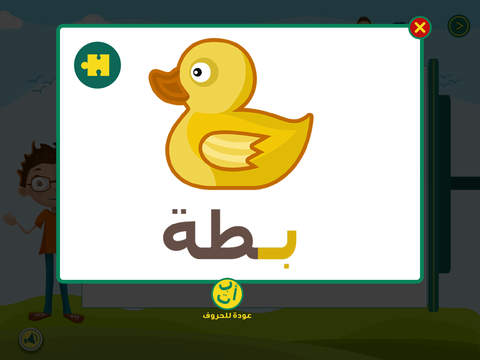 View in iTunes
Free

Category:

Education

Updated:

Nov 05, 2014

Version:

1.0.1

Size:

25.0 MB

Language:

English

Seller:

ITWorx Egypt SAE
Compatibility: Requires iOS 6.0 or later. Compatible with iPad.