Transit • Bus & Train Times
By Transit App, Inc.
Editors' Choice
This app is only available on the App Store for iOS devices.
Description
"You won't realize how much time you can save planning until you use this app" - LA Times
"Killer app" - WSJ
"MBTA has a favorite transit app — and it's called Transit" - Boston Globe

Transit is your real-time urban travel companion. Navigate your city's public transit system with accurate real-time predictions, simple trip planning, step-by-step navigation, service disruption notifications, and departure and stop reminders... all presented in a clear, bold interface. Public transport not cooperating? Easily request an Uber, reserve a car2go, or grab the closest bike share.

10 GREAT THINGS YOU CAN DO WITH TRANSIT:
1) See real-time arrivals for nearby buses and trains instantly upon launch.
2) Watch your transit vehicle approaching on a map in real-time*
3) Compare options with powerful A to B trip plans using real-time data.
4) Launch GO for step-by-step navigation when you're on an unfamiliar route or want to nap/read/space out.*
5) Receive departure alarms and stop notifications as well as prompts to pick up the pace in GO.*
6) Get push notifications if service disruptions will affect your commute.
7) View transit schedules and route itineraries—even when you're offline!
8) Locate bike share stations, see the number of bikes available, pay for passes, and unlock bikes (in select cities).
9) Check ETA (and surge) for nearby Ubers, and book in two taps.
10) View availability and book cars with car2go and other local car-share services.

*continued use of GPS running in the background can dramatically decrease battery life.

5-STAR USER REVIEWS
"Your app was the deciding factor in selling my car"
"Blows Google Maps out of the water."
"Probably the best thing on my phone, no joke."
"The head of our local transit agency recommended this app over the one her agency created."
"Truly ingenious work here. Honestly, these guys should be in charge of actual public transportation itself."


CANADA
Abbotsford
Banff
Calgary (Calgary Transit*, car2go)
Chilliwack
Comox Valley
Edmonton (Edmonton Transit*, St. Albert Transit, Strathcona County Transit, Pogo)
Fredericton
Halifax (MetroTransit, CarShareHFX)
Kamloops (BC Transit)
Kelowna (BC Transit)
Kingston (Kingston Transit)
London (London Transit)
Montréal (STM, RTL, STL*, AMT*, Ville de Sainte-Julie, Saint-Jean-sur-Richelieu, CITs, Bixi, car2go, Auto-mobile, Communauto)
Moncton
Ottawa/Gatineau (OC Transpo*, STO VRTUCAR)
Prince George
Québec (RTC)
Regina
Saskatoon (Saskatoon Transit*)
Sherbrooke (STS)
Squamish
St. Catharines*
Thunder Bay (Thunder Bay Transit*)
Toronto (TTC*, GO Transit, YRT*, Guelph Transit, Hamilton Street Railway*, Grand River Transit, Brampton Transit, MiWay, Burlington Transit, Oakville Transit, Durham Region Transit, Toronto Bike Share)
Trois-Rivières
Vancouver (TransLink*, False Creek Ferries, car2go)
Victoria
Whistler
Windsor
Winnipeg*

* Uses real-time predictions and vehicle locations for some or all routes.

--

Transit App also works in 50+ other cities worldwide including:

UNITED STATES
Boston
Chicago
Los Angeles
Miami
New York
Philadelphia
San Francisco
Washington

EUROPE
Paris
London
Berlin

AUSTRALIA
Melbourne
Sydney
What's New in Version 4.3.2
Relax. Sit back. Make yourself a snowstorm margarita. Eat a carrot. Build a gingerbread house. See if you can fit down your chimney. Anything it takes to get into the holiday spirit. But whatever you do, make sure to join us in a toast to the elves at Transit. They've powered billions of rides in 2017. Since Santa needs their help to power his sleigh on December 24th, they've worked overtime to get you your presents early. Without further ado...

MONTREAL REAL-TIME! This is not a drill. We've been asking Père Noël to bring real-time transit data to the STM for years—until we realized, yo, Père Noël probably doesn't know how to code. Thankfully the STM does, and delighted us with news that they're officially launching real-time in Montreal… TODAY!!! You now can watch the epic bus vs. blizzard battle royale play out on your phones, with real-time departures predictions to help you plan smarter, shorter (and less frostbitten) journeys. For now, Transit is the only app in Montreal with real-time data. So tell all your ho-ho-homies—spread the holiday cheer. **Please note, the data will be in beta for the next few weeks. So please be patient as the STM perfects their real-time recipe. Tweet us @transitapp if you find any inaccuracies.**

ALL-NEW PROFILE VIEW: it's not just mom's bad turkey we're sharing this holiday season—say hello to your bikeshare, carshare, rideshare accounts. All in one place, because you mobility mavericks needed an easier way to manage your myriad profiles. To access Profile View, just tap the gear icon in the top-right corner. Profile View will show your GO crowdsourcing stats in select markets, along with any "Favourited" transit lines. You can manage those favourites—and corresponding alarms and service alerts—inside Profile View. So what? Every account. Plus transit. One app. One page. What could be next???

JUST-AS-NEW SETTINGS: After you hit the gear icon (for Profile View) slide on over to the next tab: Settings. Here, you can find and edit all of your saved locations (home/work/gym/reindeer stables) for easier trip planning. We've also grouped transit modes more intelligently, with public transit modes (and other modes) each grouped together. You've always been able to toggle off certain modes you don't use (like Uber, or suburban buses) so they stop cluttering your screen. But now you can toggle them on/off so fast you'll feel like you're in the Matrix or something.

BRANCHES: you can't decorate them… but you can ride them: our slick branch cards are now available in ~all~ markets for ~all~ applicable transit lines. If your line has multiple stop patterns (some trips end at Stop X, while others end at Stop Y) we'll tell you where each branch is going—and what time they're coming—without having to tap anything. Save your taps for dance class, cutie.

BIKESHARE: added support for prepaid plans in select markets. Because we all know bikers like to be early for things. Like green lights.

And last but not least, the start of our twelve days of holiday bug fixes:

-Took out the lag when you swipe between station cells
-Implemented complicated fix for complicated stop list bug
-Killed the timebar bug with a crowbar codec
-X'd out our iPhone X image sizing issues
-Our seasonal Tim Cookies no longer taste like asphalt
-Added VoiceOver support for ridesharing trips
-Fixed the meta-bug that inserts itself into release notes
-META-BUG: haha no you didn't

For other bug discoveries, last-minute wishlist modifications, or virtual eggnog donations to our team, we're on Twitter at @transitapp. And don't forget to rate us five stars—we'll put them on top of our tree ;)
iPhone Screenshots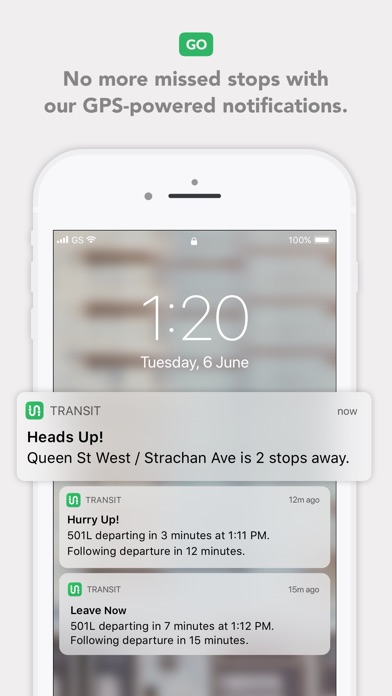 Customer Reviews
The best
The best design
The best bus app
The best patch notes
The best fashion sense
The best favouriting system
The best all around transit riding enhancer
The best around, nothing's gonna ever keep you down
LA meilleure app de transport
Les horaires en temps réel en plein cœur de l'hiver, c'est comme un feu de camp qui t'attend à chaque arrêt de bus. Merci Transit !
Accurate
Helps me locate the bus in the morning and stay inside a few extra minutes before heading to the bus stop! Your patch notes are the highlight of my day. 😂
View in iTunes
Free

Category:

Navigation

Updated:

Dec 14, 2017

Version:

4.3.2

Size:

91.9 MB

Languages:

English, French, German, Italian, Portuguese, Spanish

Seller:

9280-0366 Quebec inc.
Compatibility: Requires iOS 9.0 or later. Compatible with iPhone, iPad and iPod touch.
More iPhone Apps by Transit App, Inc.