The Swift Programming Language (Swift 4)
Swift Programming Series
Apple Inc.
This book can be downloaded and read in iBooks on your Mac or iOS device.
Description
Swift is a programming language for creating iOS, macOS, watchOS, and tvOS apps. Swift builds on the best of C and Objective-C, without the constraints of C compatibility. Swift adopts safe programming patterns and adds modern features to make programming easier, more flexible, and more fun. Swift's clean slate, backed by the mature and much-loved Cocoa and Cocoa Touch frameworks, is an opportunity to reimagine how software development works.

This book provides:
- A tour of the language.
- A detailed guide delving into each language feature.
- A formal reference for the language.
Screenshots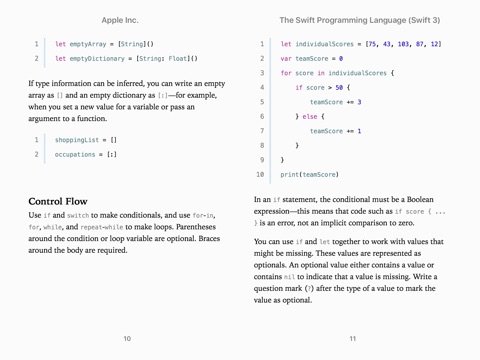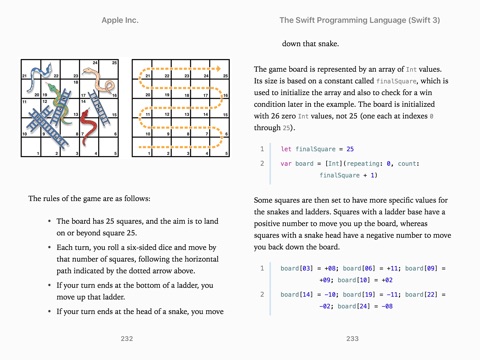 Customer Reviews
Ths is the best language ever!
I loved the book! It explains the concept very well and is extremely well written!
A well written introduction and reference guide
I've often wished that there was a native language for IOS development that wasn't burdened with Objective C's odd syntax, and its backwards compatibility with C.

This book starts with a nice overview of the language, which should be enough to get experienced developers going. Further chapters expand on the material presented in the first chapter, and the book finishes with a language reference that is reminescent of BNF, but easier to read.

The language itself is much like Java or C#. Apple promises run-time compatibility with Objective C binaries, which would be a welcome alternative to Java's JNI for integrating with code written in C.
Awesome
believing the code change the world…
Other Books in This Series
View in iTunes
Free

Category:

Programming

Published:

Jun 02, 2014

Publisher:

Apple Inc.

Seller:

Apple Canada, Inc.

Print Length:

500 Pages

Language:

English

Series:

Swift Programming Series