My Cross to Bear
Enhanced Edition
Gregg Allman
This book can be downloaded and read in iBooks on your Mac or iOS device.
Description
A must-have for every Gregg Allman fan, My Cross to Bear, the enhanced e-book, contains a treasure trove of exclusive material. Featuring 11 never-before-seen video interviews with Gregg, the enhanced e-book offers a candid conversation with him, as he talks about his early days playing music, discusses his struggles with drug addiction, reflects on memories of his beloved brother Duane, opens up about his brother's early death, and shares how playing music has shaped his life. This enhanced e-book also features an interactive blueprint of The Big House Museum, in Macon, Georgia, a museum entirely devoted to the Allman Brothers Band. Once home base for the band and the scene for some of their most legendary jam sessions, The Big House is now a year-round museum dedicated to all things Allman Brothers and an indispensable destination for fans the world over. This dynamic, interactive feature allows you to explore the Big House's extensive collection of Allman Brothers memorabilia on your device through memorabilia pop-ups and a video tour with the museum's curator.
Also included here are three classic Allman Brothers songs "It's Not My Cross to Bear," "Statesboro Blues," and "Whipping Post," for all who want to listen while they enjoy this amazing book. Moving, fun, and intimate, My Cross to Bear, the enhanced e-book, is essential for everyone who loves the Allman Brothers.
As one of the greatest rock icons of all time, Gregg Allman has lived it all and then some. For almost fifty years, he's been creating some of the most recognizable songs in American rock, but never before has he paused to reflect on the long road he's traveled. Now, he tells the unflinching story of his life, laying bare the unvarnished truth about his wild ride that has stretched across the years.
The story begins simply: with Gregg and his older brother, Duane, growing up in the South, raising hell with their guitars, fueling each other's passion for music, and drifting from one band to another in search of a musical future that always seemed just out of reach. But all that changed one historic day when Duane and Gregg came together with four other men to forge something new—a unique sound shaped by soul, rock, and blues and brimming with experimentation; a sound not just of a band, but of a family.
Bringing to life the carefree early days of the Allman Brothers Band, Gregg holds nothing back—from run-ins with the law to laid-back parties, from meeting girls on the road to jamming at the Fillmore East, from experimenting with drugs to forming a brotherhood. Along the way, he goes behind the scenes of some of the greatest rock music of all time, without shying from the infamous and painful deaths of both his brother, Duane, and Allman Brothers bassist Berry Oakley. Speaking candidly and for the first time about the profound impact that his brother's death had on him, Gregg offers a tribute to Duane that only a younger brother could write, showing how, to this day, he still confronts the grief of losing his big brother, even as Duane continues to guide and inspire him.
Setting the record straight about the band's struggles in the face of death as well as his own personal demons, Gregg shows how the decision to persevere came with a heavy price, one that would haunt the Brothers for decades. While the rock and roll excesses of drugs, alcohol, personality clashes, and money squandering led to a series of breakups and reunions that culminated with the band's permanent reunion in 1989, Gregg fought his own battle with substance abuse, going to rehab no less than twelve times and floating through a string of failed marriages, including his tabloid-frenzied relationship with Cher, before finally cleaning up once and for all.
From Publishers Weekly
Apr 09, 2012 –
Back in 1971, the Allman Brothers Band lost Duane Allman by any standards one of rock s greatest guitarists to a motorcycle accident, and a year to the day later, Berry Oakley, the band s bassist, died the same way. In his memoir, the rambling and rambunctious Gregg Allman lays bare his soul, carrying us back to his childhood with his older brother, Duane, their days at military school, the first time he picked up a guitar and started making music, the first songs he wrote, his love for Duane, his voracious appetite for drugs and sex, and his countless sexual conquests, his broken relationships and his addictions, and his deep love for music. Like an old bluesman riffing through a tale of love, loss, and redemption, Allman sings the story of the band s early days as Hourglass and the Allman Joys, the glory days of playing the Fillmore East, the struggles to pull the band back together after Duane s and Berry s deaths, and the failures and successes of his own solo career. In the end, Allman, writing with music journalist Light, has produced a fiercely honest memoir.
Screenshots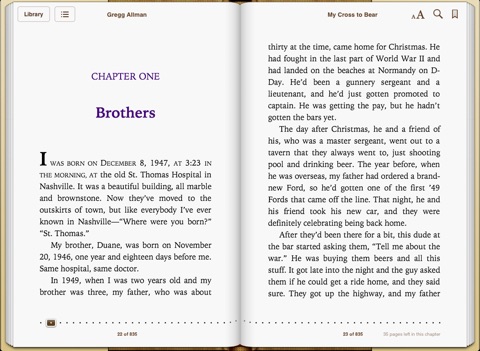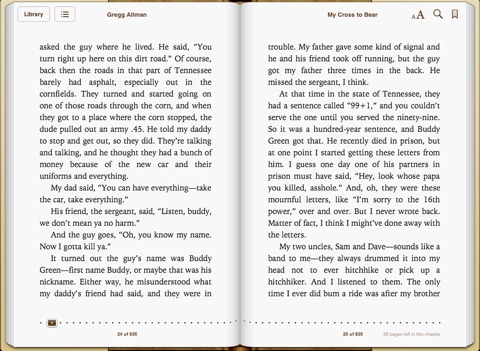 Customer Reviews
Fascinating life story of a rock legend in his own words
A must for any Allman Brothers fan or music lover. If it's sex, drugs and rock n' roll you are looking for you'll find it all here...And Allman will probably leave you thinking "thank god I'm not a rock star.". The enhanced edition is filled with photos, videos and other interactive content. A non-brainier for the extra few dollars. Put on a Allman's album in iTunes and enjoy.
View in iTunes
$11.99

Category: Biographies & Memoirs
Published: May 01, 2012
Publisher: William Morrow
Seller: HarperCollins
Print Length: 400 Pages
Language: English