My Little Pony: Friendship Is Magic #1
My Little Pony: Friendship Is Magic
Katie Cook & Andy Price
This book can be downloaded and read in iBooks on your Mac or iOS device.
Description
First issue in a four issue series! This 33 page comic is published in print and digital at the same time! Welcome to Ponyville, home of Twilight Sparkle, Rainbow Dash, Rarity, Fluttershy, Pinkie Pie, Applejack, and all your other favorite Ponies! Something's not right in the town though, as some of the inhabitants are acting very, very strange! It's up to the Mane Six to find the source of the weirdness before it's too late!
Screenshots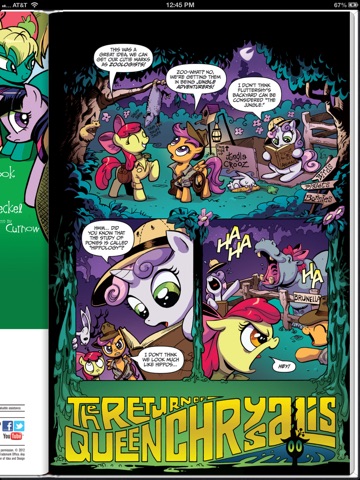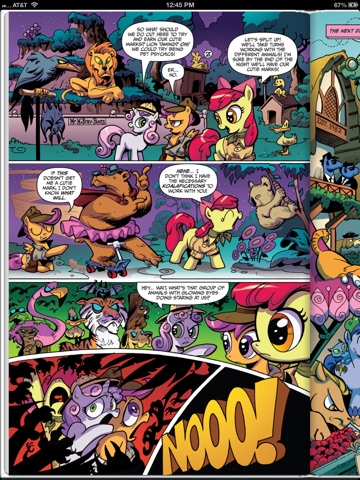 Customer Reviews
Holy s&*t! More ponies
This is an amazing "comic book" its gonna keep me busy with ponies. Can't wait for #2. /)
Great comic
The artwork is fantastic, the whole comic feels like a great fan service. I recommend getting this!

Also guys please stop swearing in your reviews, parents are looking at these with their kids.
Fantastic!
I'll be honest, when I heard they were making a comic book about MLP: FIM, I wasn't... enthusiastic. It would probably be some sort of money grab, or at least some half-hearted effort.

Boy, was I wrong. All of the people involved in this did a wonderful job on this, in not only the comedic and artistic aspects, but also in the discernable amount of time and care put into this.

It is evident that not only do these fine folks care about this project, but that they are in tune with their audience and their source material.

I cannot wait for the rest of the series. Funny, clever, well written, and beautiful to behold, this comic is a must have for any fan of MLP: FIM.
Other Books in This Series
View in iTunes
$1.99

Category:

Graphic Novels

Published:

Nov 28, 2012

Publisher:

IDW Publishing

Seller:

Idea and Design Works, LLC

Print Length:

33 Pages

Language:

English

Series:

My Little Pony: Friendship Is Magic