Stretches
Diyako Sheikh Mohammadi
Vous pouvez télécharger et lire ce livre sur Apple Books sur votre Mac ou un appareil iOS.
Description
Very useful book about different types of stretches and their definition. 

There is plenty of examples and movement for single muscles and  muscle groups from head to toe including:
- Neck
- Glide
- Deltoid
- Shoulders
- Shoulder Blades
- Triceps
- Biceps
- Wrist
- Chest
- Abdominals
- Upper and lower Back
- Hip
- Buttocks
- Quads
- Hamstring
- Adductor
- Calf
- ankle

all the movements are with picture and they are very easy to follow. 
Captures d'écran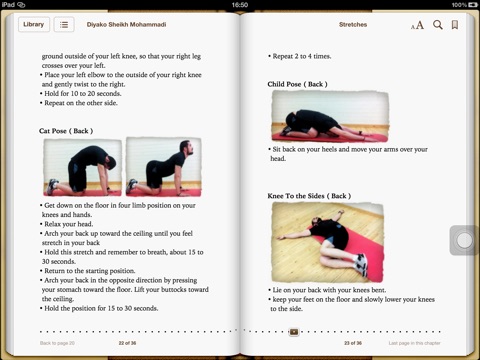 Avis des utilisateurs
Great routine of stretches.
I have Parkinson's and this is a nice rounded series of stretches to get me moving each morning!
Afficher sur iTunes
Gratuit

Catégorie :

Sports et plein air

Sortie :

25 juil. 2012

Éditeur :

Diyako Sh.Mohammadi

Vendeur :

Diyako Sh.Mohammadi

Pages :

12

Langue :

Anglais