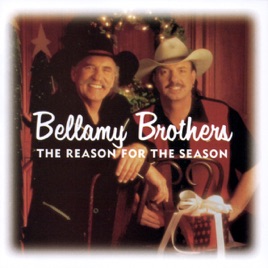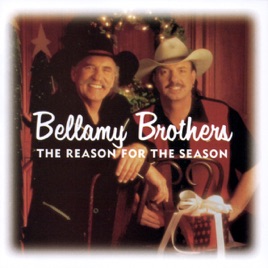 TITEL
LÄNGE

The Reason for the Season

Bellamy Brothers

God Bless America This Christmas

Bellamy Brothers

Merry Christmas and a Happy New Year

Bellamy Brothers

Jingle Bells (A Cowboy's Holiday)

Bellamy Brothers

We All Get Crazy At Christmas

Bellamy Brothers

Rudolph the Red-Nosed Reindeer

Bellamy Brothers

Our Love Is Like Christmas

Bellamy Brothers

Rockin' Around the Christmas Tree

Bellamy Brothers

It's So Close to Christmas (And I'm So Far from Home)

Bellamy Brothers

Let Your Love Flow (Reggae Holiday Mix)

Bellamy Brothers
14 Titel, 48 Minuten
Veröffentlicht:

1. Okt. 2002

℗ 2002 Curb Records, Inc.
Infos zu The Bellamy Brothers
Die Bellamy Brothers sind das erfolgreichste Duo in der Geschichte der Countrymusik, und mehr als die meisten Gruppen der späten Siebziger und Achtziger haben sie die Grenzen des Genres verschoben, indem sie Elemente von Rock, Reggae und sogar Rap einbauten. Fast eine Dekade nach ihrem ersten Hit – dem Southern-Rock-gefärbten Chartstürmer "Let Your Love Flow" von 1975 – hatten die Brüder einen ganzen Stapel an Bestselleralben veröffentlicht. Der Respekt der Kritiker folgte in den späten Achtzigern, als sie sich schon fest als das größte Countryduo in Sachen Popularität und musikalischer Vielfalt etabliert hatten. In den folgenden Jahren konnten sie ihre Beliebtheit vielleicht nicht ganz aufrechterhalten, aber für ihre loyale Fanbasis gaben sie weiterhin Konzerte und nahmen weitere Platten auf (auf ihrem eigenes Label Bellamy Brothers Records). ~ Stephen Thomas Erlewine
HERKUNFT

Darby, FL

GENRE

GEGRÜNDET

1958
Millionen von Titeln.
Ohne Werbung.
Nur für neue Abonnenten. Abo wird nach Ablauf der Probezeit automatisch verlängert.