Lean Audit Benchmarking
Von LeanMap
Diese App steht nur im App Store für iOS-Geräte zur Verfügung.
Beschreibung
Lean Audit – a Health Check for Business
This diagnostics application allows you to benchmark manufacturing and service operations by answering a series of questions. The audit provides you with valuable insights on what works well and what should be improved. You will quickly identify gaps and opportunities. After completing the audit, an email is sent to you with the total score. Audit now!

Audit Dimensions:
+ People
+ Process
+ Setup
+ System

Key Parameters:
+ Capability
+ Efficiency
+ Structure
+ Service
+ Quality

Benchmarking Levels:
+ Level 0: SAND
+ Phase 0-1: "Failing"
+ Level 1: IRON
+ Phase 1-2: "Struggling"
+ Level 2: BRONZE
+ Phase 2-3: "Improving"
+ Level 3: SILVER
+ Phase 3-4: "Performing"
+ Level 4: GOLD
+ Phase 4-5: "Leading"
+ Level 5: DIAMOND

Auditing Process:
1. Select target area
2. Define audit team
3. Audit current state
4. Review audit results
5. Decide improvements
6. Execute improvements
7. Audit improved state

App Functions:
New - start a new audit
Pending - resume an incomplete audit
Complete - view completed audits
Contact - post a question, provide feedback

App Versions:
This application is available in two versions, LITE and PRO. The LITE version is ideal for beginners, offering simple checklists that can be completed within a few minutes. Upgrading to PRO gives you full access to all enterprise-level audits, such as the Lean Factory Audit (LFA) and the Lean Office Audit (LOA), assessing the 20 Keys to World-Class Operations.

LITE-Version:
+ Free
+ Quick Checks
+ Single Dimension
+ For Beginners

PRO-Version:
+ Buy for $1.99
+ Enterprise Audits
+ Multi Dimensions
+ For Experts

Get started, audit now!

Want to read more? Here some background information:

Many people ask themselves where they stand: How does my organization measure up? Does it belong to the best or is it among the rest? What is the gap between where it is now and world-class? What can I do to narrow the gap?

The LEAN AUDIT BENCHMARKING app allows you to determine health and maturity level by assessing people, processes, setup and system, so you can make an accurate comparison between the existing configuration and industry best practices. Insights gained from the audit will help you identify the opportunities and course-corrections that ultimately lead to higher performance levels, while gaining a competitive edge from a leaner operation. All you need is to install this benchmarking app on your device and audit now!

The diagnostics program is generic enough to fit a broad range of businesses, yet specific enough to pinpoint both areas of excellence and areas in need of change. Performing a LEAN AUDIT helps you challenge the status quo and improve operational fitness to better compete in a rapidly evolving world. After completing the audit, you will receive an email with your assessment score relative to world-class benchmarks. A personalized, optional improvement report with detailed improvement suggestions is available for purchase.

Lean Audit Book

If you want to learn more about analyzing and improving manufacturing and service operations, get the Lean Audit book from Amazon.
Neue Funktionen von Version 1.3
Minor changes.
iPhone Screenshots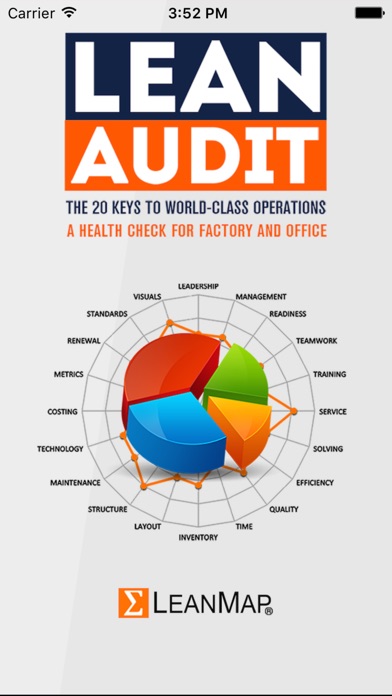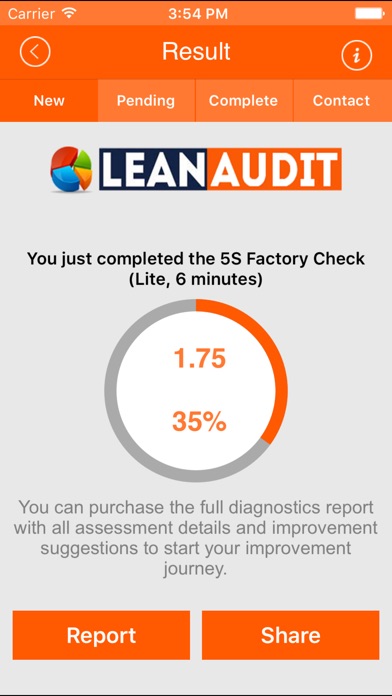 In iTunes ansehen
Gratis

Kategorie:

Wirtschaft

Aktualisiert:

25.07.2016

Version:

1.3

Grösse:

10.6 MB

Sprache:

Englisch

Entwickler:

Joerg Muenzing
Kompatibilität: Erfordert iOS 7.0 oder neuer. Kompatibel mit iPhone, iPad und iPod touch.