PatternMusic MXXIV
Von Richard Lawler
Diese App steht nur im App Store für iOS-Geräte zur Verfügung.
Beschreibung
•••••• FREE! (for a limited time) ••••••
•••• "A 'must-have' for the iPad" ••••

Classic mobile music creation on your iPad.

Over 250,000 downloads!

Create compelling, original music on your iPad™ with PatternMusic®. PatternMusic was designed to inspire creativity, learning and experimentation in music enthusiasts and experts alike.

• Create songs intuitively using layered instrument patterns.
• Play an interactive polyphonic musical instrument with over 50 different voices.

••••••
"PatternMusic is like a beatbox for melodies."

"I've been using PatternMusic to write a song every day!"

"I'm a musician, but I've never been able to figure this stuff out before. This is amazing! Who knew?"
••••••
- comments from PatternMusic users


What's inside PatternMusic:

• The Stage
- Intuitively mix and arrange your songs by moving instrument icons.
- Effortlessly add, duplicate and delete instruments.

• Multi-Touch Pattern Editor
- Easily create unique looping note patterns.
- Editor zoom - because not everyone has the same size fingers.
- Up to 64 notes per pattern via the scrolling timeline.
- Scroll through a 4 octave range for each instrument.
- Solo mode - focus on a single part of your composition.
- Dynamics for individual notes.

• Voices
- 50 instrument voices to choose from.
- Change voices at any time.
- A full drum kit and percussion set.

• Built-in Help and Tutorials
- A complete Help system is accessible throughout the app.
- Access built-in and on-line Video Tutorials.

• Instrument and Song Settings
- Tempo (including "tap tempo" for interactive tempo matching).
- Time Signature
- Scales - work within a mode and avoid "wrong" notes. (more than 40 scales available)
- Note length configurable from 1/16 note triplets to dotted whole notes.
- Looping control - infinite or counted.
- Configurable instrument start point.
- Swing - create shuffle effects.
- Transpose - up or down up to two octaves (an 8 octave total range).

• Song Management
- Auto-save - PatternMusic automatically saves your songs when you quit or when you are interrupted by a phone call, and it automatically restores your last session when you return.
- Manage your songs including song duplicate, rename and delete.


You'll be creating music in no time.


••••••
Visit www.PatternMusic.com for
- Information,
- Demo videos,
- Tutorial lessons,
- and answers to all your questions.
••••••

PatternMusic is a U.S. registered trademark of Richard Lawler

Copyright Richard Lawler.
Neue Funktionen von Version 1.5
iOS 11 support. Bug fixes.
iPad Screenshots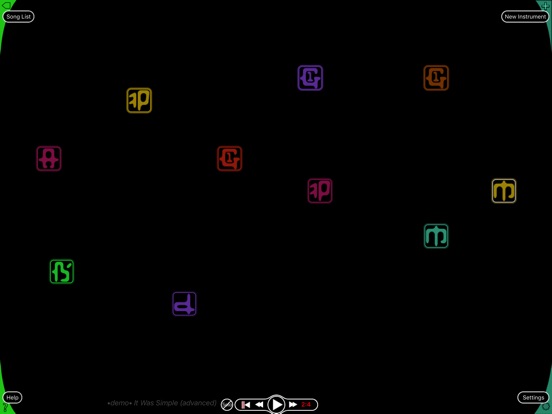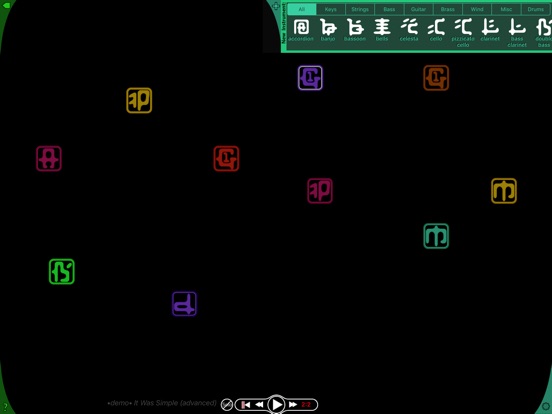 In iTunes ansehen
Gratis

Kategorie:

Musik

Aktualisiert:

12.11.2017

Version:

1.5

Grösse:

13.0 MB

Sprache:

Englisch

Entwickler:

Richard Lawler
Kompatibilität: Erfordert iOS 8.0 oder neuer. Kompatibel mit iPad Air, iPad Air Wi-Fi + Cellular, iPad mini 2, iPad mini 2 Wi-Fi + Cellular, iPad Air 2, iPad Air 2 Wi-Fi + Cellular, iPad mini 3, iPad mini 3 Wi-Fi + Cellular, iPad mini 4, iPad mini 4 Wi-Fi + Cellular, 12,9" iPad Pro, 12,9" iPad Pro Wi-Fi + Cellular, 9,7" iPad Pro, 9,7" iPad Pro Wi-Fi + Cellular, iPad Wi‑Fi (5. Generation), iPad Wi‑Fi + Cellular (5. Generation), 12,9" iPad Pro (2. Generation), 12,9" iPad Pro Wi‑Fi + Cellular (2. Generation), 10,5" iPad Pro und 10,5" iPad Pro Wi‑Fi + Cellular.