Tschau Sepp
Di Gango Games
Questa app è disponibile solo sull'App Store per dispositivi iOS.
Descrizione
Tschau Sepp is the swiss-german name of one of the best known card games in the world. Other names are for example Mau Mau or NeunerIn. Many variants exist and it is never played the same way, but the basic concepts are usually the same. In Tschau Sepp every player starts with 7 cards. The goal is to play these cards as quick as possible and the winner is the player who finishes first. Cards are played on top of each other in turns while it is allowed to play a card with the same value or color. There are exceptions and cards with special abilities. Tschau Sepp tries to cover the large set of available rules and variants with a standard rule set and some optional extra rules. It can be played against the CPU, against friends on the same device, or against friends using the bluetooth connection and individual devices. The game can be played in german, english, french and italian.

Multiplayer mode issues: Some people have reported connectivity issues when playing multiplayer games. Unfortunately there is nothing we can do to prevent these disconnects. We advice you to update your phone to the latest version if you experience regular disconnects. On our testing devices that are all updated to the latest version the game is running very stable.
Novità nella versione 1.4.0
- Added Online Multiplayer
- Added support for the iPhone 5 resolution
- Fixed some bugs related to iOS6 changes
Istantanee iPhone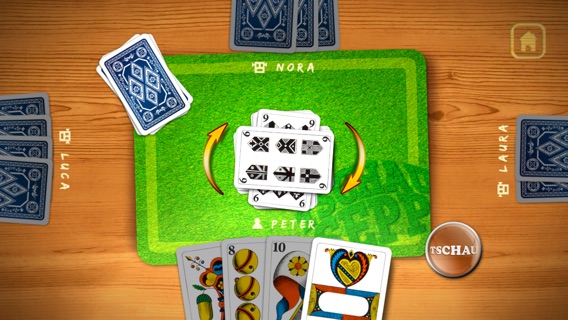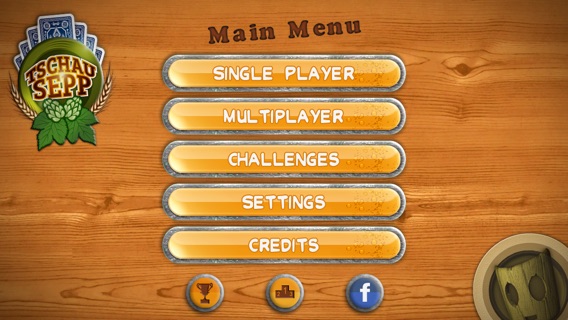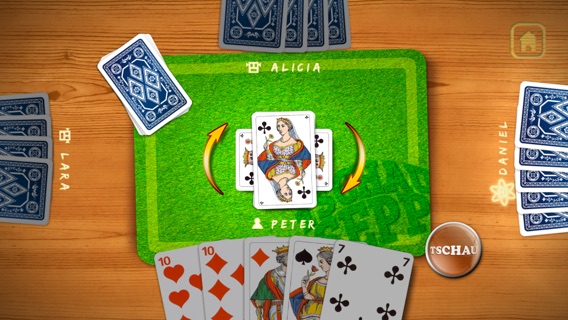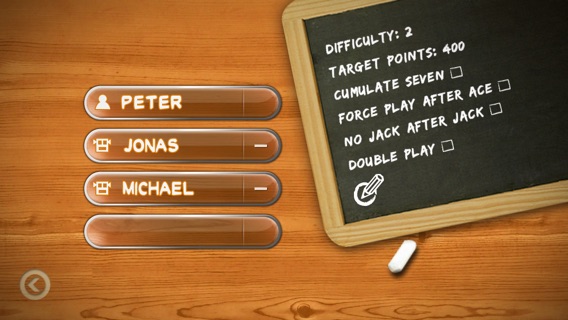 Recensioni clienti
Tschau Sepp
Es ist eine Zumutung!!!!!! wie man mit Nutzern hier um geht, ist dieses App. Mal gekauft ist es egal ob es läuft oder nicht. Man hat ja die Kohle denn Rest interessiert mich oder sie nicht, somit hoffe ich hier mit dieser Beurteilung die anderen zu hindern ihr Produkt zu erwerben.
Funktioniert nicht
Online multiplayer funktioniert nicht. Weder über wifi noch internet.
Habe es nur deswegen gekauft & komme mir deswegen etwas abgezockt vor :-(
Absturz beim öffnen des Spiels
Seit ich das iPhone 5 habe, läuft TschauSepp nicht mehr darauf. Beim öffnen erklingt für einen Bruchteil einer Sekunde die Musik und das Logo erscheint ganz normal, doch dann stchliesst sich das Spiel von selbst. Neustart hilft nichts, auch die Reinstallation des Spiels blieb nutzlos. Das iPhone läuft mit IOS 6.1.3 und das Spiel hat ebenfalls den aktuellsten Stand 1.4.0
Vedi in iTunes
CHF 3.00

Categoria:

Giochi

Aggiornato:

20/10/2012

Versione:

1.4.0

Dimensioni:

19.3 MB

Lingue:

Italiano, Francese, Inglese, Tedesco

Sviluppatore:

Markus Jost
Compatibilità: Richiede iOS 4.3 o versioni successive. Compatibile con iPhone, iPad e iPod touch.
Altre app per iPhone di Gango Games