Buffer: Social Media Manager
开发者:Buffer, Inc.
只能在 iOS 设备上通过 App Store 获取此 App。
内容提要
Save time and manage all your social media in one place. Buffer is a simpler way to schedule posts and track the performance of your content on Facebook, Instagram, Twitter, Pinterest, LinkedIn and Google+.

No more wasting time, no more logging into multiple social accounts. Any link, text, picture or video - just add it to Buffer and you can quickly choose when and where it'll be posted.

Why you'll love Buffer...
• Share to multiple Facebook, Instagram, Twitter, Pinterest, LinkedIn and Google+ accounts from one place.
• Maintain a consistent presence on social media, so you can build your following and influence.
• Get easy-to-read analytics for every update you share.
• Schedule your posts automatically so you never have to worry about setting a time and date, or customize the timing of individual posts. Scheduling has never been easier or more flexible.
• Share from all of your favourite apps using our iOS extension. Including scheduling native retweets from Safari, Tweetbot, Twitter & more!
• Never run out of amazing content with Instagram Reposting.
• Get world class support from your friends at Buffer.

Buffer is available for iPhone, iPad, iPod touch, Apple Watch, Web and other phones and tablets.

You can also add to Buffer from your favourite browser using out Browser Extensions for Safari, Chrome, Firefox and Opera.

Buffer's main version is free, but you can easily upgrade within the app.

Free Plan Features:
• Connect up to 3 Social Accounts
• 10 scheduled posts per profile

Awesome Plan Features:
• Have upto 100 posts in your Buffer.
• Connect upto 10 Social Accounts.
• RSS feed integration

Small Business Plan Features:
• 25 Connected Social Accounts
• 5 Team Members & Contributions Feature.
• 2,000 scheduled posts per profile
• RSS feed integration
• All standard Buffer features & Awesome Plan features.

The Awesome Plan & Small Business plan subscriptions are optional and are available via an auto-renewing subscriptions:

Awesome Plan subscriptions are at a monthly rate of $9.99 or an annual rate of $99.99.

Small Business subscriptions are available at a monthly rate of $99.99 or an annual rate of $999.99.

Payments will be charged to your iTunes account after confirmation of purchase. Your subscription will automatically renew unless cancelled at least 24-hours before the end of the current period.

Your subscription can be managed in your iTunes Account Settings after purchase. Or by selected "Manage Subscription" below the list of your connected accounts within the app.

Subscriptions cannot be cancelled for the current active period.

Privacy Policy: https://buffer.com/privacy
Terms of Use: https://buffer.com/terms

Do you have any questions for us?
Email: hello@buffer.com
Twitter: @buffer
Facebook: http://facebook.com/bufferapp
Instagram: @buffer
Pinterest: https://www.pinterest.com/bufferapp/
版本 7.1.11 中的新功能
Some minor bug fixes ahead of a bigger update coming soon...

- iPhone X Users who have had issues with sharing to Instagram, please grab the latest Instagram app update which should resolve the overlapping buttons.
- Fix for "Face ID" showing as "Touch ID" incorrectly on auth screen.
- Fix for timezone search field not being visible on some devices.
- Fix for crash when checking link redirects when populating composer.
- Corrected an error which would hide Pause Queue functionality for some users.
- Added additional checks when app is opened via a Promoted Product within App Store.
- Composing animated gifs is more reliable from 3rd party apps.
- Disabled color inversion for images within updates.
- Fixed retweet names overlapping edges.
- Few nice drag and drop stability enhancements.
- Couple of misc crash fixes
- Couple of fixes for reordering updates in the queue.
- Fix for crash when tapping to open update options.
- Support for Twitter's new 280 character limit.
- Fix for notifications alert showing up frequently if you select "Nope".
- Support for iPhone X.
- Fixed crash when notifications view reloads after allowing.
- Fixed crash when viewing Instagram Reminders and tapping empty view actions.
- Couple of additional iPhone X tweaks.
- Fixed issue where Push Notifications didn't register completely.
- Fixed an issue where a loading HUD would show when opening Buffer again after visiting Notifications Settings screen.
- Increased button sizes within Onboarding.
- Added support for Face ID. You can now keep your Buffer even more secure with Touch ID or Face ID.
- Tap individual data points in Overview Analytics to learn more about how your content is performing.
- Instagram Grid Preview now correctly shows 3 columns in landscape.
- Improved support for Drag & Drop, including drag and drop to reorder your queue.
- Fixed missing icon within Compose Extension.
- Various other bug fixes.

If we can ever help with anything at all, we'd be so happy to! Drop us a line, anytime, at hello@buffer.com or @buffer.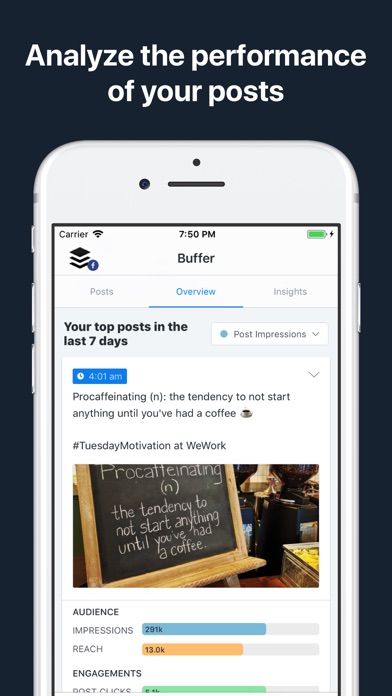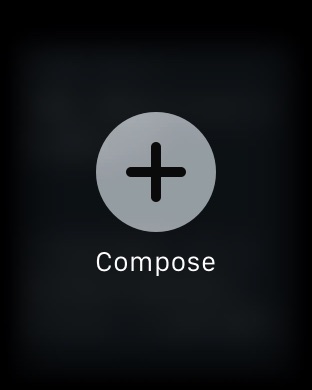 在 iTunes 中查看
此 App 专为 iPhone 和 iPad 设计
提供 iPhone 版 Apple Watch App
免费

类别:

社交

更新日期:

2018年01月16日

版本:

7.1.11

大小:

72.2 MB

Apple Watch:

是

语言:

英语, 西班牙语

开发商:

Buffer, Inc.
兼容性: 需要 iOS 10.0 或更高版本。与 iPhone、iPad 和 iPod touch 兼容。
热门 App 内购买项目
Awesome for 1 Month¥68.00
Awesome for 1 Year¥648.00
Small Business for 1 Month¥678.00