Burpple - Find Food & Restaurants. Eat, Snap & Share
开发商:Burpple
打开 iTunes 以购买和下载 App。
内容提要
Spending too much time deciding where you and your friends should eat? Burpple helps you find a place to eat, in any location. Be visually enticed by photo reviews so drool-worthy that you instantly make a decision. Over 2 million people use Burpple to:

Find a place to eat from over 100 categories and neighbourhoods
• From Cafes & Coffee in the heartlands, to Halal eateries in the city

Decide from drool-worthy photo reviews
• Let photo reviews of different places help you to decide where you should eat

Discover new places
• Unearth hidden gems and the newest cafes, restaurants and bars

Post your own reviews on places you've tried
• Sync your posts from Instagram or share what you loved about your meal directly on Burpple

Save your photo reviews into lists
• Organize your photo reviews into useful lists (e.g. Japanese Places for Lunch, Desserts I Crave For) that you can refer to at any time

• Find a place to eat in Singapore & Malaysia, and more to come
• Share recommendations & create lists in any city around the world

Learn about our upcoming updates and say hey!
VISIT US: burpple.com/sg
EMAIL US: feedback@burpple.com
FOLLOW US: instagram.com/burpple
LIKE US: facebook.com/burpple

We rely on location services on your device to accurately show places near you, so please turn it on :)
版本 3.5.1 中的新功能
What's new in this version:

• Faster browsing on Explore
• Tastemakers 2015 will be awarded with a shiny new badge!
• New categories added

-----
What's new in v3.5:
A brand new Explore page is finally here

• Easily find a place to eat with Category and Neighborhood features
• Simply specify categories and neighborhoods of interest (e.g. Cafes & Coffee in Ang Mo Kio, Halal in Bedok)
• Browse from over 100 categories & Neighborhoods

If you like the update, please leave us a good review on the app store. It'll be a big encouragement to the Burpple team!

If you've any feedback, please write to us at feedback@burpple.com. We'll love to hear from you!
iPhone 屏幕快照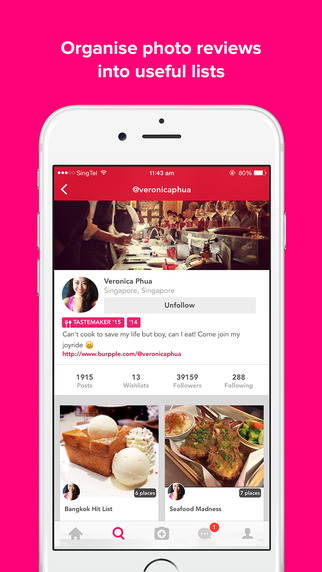 在 iTunes 中查看
免费

类别:

美食佳饮

更新日期:

2015年03月17日

版本:

3.5.1

大小:

12.8 MB

语言:

丹麦文, 博克马尔文,挪威文, 德语, 意大利语, 挪威尼诺斯克文, 法语, 英语, 荷兰文, 西班牙语

开发商:

Burpple Pte. Ltd.
兼容性: 需要 iOS 7.0 或更高版本。与 iPhone、iPad、iPod touch 兼容。 此 App 已针对 iPhone 5、iPhone 6 和 iPhone 6 Plus 优化。