Football Manager Touch 2017
开发者:SEGA
打开 iTunes 以购买和下载 App。
内容提要
This game will only work on iPad Air 1 & 2, iPad Pro 12.9 & 9.7, and iPad mini 2, 3 & 4.

Football Manager Touch™ 2017 is the most complete football management game available on tablet. Manage real teams and real players, in more than 130 authentic leagues across the world and watch your games play out on the acclaimed Football Manager 3D match engine.

FM Touch 2017 features unrivalled player data, comprehensive tactical control and an ultra-realistic 3D match-engine.

Football Manager Touch 2017 – New for this season:

MATCH EXPERIENCE
Enhanced 3D engine with new and improved motion-captured animations, plus improved AI and stadia. There are also new camera angles that enrich the match experience.

INBOX
Now more intuitive, this is the place to get input from all your staff, including improved advice from the backroom.

IN-GAME SOCIAL MEDIA
Fans and the media have their say with an all new social feed. Keep up to date on transfer rumours and fan reaction to everything that happens at your club.

INSTANT RESULT
The option to simulate a match and go straight to the result – ideal if you've seen enough of your team's performance or are short of time.

BACKROOM STAFF
Utilise your backroom staff more effectively, allowing you to concentrate on getting the team ready for match day.

AND MUCH, MUCH MORE
There's lots more to explore, including new additions to Challenge mode and a wide range of improvements to scouting.
版本 17.2.0 中的新功能
FOOTBALL MANAGER TOUCH 2017 -- UPDATE 17.2.0 CHANGE LIST
===================================================

STABILITY & PERFORMANCE
----------------------------------------------
- Fixed rare instances of crash on continue
- Prevent 'No Registered Version of FMT 2017' error appearing incorrectly for some users when trying to access Cross-Save on Tablet
- Fixed occasional match divergence when reloading recovery saves on Tablet
- Match Performance Improvements for lower spec iOS devices.
- Improved match stability when using sounds on Tablet devices.

GAMEPLAY
----------------------------------------------
- Match AI updated to 1703
- Fixes and improvements to various Match Graphics
- Fixed issue in Austrian leagues which prevented staff in certain roles from being appointed
- Adjusted German players willingness to move clubs
- Fixed issue where players asked to be removed from the transfer list, but were not
- Adjusted payments received for players they had offered out on loan
- Adjusted likelihood of user in charge of an international team being offered club role
- Fixed rare examples of players complaining about being left out of continental squads for rounds they are unavailable for
- Fixed issue where user couldn't postpone game due to large number of international call ups in MLS
- Fixed hotseat issue where holidaying one manager past a match, also continued the other manager past their match
- Fixed issue where user is incorrectly asked about facing newly appointed manager
- Fixed various issues with records and odds
- Fixed derby question appearing for non-derbies
- Adjusted effect of training intensity on injuries
- Fixed examples of league enforced stadium upgrades going wrong
- Improved Tottenham's attendances when switching grounds
- Fixed manager profile reverting to default setup
- Fixed issue with match formation widget not updating when players swapped
- Fixed Heat Map not working in Match Analysis on Tablet
- Fixed missing information in opposition scout report inbox items
- Fixed match report button displaying an empty screen
- Improvements to Match Plan default presets
- Fixed issue where tactical familiarity could be displayed
- Fixed issue with match preparation suggestion appearing in news items

COMPETITIONS
----------------------------------------------
- Fixed rare issue where certain leagues wouldn't schedule after season turnover
- Fixed issue with Bulgarian league playoff
- Fixed Home/Away games imbalance after Scottish Premier League split
- Fixed prize money for French Ligue 1 and Betfred Cup.
- Fixed loaned in players not being able to play in Swiss Cup
- Fixed issue with regionalisation in Swedish Second Division
- Fixed Israeli Toto Cup schedule and teams in correct groups
- Correct Belgian clubs now qualify for European competitions
- Improved scheduling for Belgian, Russian and Ukrainian clubs in European competitions
- Fixed issue where we were not taking the strongest line up for Portuguese Cup Competitions

STORE/UNLOCKABLES
----------------------------------------------
- Fixed unlockables not unlocking on Tablet when user had gotten the corresponding achievement through gameplay
- Prevent Challenge Master achievement unlocking on Tablet before user had completed all challenges
- Fixed Value for Money achievement not unlocking on Tablet for certain start date
iPad 屏幕截图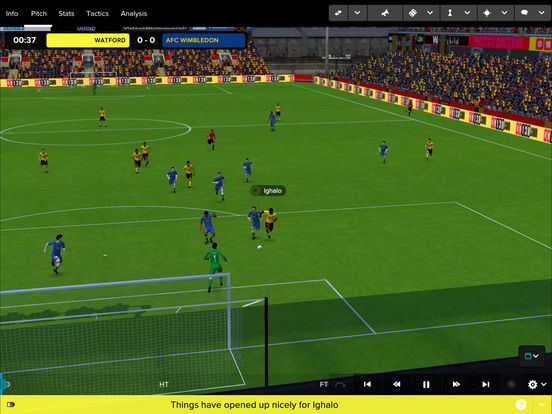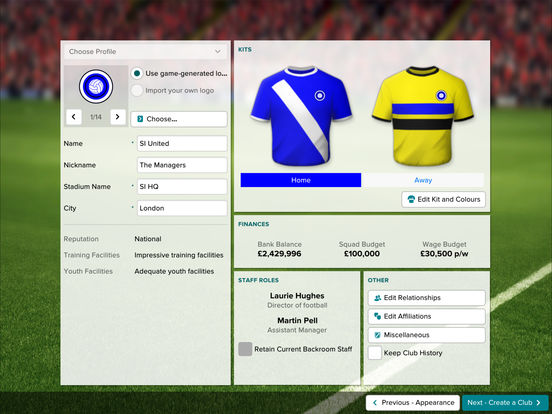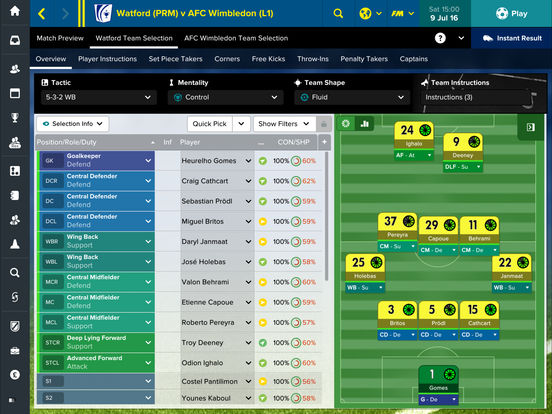 用户评价
Well done man
Could you please add in-game editor for tablets? My appreciation!
体验太差
客场不能设置战术,不能换人,你让我怎么玩!
17.20无法下载
你们是在开玩笑吗???

ps:我错了 挺好玩的 就是一个档希望能执教更多联赛
在 iTunes 中查看
¥128.00

类别:

游戏

更新日期:

2016年12月15日

版本:

17.2.0

大小:

3.32 GB

语言:

英语

开发商:

Sega America
兼容性: 需要 iOS 8.0 或更高版本。与 iPad Air、iPad Air Wi-Fi + Cellular、iPad mini 2、iPad mini 2 Wi-Fi + Cellular、iPad Air 2、iPad Air 2 Wi-Fi + Cellular、iPad mini 3、iPad mini 3 Wi-Fi + Cellular、iPad mini 4、iPad mini 4 Wi-Fi + Cellular、12.9 英寸 iPad Pro、12.9 英寸 iPad Pro WLAN + Cellular、9.7 英寸 iPad Pro 和 9.7 英寸 iPad Pro WLAN + Cellular 兼容。
热门 App 内购买项目
Financiële injectie (£50 miljoen)¥45.00
Волшебная губка¥6.00
Design a Son¥25.00
Spelers altijd geïnteresseerd¥6.00
Sem Licenças de Trabalho¥6.00
Forøg banksaldo (£10 millioner)¥18.00
Son genererad¥12.00
Sin fechas límites para fichajes¥6.00
Foreign Influx¥6.00
All Job Applications¥6.00